LOS ANGELES—Attempts to contain the spread of the CCP virus, commonly known as the novel coronavirus, have resulted in a sudden disruption for an estimated 284,300 servers in California's restaurant industry. The steep decline in business has impacted them instantly—in some cases, overnight.
"My income went to zero," Ken Peterka, 39, a server who has worked for nearly 20 years in the restaurant business, told The Epoch Times. "And it'll stay at zero until I find something else."
"California is blessed with the federal minimum wage, but when I don't go in to work, I don't get paid," he said.
"Before all this, I was looking for a corporate-style job," he said. "Something in HR or training. Now I'm looking for anything that pays me. I just need the work. I don't know if it's too late, but I'll try."
Peterka, who holds a master's degree in education, was splitting his time between working at a restaurant in Calabasas and training at another establishment in Porter Ranch.
After three days, his training at the Porter Ranch restaurant was postponed because the restaurant switched from dine-in to takeout only.
"I got hired a few days before all the closures," he said. "They ended up hiring me two weeks ago and it worked out—until it didn't."
"Now I'm waiting for them to open back up completely before training."
His last shift was March 11, "before all the quarantine shenanigans." The only noteworthy change in service at that time was "more signs saying to wash our hands."
Then, over the weekend, Gov. Gavin Newsom declared that restaurants must slash their capacity in half.
For Peterka, that meant that servers at the Calabasas restaurant went from eight or nine on duty per shift to two or three.
"No one I know has experienced that kind of cutback in staffing [before]," he said. "Things change very quickly now. Sometimes, we have to react to these situations in an hour."
"Food and survival is not a worry, but just paying bills is," he said. "Rent, car payments, credit cards, and student loans are the real worry for me right now."
The velocity of this disruption has left service industry workers flummoxed.
"Working for a smaller, private-owned restaurant, we're going into this blindly—not knowing what's going to happen next," Karina Kramer, 28, a bartender in Woodland Hills, told The Epoch Times. "Do we even have a job at this point?"
Kramer, who has been working in the service industry since she was 15, was informed that her restaurant was closing the night before her next scheduled shift.
"Previously, we had a message that the shifts would be cut significantly in half, but last night we closed officially until further notice," she said. "We were told that our work space would be limited and hours would be cut, so in my mind I thought I had a little bit of time to prepare."
"Luckily, I had some savings and I have a decent amount of groceries. But the first 'luckily' went straight to bills."
Kramer is currently looking into other possible jobs or—worst case scenario—unemployment.
"I honestly have no idea where to start," she said. "Obviously my skill set is now limited for jobs that are available. I mean, what can you really do at this point?"
As of March 16, the California Department of Public Health had called for all bars, wineries, breweries, and pubs to be closed. Restaurants have been asked to close for "in-restaurant seated dining" but remain open for "drive-through or other pick-up/delivery options."
Rhonda Chavez, 45, has been working in the service industry since she was 17. But during the afternoon on March 17, when San Luis Obispo County followed the state recommendation for all restaurants to move toward a take-out model, her career changed immediately.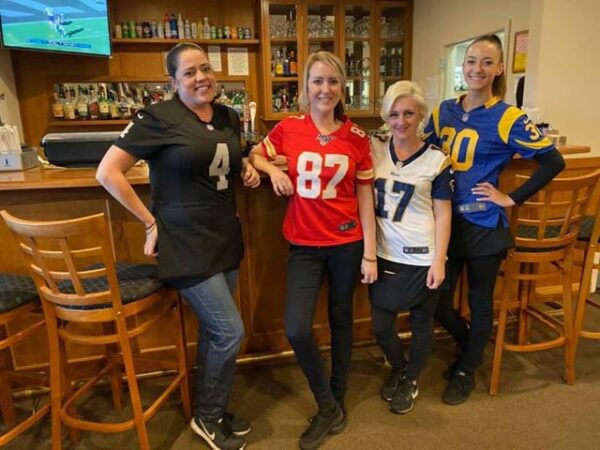 "I guess I made my last tips today," she told The Epoch Times, noting that her restaurant is in a predominantly senior development. "We were open yesterday, but we got the feeling that a lot of people were afraid to come in. We were getting sent home early and and a dramatic reduction of customers meant no tips and less hours."
"My car payment is due, my phone bill is due, rent is due on the first. I don't know how we are going to make it."
A server in the North Bay Area, who has been in the restaurant industry since 1979, has seen her weekly income drop from $600 per week to less than $200 in March.
As a cancer survivor with asthma, she is concerned about being infected.
"I also assist with caring for my elderly mom who is in a very high-risk category," she told The Epoch Times. "It's an impossible situation."
Nevertheless, she sees herself as a survivor.
"I survived living 8 months with no electricity or running water after Hurricane Hugo, so I'm pretty sure I'll manage this," she said. "For now, on the days I work, I'll focus on income. No one wants a cranky, stressed waitress. On the days I'm off, I'll focus on my health. And, of course, my mom's."
"I love my job and want to get back to it when this is all over, if the country survives," she added. "The world may be a very different place in six months."
The Epoch Times refers to the novel coronavirus, which causes the disease COVID-19, as the CCP virus because the Chinese Communist Party's coverup and mismanagement allowed the virus to spread throughout China and create a global pandemic.