HONG KONG—It was literally Throwback Thursday for UBB Gravekal when they lifted the 32nd GFI HK 10s Cup on Thursday April 6, 2017, compliments of an on target Nick Smith drop goal.
With the game tied at 7-7 and with less than 30 seconds left on the clock, and all to play for, be it for the spectators in the stands or the coaching staff on the bench, the likelihood of the game going into a tiebreaker or extra-time was then when the magic of the game materialized.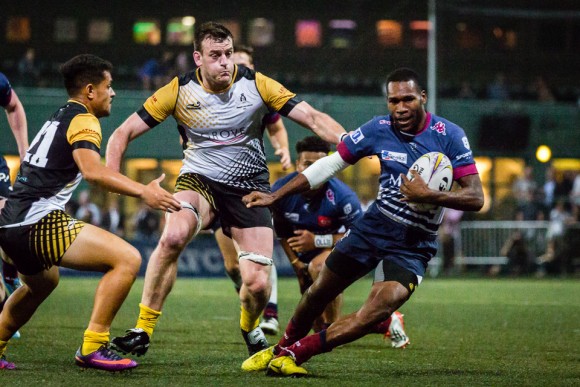 Starting from a signal from the UBB bench for Smith, who plays in the number 10 position who asserted the signal when his teammates sent the ball spiraling to him and just as casually he kicked the ball straight over the crossbar right on the final whistle to pulled off a stunner of a drop goal to help to take his side ahead of 2016 defending champions, Penguin International on a 10-7 scoreline at the Hong Kong Football Club, at Sports Road.
Smith's winner was reminiscing of England's drop goal sensation Jonny Wilkinson, who also dons the number 10 jersey and whose trademark drop goals steered his country to their first World Cup in 2003 in a similar fashion, a 20-17 score on the final hooter.
It was a repeat too for UBB whose captain and player of the tournament Aorangi Stokes who hails from New Zealander and making his 10s debut.
Not only was he proud of his compatriot Smith, he complimented his squad, which includes four Hong Kong based Fiji Sevens players – from playmaker Lemeki Tuelel along with Josua Vici, Samu Bale and Glen Cakautini for their hard efforts in helping them lift the title.
UBB began the tournament 11th from a 16th team roster with many not thinking they would reach the final let alone win it.
"I'm stoked! Its unreal," said Stokes who was making his 10s debut while praising his teammates who were on a similar vein of form.
"The boys showed they had a massive ticker as they put everything out there as you saw. We are all spent," said Stokes.
"We've got to praise the boys for ding what they did and out little 'man of the moment (Smith) for doing what he done," said Stokes who plays at flanker.
Smith was humbled in his captain's assessment of his abilities and said as much as he was doing his job.
"I saw the signal of the bench to try and give it a goal as saw  the clock and realized how much time was left and I went for it," Smith added.
In presentations Australian Sevens teenager Josh Coward – representing the Classic Wallabies was named the top try scorer on six.

In other awards; Kir Club Pyrenees, captained by French Legend Damien Traille collected the second-tiered Plate with their 21-5 win over Australian side King's College while Mourant Ozannes Samurai International lifted the Bowl.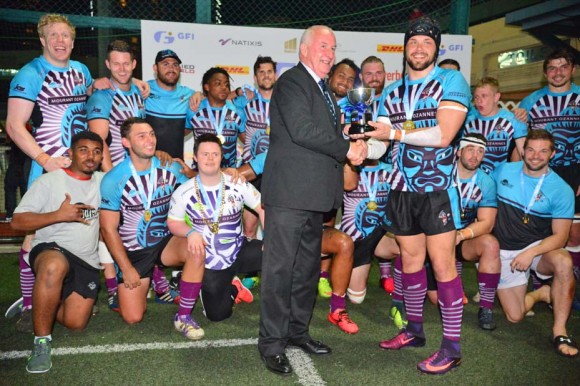 In the Shield, it was a first for a team hailing from Mainland China which saw the Devil's Advocate Silver Dragons representing the Shanghai RFC and the Shanghai University of Sport took the Shield to become the first side from Mainland China to win Silverware at the tournament with their 24-7 victory over CRFA Gladiators representing the Chinese Rugby Football Association.
Eddie So is a seasoned sports journalist and photographer and has worked for a number of media companies in Hong Kong over a period of more than 20 years.