China's Jilin provincial government recently dismissed an official after he published a controversial book.
The whirlwind sequence of events leading to his dismissal highlights the infighting within the Chinese Communist Party (CCP).
He Dian, deputy Party secretary and executive deputy director of the Jilin Public Security Department, was dismissed from his posts on July 31.
The Party's anti-corruption watchdog, Central Commission for Discipline Inspection (CCDI), started to investigate He Dian and the Jilin provincial government after he published a book called "Ping'an Jing," translating roughly to "book of peace."
Controversy
He Dian's book did not attract people's attention outside of Jilin Province until July 27.
That day, a netizen shared seven pages of the book on Weibo, a social media platform similar to Twitter. The sentences repeated "ping an," which translates to being at peace or being safe and sound, over and over, with different modifiers.
The content could be translated as such: "wishing the eyes to be in a peaceful status, wishing the ears to be in a peaceful status, wishing the nose to be in a peaceful status…wishing you peace at one-year-old, wishing you peace at two-years-old…wishing people are safe at Beijing Railway Station, wishing people are safe at Xi'an Railway Station, wishing people are safe at Zhengzhou Railway Station…" The text continues in a similar format throughout.
According to the printing press's website, the book was printed in December 2019. It went on sale in January 2020 with a price of 299 yuan ($42.66).
In May, the book went through its second printing after the first print was sold out. Officials in Jilin bought up the copies, and also sang high praises about it on social media. Local state-run media also gave the book raving reviews.
The book author was He Dian, a local senior official. According to the CCP's mouthpiece newspaper People's Daily, he is 57 years old, has a Ph.D. in law, is a professor at Northeast Normal University, and a police inspector. In November 2019, he was promoted to be deputy Party secretary and executive deputy director of the Jilin police department.
After his book was exposed on social media, netizens remarked that there was a sharp contrast between the book's plain language and his educational background.
The Weibo post was shared many times.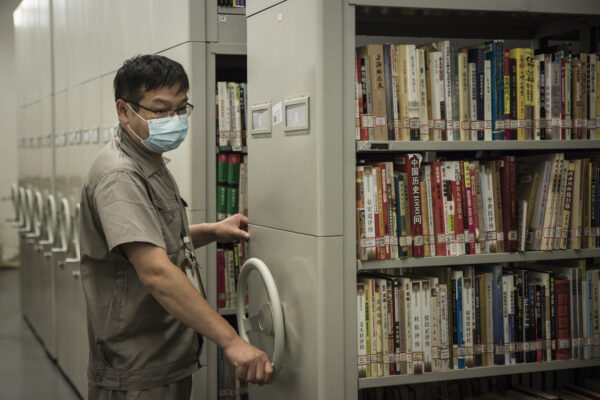 Big Change
On July 29, the Party's anti-corruption watchdog CCDI published a commentary article on its official website, commenting that He Dian's book "was so uneducated that it totally shocked people."
The watchdog then ordered Jilin local authorities, including the propaganda department, to investigate He Dian and other officials who were behind the book's publication.
State-run CCTV, Xinhua, People's Daily have since commented on the book, exclaiming that such a simplistic book was able to be published because of officials' "boot-licking."
The Jilin provincial commission announced an investigation on the book on July 29. A day later, state-run media reported that He confessed his wrong behavior during an internal meeting with the provincial police department.
On July 31, He was dismissed.
On Weibo, many Chinese netizens shared their opinions on the debacle.
Li Shenye 292 posted on July 31 that he speculated He got in authorities' crosshairs because he angered his bosses.
Li's comments resonated with netizens, who expressed their anger at corruption within Chinese officialdom.
Radio France International's Chinese website, in a commentary article, noted that "The book reflects the deep corruption and instability of Chinese officialdom."
The article analyzed that authorities were likely purging officials who were not loyal to current leader Xi Jinping.