Sen. Tammy Duckworth (D-Ill.) lifted her hold on U.S. military promotions after being assured by the Pentagon that high-level officials weren't blocking the promotion of an officer who had testified during the impeachment inquiry into President Donald Trump.
Duckworth, a member of the Senate Armed Services Committee, announced earlier this month that she would block every promotion unless Secretary of Defense Mark Esper confirmed that he didn't or wouldn't block the "expected and deserved" promotion of Lt. Col. Alexander Vindman.
The senator said July 14 that she had received that assurance.
The U.S. Department of Defense confirmed in writing that Vindman was selected by the Army promotion board to be promoted to colonel, that the Secretary of the Army approved the recommendation and submitted it to the Pentagon for approval, and that the department signed off on and submitted the Army promotions packet without modification to the White House.
Because she received the communication from the Pentagon, Duckworth said she won't object to the remaining promotions when the Senate returns to session the week of July 20.
"Donald Trump's unprecedented efforts to further politicize our military by retaliating against Lt. Col. Vindman—for doing his patriotic duty of telling the truth under oath—are unconscionable," Duckworth said in a statement.
"I'm glad the Department of Defense was finally able to set the record straight that Vindman had earned and was set to receive a promotion to Colonel. We must always protect the merit-based system that is the foundation of our Armed Forces from political corruption and unlawful retaliation."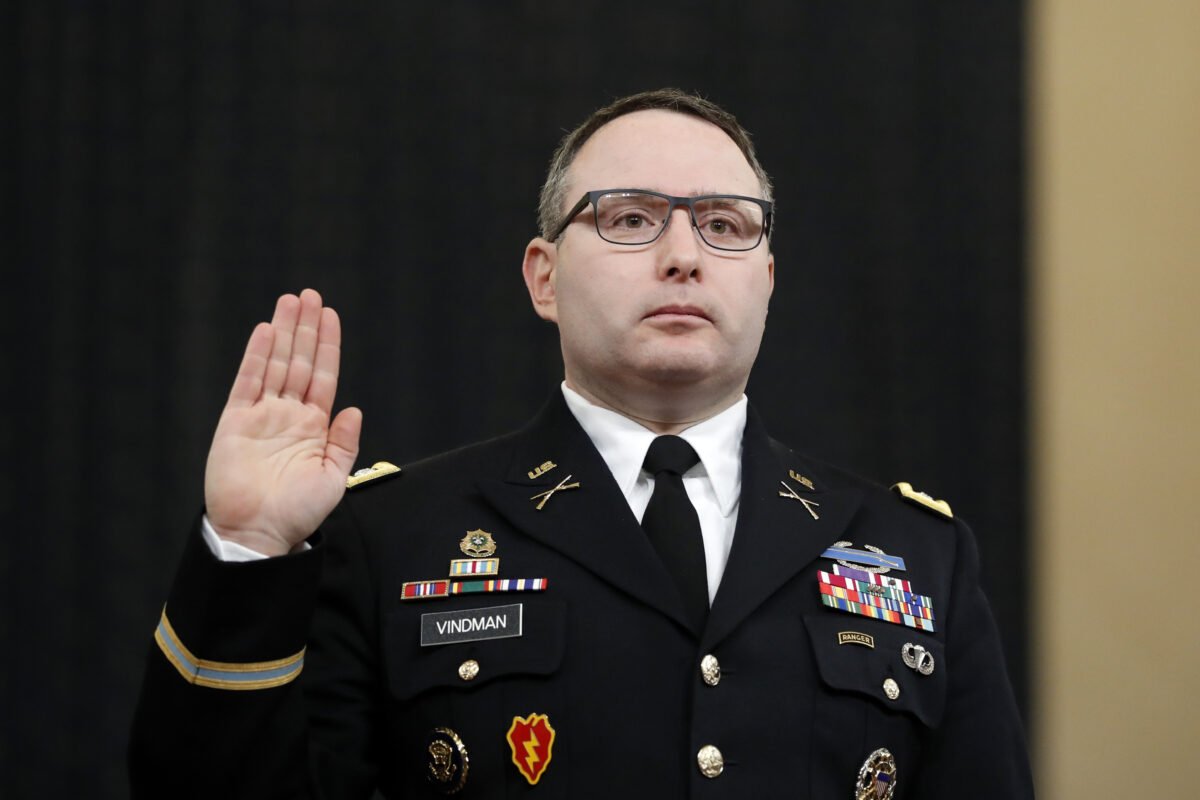 Trump repeatedly criticized Vindman after the officer testified against the president during last year's impeachment inquiry in full uniform. But there's no evidence that he retaliated against Vindman, although the officer was removed ahead of schedule from the White House National Security Council.
House Intelligence Committee Chairman Adam Schiff (D-Calif.) said during a July 8 appearance on MSNBC's "The Beat" that Trump took actions "essentially pushing both [Vindman] and his brother out of their positions at the National Security Council" and claimed they were bullied by the White House.
Vindman won't receive the promotion, after announcing last week that he plans to retire from the U.S. Army.
"My family and I look forward to the next chapter of our lives," Vindman said in a statement.
His lawyer said Vindman was leaving "after it has been made clear that his future within the institution he has dutifully served will forever be limited."
Esper previously told reporters that the Pentagon protects all of its people "from retribution."
Yevgeny Vindman, Vindman's twin brother, remains on active duty but has taken to social media in recent weeks to publicly criticize both Trump and Esper.
He shared an anonymously sourced story that claimed the White House was pressuring the Pentagon to block his brother's promotion, calling what allegedly transpired an "inappropriate and outrageous attack on Alex Vindman's character."
He also retweeted, or shared, a Twitter post that called on Esper to resign.
Jack Phillips contributed to this report.