Sen. Chuck Grassley (R-Iowa), chairman of the Senate Committee on the Judiciary, has requested information on why Natalia Veselnitskaya, a Russian lawyer, was allowed to enter the United States without a visa.
In a letter requesting the information from the Department of Homeland Security and the State Department, Grassley says that Veselnitskaya was granted a parole letter in 2015, after having initially been denied a visa, to participate in a court case in the United States.
The parole expired on Jan. 7, 2016, and a request for an extension was denied on Jan. 4, 2016.
However, Veselnitskaya was able to come into the United States, after requesting a meeting with Donald Trump Jr. through an intermediary promising damaging information on political opponent Hillary Clinton.
The meeting took place at the Trump Tower in New York on June 9, 2016.
Grassley is now asking how it was possible for Veselnitskaya to enter the United States for the meeting without a visa.
"This raises serious questions about whether the Obama administration authorized her to remain in the country, and if so, why?" Grassley said in a statement.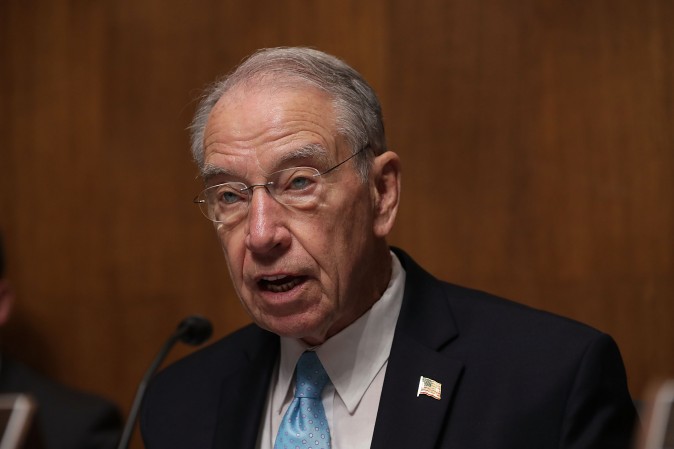 Trump Jr. said that he had accepted the meeting because he believed the potentially damaging information on a political opponent could be useful during the campaign.
He tweeted on July 10, "Obviously I'm the first person on a campaign to ever take a meeting to hear info about an opponent… went nowhere but had to listen." 
Lawyers for President Donald Trump have raised the possibility that the request for the meeting could have been part of a smear campaign against him, trying to tie him and his campaign to Russia.
"We have learned that the person who sought the meeting is associated with Fusion GPS, a firm which according to public reports was retained by Democratic operatives to develop opposition research on the president and which commissioned the phony Steele dossier," Mark Corallo, a spokesman for Trump's legal team, told Circa.
The "Steele dossier" is a report that is believed to have been funded by a Hillary Clinton backer and was spread widely among politicians and journalists with the intention of damaging Trump with information that has been widely debunked.
In the report, author Michael Steele, a former British intelligence agent, used primarily Russian sources linked to the Kremlin, such as senior Russian officials and intelligence officers.