As senators return to Capitol Hill from an extended recess due to the virus outbreak, they will be supplied with rapid COVID-19 tests, according to President Donald Trump and Department of Health and Human Services chief Alex Azar.
Trump said in a tweet May 2 that there was "tremendous" testing capacity for senators returning to work on May 4, adding that a rapid test developed by Abbott Laboratories would be used.
Azar said in a tweet of his own that the administration will supply lawmakers with tests and also three rapid-result testing machines.
"Good news: as the Senate reconvenes to do important work for the American people during this public health crisis, we have now received an initial request and are sending three Abbott point of care testing machines and 1,000 tests for their use," Azar said in a tweet late May 1.
The Abbott ID NOW COVID-19 test was granted emergency use authorization by the Food and Drug Administration (FDA) in late March. It runs on a portable device the size of a toaster and the company says the process can deliver "positive results in as little as five minutes and negative results in 13 minutes."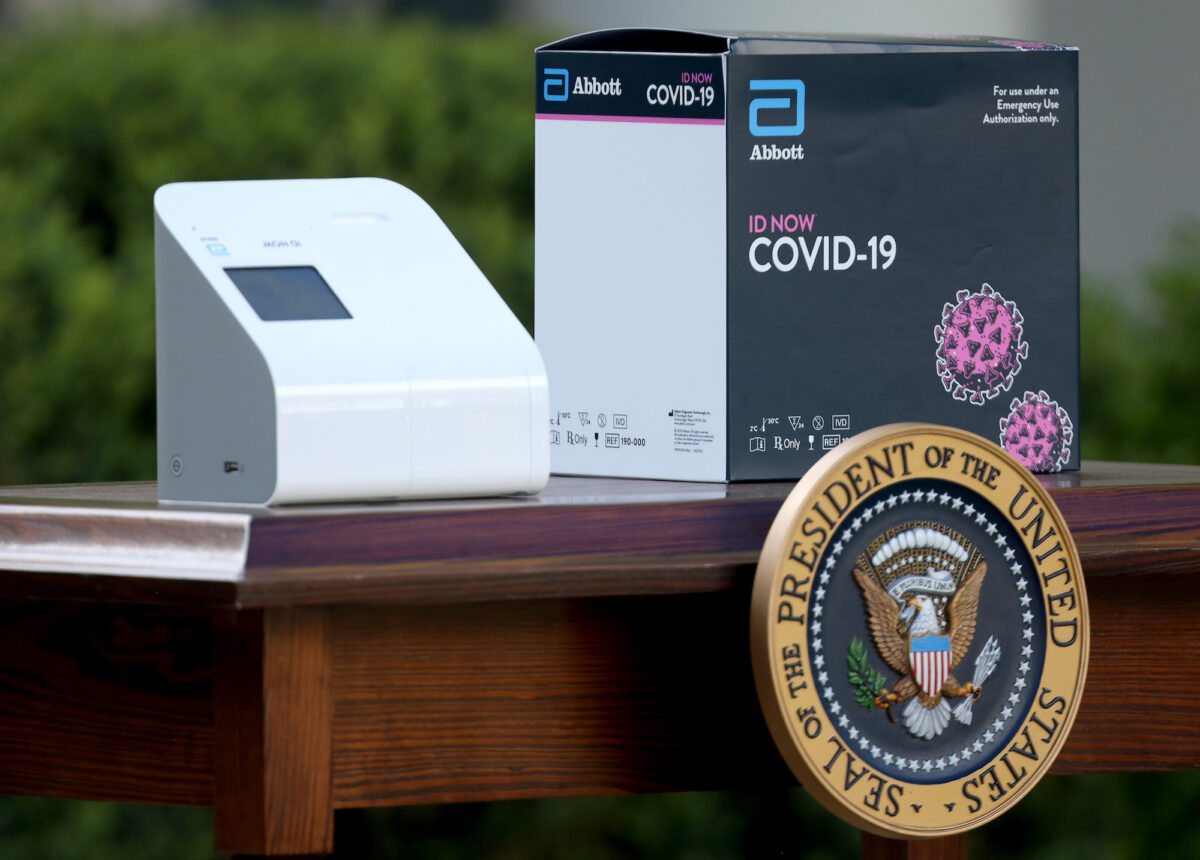 "Because of its small size, it can be used in more non-traditional places where people can have their results in a matter of minutes, bringing an alternate testing technology to combat the novel coronavirus," Abbott said in a statement.
Trump added in his tweet, "Please inform Dr. Brian P. Monahan," the Capitol's attending physician. According to multiple reports, Monahan told Republican officials he didn't have the capacity to test all 100 senators when they return to work after the long absence.
While Monahan reportedly said he lacked the equipment to perform rapid COVID-19 tests, Azar's announcement of the expected delivery of the Abbott testing machines suggests that may no longer be a constraint.
In his tweet, Trump also suggested there were enough tests to accommodate members of the House, "which should return but isn't because of Crazy Nancy P," referring to House Speaker Nancy Pelosi (D-Calif.).
The House was initially due to return on May 4, the same as the Senate, but Pelosi and House Majority Leader Steny Hoyer (D-Md.) decided to halt those plans after consulting with Monahan, according to Politico.
On May 1, Hoyer wrote a letter to Monahan and Chief Administrative Officer of the House Philip Kiko, asking them to share guidance they have been developing on how to safely reopen the Capitol.
"In order to resume Capitol operations, we need to have detailed plans in place for the provision of supplies to disinfect surfaces and protect individuals from exposure and information on how many staff ought to return first in each office during a phased return," Hoyer said in the letter.
"Even when members and staff are able to come back, social distancing measures will likely have to remain in place for some time, which is why any reopening plans ought to account for the need to employ virtual tools for caucus gatherings, press events, and committee meetings," he wrote.
Monahan, in guidance issued May 1 and obtained by The Hill, recommended precautions for senators and staff, including avoiding gatherings and modifying office layouts to allow for social distancing.