Sen. Ben Sasse (R-Neb.) on Monday challenged President Donald Trump's claim that he had "gone rogue" with opposition to the executive orders the president signed over the weekend.
Sasse, a first-term lawmaker running for re-election, said he doesn't personally dislike the president but believes the orders were illegal.
"No president—whether named Obama or Trump or Biden or AOC—has unilateral power to rewrite immigration law or to cut taxes or to raise taxes. This is because America doesn't have kings," Sasse wrote in a statement he posted on social media and signed "Gym Rat."
The note came in response to Trump's tweet calling Sasse a "RINO," or "Republican in name only."
After scoring an endorsement from the president, Sasse has "gone rogue, again," Trump alleged, adding: "This foolishness plays right into the hands of the Radical Left Dems!"
Trump signed four executive orders on Saturday, bolstering unemployment payments, deferring the payroll tax for most Americans, extending student loan relief, and directing officials to study whether measures temporarily halting all residential evictions are reasonably necessary.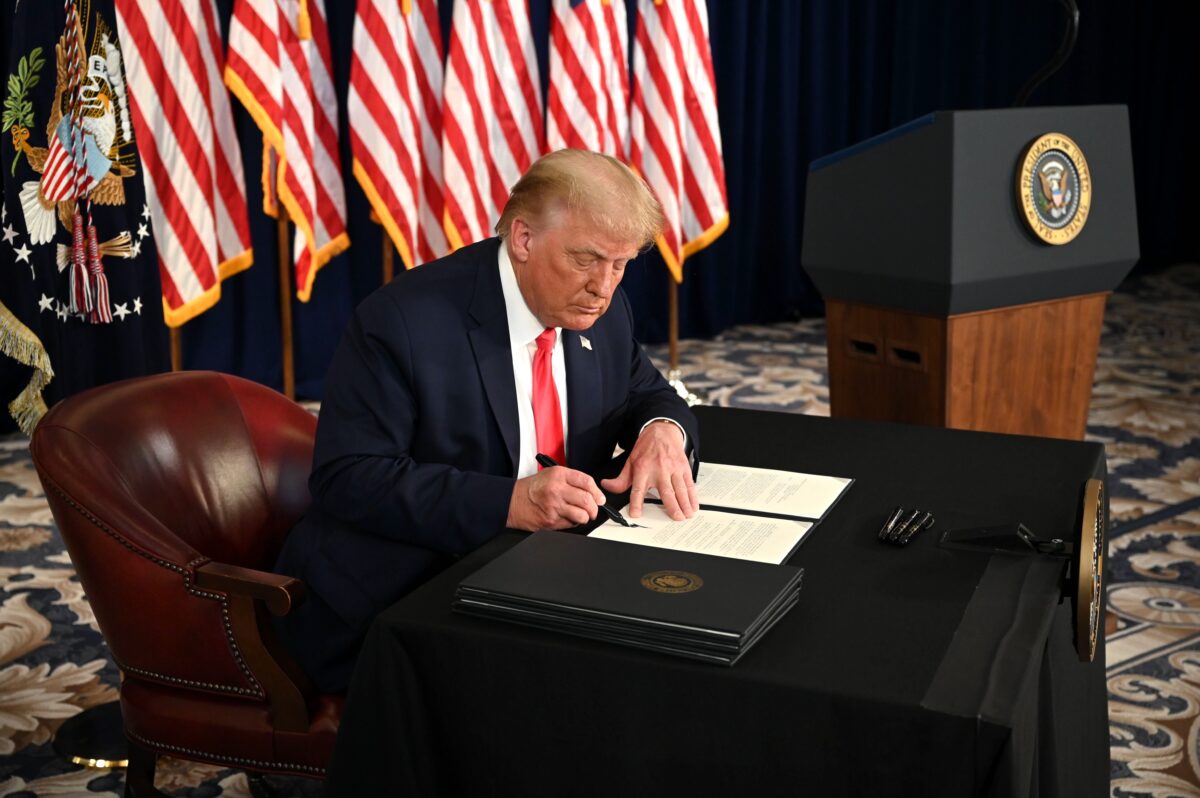 Sasse joined Democrats in harsh criticism of the president, calling the theory behind the actions "unconstitutional slop."
"President Obama did not have the power to unilaterally rewrite immigration law with DACA, and President Trump does not have the power to unilaterally rewrite the payroll tax law. Under the Constitution, that power belongs to the American people acting through their members of Congress," Sasse said.
White House press secretary Kayleigh McEnany told reporters on Monday that the president's actions were "entirely within the executive capacity of the president," unlike Obama's DACA action.
McEnany cited specific laws, including the Higher Education Relief Opportunities for Students Act of 2003, or 20 U.S.C. § 1098(bb); the Stafford Act, or 42 U.S.C. § 5174; and 26 U.S.C. § 7508A.
Sasse on Monday challenged Trump's claim regarding the endorsement, saying he never asked for Trump's endorsement and did not use it in his campaign.
"I understand you've been frustrated I didn't join your re-election committee & that I ran a primary ad admitting to Nebraskans that we sometimes agree and sometimes disagree," Sasse wrote.
He linked to a campaign advertisement that includes a narrator saying Sasse "ticked off a lot of folks" over his six years in office, including "even the president from his own party."
The lawmaker said he has never asked Trump for anything personal.
"I have pleaded with you but for bigger things like better U.S. policy on the Chinese Communist Party—and on this, you've done a very good job," he added.