Experts are saying that the food supply chain issues were caused by a "perfect storm" of labour issues after COVID-19 restrictions prevented many people from entering the country while at the same time causing an exodus of migrants.
Andrew Timming, a professor of human resource management at RMIT University, told The Epoch Times that Australian supply chains were heavily dependent on migrants who take low wage jobs that are essential for its smooth operation.
"So the fact that we've lost that migrant labour supply has been pretty devastating to the supply chain," Timming said. "But that has been coupled with the recent Omicron wave that's been spreading like wildfire across Australia."
Many workers have been forced into isolation from contracting the CCP virus or being identified as a close contact, causing businesses in the supply chain to report absenteeism in the workplace of up to 50 percent.
According to estimates by the Treasury, up to 10 percent of the Australian workforce could be absent at any one time due to Omicron.
Timming said one solution to future shocks to the supply chain was the automation of the industry, such as the use of self-driving trucks.
"Here in Australia, we already have huge machines that transport the raw materials that they work with in the mining sector, across the desert with no drivers," he said, adding that in the future, the economy could see an increase in automated transport in general, including self-driven ships, trains, and aeroplanes.
"This would take a huge amount of pressure off the supply chains because the movement of goods and services won't be dependent upon or impacted by a pandemic, such as the one we're currently experiencing," he said.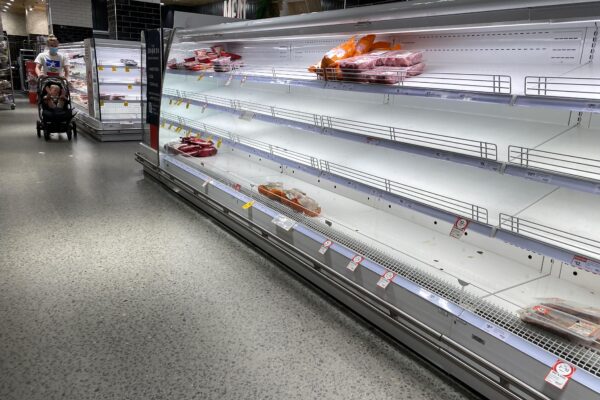 Timming also encouraged Australians to participate in local produce markets, which is not as dependent on the long-distance movement of goods.
"[My family] get our meat from a local butcher, and honestly, I haven't seen a single problem with the supply of meat at that butcher," he said. "We get our vegetables from a local organic farm. Again, every week, they come in, they drop off a box, and it's filled with fruit and vegetables."
Andrew Butt, an associate professor in sustainability and urban planning at RMIT University, said urban planning of major Australian cities was failing to protect the surrounding farming areas, resulting in the progressive loss of small-scale food production.
"For a long time, including in around the cities like Melbourne and Sydney, we've had small scale production occurring … but it's under huge pressure from housing and urban development," Butt told The Epoch Times.
Meanwhile, large supermarkets rely on large-scale operations that are far from cities.
"A very good example would be the Asian greens production for small grocers and restaurants in around the west of Sydney. It relies on clusters of activity, it relies on clusters of the labour force, and it works because of that," Butt said.
He warned that we shouldn't have the assumption that the current food supply chain system will always work because the model of large-scale production with long-distance operation was "quite fragile."
Butt said Australia had not actively planned to protect and maintain small grower operations under the assumption that they would just disappear.
"And I guarantee that, in fact, will happen. It's sort of a self-fulfilling prophecy," he said.