Chen, one of the doctors treating some of the sickest patients in a Chinese city hard-hit by COVID-19, says he was aware of the risks of being placed on the front lines against the novel coronavirus outbreak.
"I'm afraid of becoming infected, and even dying… After I received the order, the first thing I did was take a photo with my family members. I was worried that I would not be able to come home," he said.
"There are so many deaths. The mortality rate of patients in critical condition is about 80 percent, and the mortality rate of patients in severe condition is 20 percent."
In an exclusive interview with The Epoch Times on Feb. 27, Chen discussed what he's seen and experienced in the city of Ezhou, about 50 miles east of Wuhan, where the outbreak first emerged. Both cities are in Hubei Province.
As a doctor with a lot of experience treating patients with respiratory diseases in intensive care units and respiratory care units, he was dispatched from another province to the Ezhou Central Hospital in February to help treat the large numbers of COVID-19 patients.
Chinese authorities have forbidden medical staff from conducting media interviews. To protect Chen's identity, The Epoch Times is withholding his full name and hometown.
Situation in Ezhou
Chen received a sudden notice from his workplace in early February. "We departed to Hubei in three and a half hours."
Ezhou is a city that has about 1.03 million people. On Jan. 23, Ezhou and Wuhan authorities announced a lockdown, banning all public transportation and traffic on the roads to prevent people from potentially spreading the virus.
About 700 to 800 medical staff have arrived in Ezhou from other provinces to help treat patients, bringing the total number of medical staff in the city to roughly 3,500, Chen said.
But it's still not enough.
"We need more [medical staff]. There are so many patients," he said.
The hospital where Chen is working only treats patients in severe and critical condition. He said that there are currently more than 300 patients hospitalized, including more than 40 in critical condition.
Chen says hospital officials and local doctors have told him that another 700 to 800 coronavirus patients in mild and moderate condition are receiving treatment at other hospitals in Ezhou.
The city government has also approved and begun construction on a new hospital, called the Ezhou Leishan Hospital, to deal with the current outbreak. While it will eventually have 772 beds, one section of the facility that has more than 200 beds is already completed.
The new hospital will be for treating patients in moderate and mild condition, Chen said.
Chen says more medical supplies, including protective suits, masks, goggles, and disinfectants, are needed in Ezhou.
"Ezhou relied on Wuhan for medical supplies. After Wuhan was on lockdown from Jan. 23, Ezhou had to secure supplies on its own. So it's obvious that we need all kinds of resources," he said.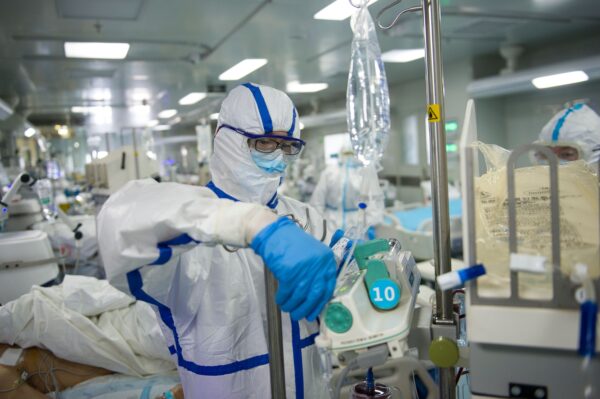 Tough Conditions
At Chen's hospital, about 70 staffers have already contracted the virus from contact with patients.
"At the beginning of the outbreak, a large number of patients were crowded at the hospital. Local medical staff didn't have enough protective suits, so it was as if everybody was exposed to a virus ocean," Chen said.
He heard that thousands more staff have become infected within Wuhan. Others are suspected cases, or have CT scan results that show fluid in the lungs—a symptom of COVID-19—but whose diagnostic tests have come back negative. Others have died.
Chen said the extremely heavy workload creates a multitude of challenges for medical personnel.
"The protective suits are airtight, and we're sweating inside while wearing them," Chen said. "Also, we can't eat, drink, or go to the bathroom during our work shift."
Chen said staff can't take off their protective suits before their shift ends, as they can only be worn one time. Due to a lack of supplies, each person can only use one suit per day. To avoid the need to go to the toilet, they choose to eat and drink very little before work.
"Basically, even a strong person will be exhausted after a six-hour shift," Chen said.
He said the situation was worse before he and his colleagues were dispatched to Ezhou.
"They [local medical staff] needed to work 12 hours per day during the beginning [of the outbreak]," Chen said.
But he said the most difficult thing to endure is seeing the patients suffer.
"Seeing the patients die one by one, but we don't have an effective treatment. … After we finish our workday, we feel very sad."