In undercover footage shot inside China's notorious Masanjia labor camp, prisoners are shown hunched over work tables, with piles of wire diodes—an electronic component—on either side of a rubber mat.
Working silently, intently, and urgently, they take diodes from the pile on the left, rub them on the mat, straightening them, and then place them in the pile on the right.
They do this work 15 hours a day, while being fed subsistence meals and receiving a pittance or no pay at all. One video shows a bowl of watery soup with just a few leaves of cabbage in it, daily fare that the inmates dub "cabbage swimming," because of the abundance of liquid.
Some inmates, exhausted, are shown lying down to sleep under their work tables.
Those who protest their mistreatment are badly beaten. One video shows an inmate, injured from such a beating, shackled to his bed.
These shocking images were smuggled out of the labor camp around the time of the 2008 Beijing Olympics, in an almost successful escape attempt engineered by a successful entrepreneur named Yu Ming. For his part in planning the escape, Yu was almost tortured to death, but the videos were not captured.
The videos document a widespread abuse in today's China: the use of slave labor to make diodes, which appear in products sold around the world. Using slaves to make the small components is a brutal, and highly profitable, business.
Undercover video from Masanjia Forced Labor Camp in China showing inmates making diodes during the 2008 Beijing Olympics:
Persecution
Yu, like many of those pictured in the videos, had been imprisoned for practicing the spiritual discipline Falun Gong, also known as Falun Dafa.
Falun Gong involves doing meditative exercises and living according to the principles of truthfulness, compassion, and tolerance. In 1999, then-dictator Jiang Zemin, having learned more people were practicing Falun Gong than were members of the Communist Party, ordered a campaign to eradicate it.
At any one time, between hundreds of thousands and 1 million Falun Gong practitioners are estimated to be detained in China.
Goodwork
Yu said it is common knowledge among those imprisoned in Masanjia that they are making diodes for the Taiwan-based firm Goodwork.
Staff from Goodwork often went to the labor camp to teach the inmates how to make diodes, how to deal with waste products, and so on. They also went there frequently to deliver raw materials and take away finished products.
Yu brought out of the camp images of forms titled "GW Production Process Card." One of the forms has a stamp that says "Brigade 1, Masanjia," with "Detachment 1" handwritten on it, indicating that the production was done by Detachment 1 of Brigade 1 of Masanjia labor camp.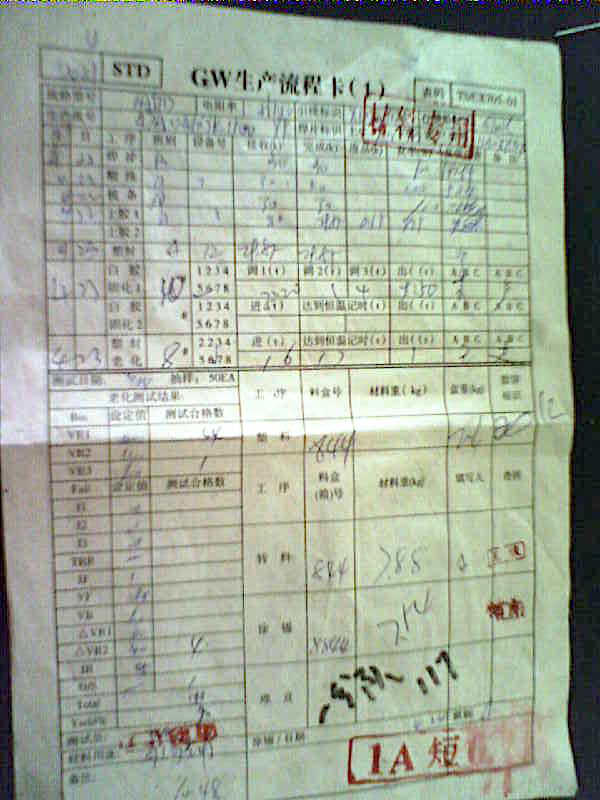 The Goodwork subsidiary Shenyang Goodwork Electronics Co. Ltd. is a 40-minute drive from Masanjia.
Accusations of slave labor in Masanjia on behalf of Shenyang Goodwork have appeared since 2007 on the Falun Gong website Minghui.org.
Minghui.org was set up about one month before the persecution of Falun Gong started in 1999. Since then, it has been the main platform for mainland Chinese Falun Gong practitioners to submit first-hand accounts and information about the persecution in China (while risking their lives to do so).
One post uploaded to Minghui.org on Jan. 24, 2008, reported that "Shenyang Goodwork Electronics Colludes With Chinese Communist Party's (CCP) Labor Camps and Prisoners to Enslave Inmates."
The post stated that Shenyang Goodwork Electronics sent diodes to the No. 1 Camp of Masanjia labor camp and the No. 2 Shenyang prison to be straightened and processed.
Another post uploaded on Jan. 11, 2008, reported that "Shenyang Goodwork Electronics violates international trade law and Unfair Competition Law by sending large amounts of GW diodes to No. 1 Camp of Masanjia Labor Camp and No. 2 Shenyang Prison to be processed."
A third post, dated Dec. 29, 2007, is titled "Exposing Shenyang Goodwork Electronics."
The article stated: "This company sent a large amount of diodes to Masanjia Female Labor Camp in Liaoning Province and Dabei Prison to be processed and produced. After being assembled, these products were sold to international markets. This violates international trade law, as well as the [Chinese regime's] Re-education Through Labor Law. We call for the international community to pay attention to this."
Undercover video from Masanjia Forced Labor Camp in China showing inmates making diodes during the 2008 Beijing Olympics. Some were so exhausted they lay down under their work table to take a break.
Sold in the United States
Goodwork Semiconductor Co. Ltd. in Taiwan lists Shenyang Goodwork as its "factory" under its "Company Profile" section, with a "total capital" of US$7 million and a "Production Capacity" of 320 million per month.
On the website of SP International, a "global distributor of electronic components," there is a page for Goodwork Semiconductor Co. Ltd., which describes the company in this way:
"Goodwork Semiconductor Co., Ltd. (GW), founded in July 1989, is specialized in the manufacturing and exporting of rectifier diodes. With a plant area of 324,600 square feet in Shenyang, China, Goodwork monthly produces 360 million units of rectifier diodes, which makes Goodwork one of the leading manufacturers in rectifier diodes."
A Chinese-language Goodwork website states: "Our products are mainly sold to countries and regions including Europe, Japan, the United States, Korea, Southeast Asia, Hong Kong, and Taiwan, etc. We are the diode supplier for international companies including Panasonic, Matsushita, Sanyo, Hitachi, Kaga, Diamond, Nidec, Pantene, Compel, Dongyang, MicroStar, Jean, Three Sona, Linear, Nokia, etc."
A customer service staff member of SP International confirmed that products of Goodwork Semiconductor had been shipped to the United States for many years, and could be shipped to anywhere in the United States upon customers' requests.
Taiwan Goodwork couldn't be reached for comment.
Undercover video from Masanjia Forced Labor Camp in China showing the inmates' dormitory.
Widespread Slave Labor Production of Diodes
A search for "diode" in the Chinese language on Minghui.org produced 84 articles.
According to reports posted on Minghui.org, inmates from at least 13 labor camps, detention centers, and prisons were forced to make diodes.
The earliest report was dated Sept. 1, 2001, and said that 13 Falun Gong practitioners were detained by the "Strict Control Squad." They were forced to work straightening diodes from 6 a.m. to 8 p.m. every day.
The latest report, dated May 11, 2016, stated that Falun Gong practitioners held at Weining Forced Labor Camp in Benxi City, Liaoning Province, were forced to do jobs that were harmful to their health, including making artificial flowers and straightening diodes.
Undercover video from Masanjia Forced Labor Camp showing a Falun Gong practitioner after being beaten for protesting against the persecution of Falun Gong.
Brutal
In an article published on Oct. 22, 2014, Guo Jufeng, an electrical engineer who currently lives in Germany, recalled what happened to him in China:
"I was arrested four times and sent to three labor camps in China. Altogether, I was incarcerated for 454 days. I was subjected to more than 20 forms of torture. … I was forced to process diodes. … Every day, we worked for more than 16 hours."
In another article published on Sept. 18, 2015, Guo recalled: "One movement we needed to repeat over 10,000 times was grabbing a handful of diodes from the box with our left hand and throwing them on top of the piece of rubber on the table. Then we used our right hand to rub the curved diodes, until they were straightened out. Then we put them into the box on our right side. … We were given meals on time and six hours' sleep, only for the purpose that we could continue to work. All other times we were working, without being paid a penny.
"If we couldn't do our job on time, or refused to work, we would gain another thing, which was the abuses of the head prisoner and torture by the police, which was hysterical."
Undercover video from Masanjia Forced Labor Camp showing a Falun Gong practitioner cuffed to a bed after being tortured badly for protesting against the persecution of Falun Gong.
A report published on May 3, 2014, has the headline "'The Competition of Straightening Diodes at Changzhou Detention Center in Jiangsu Province."
The report stated: "Prisoners usually start their day at 6:10 a.m. and work until 9 or 11 p.m. They are only given five minutes to eat breakfast and lunch. They are not given time to use the bathroom or drink water.
"The Changzhou Detention Center has a year-round contract with [an electronic company] to process a variety of diodes. If the quality of diodes is poor and they get returned, the guards punish the prisoners who made them. They are forced to sit on a board from 7 a.m. until 9:30 p.m. for anywhere from a week to a month. After sitting for such a long time, they can't walk normally. They are not allowed to take a shower and are tortured to the verge of death.
"Every inmate is required to polish 10 kilograms [22 pounds] of diodes a day, even though this causes her fingers to bleed, her joints to swell, her nails to fall off, and her skin to peel.
"The detention center holds a diode polishing 'competition' every day. The two inmates who make the least diodes that day have to work two additional shifts. They have to stand up as they work and can only sleep three to four hours. Every inmate works desperately to avoid being one of the slowest two. The fact is, no matter how hard everyone works, there are always two that are the slowest."
Undercover video from Masanjia Forced Labor Camp showing the canteen and food of the inmates.
Retail Price Versus Labor 'Cost'
According to a report posted on Minghui.org, many labor camps and prisons don't pay anything to the inmates at all, while inmates from Masanjia were paid 10 RMB yuan ($1.45) per month, which equates to about $0.048 per day.
For Goodwork diodes with the part number "SR560," SP International's quote is US$123.64/K pcs, or $0.12364 per piece.
If every day, one inmate was forced to process 10 kilograms (22 pounds) of diodes, and every 1,200 pieces weigh about 1.3 pounds, and these diodes were sold at $0.12364 per piece, the diodes made by one inmate every day could be sold for $2,510 on the international market, according to SP International's quotation.
Undercover video from Masanjia Forced Labor Camp showing the canteen and food of the inmates.
To put it another way, for $2,510 worth of diodes made in the labor camps and prisons, the labor cost is only $0.048, or even nothing.
According to figures obtained from the U.S. International Trade Commission (USITC), the total value of diodes imported from Taiwan from 2010 to 2018 varies from $334.4 million (in 2017) to $992.34 million (in 2014).
Forced Labor Amid U.S.–China Trade Talks
Since the start of the trade war between the United States and China, there have been calls to "relink" human rights with trade. So far this has not happened. Without human rights being included, other issues such as intellectual property theft, forced technology transfer, and government subsidies have proven to be challenging enough for an agreement to be reached.
Undercover video from Masanjia Forced Labor Camp showing a Falun Gong practitioner lying on bed after being tortured badly for protesting against the persecution of Falun Gong.
Olivia Enos, a policy analyst at The Heritage Foundation's Asian Studies Center, told The Epoch Times that there are actually several kinds of existing mechanisms the United States can use to address the slave labor issue in China.
"The first one would be to consider using Global Magnitsky authorities," Enos said. "The second mechanism that they have is not only the investigative authorities that the U.S. Customs and Border Patrol and U. S. Commerce have in conjunction with the Treasury to investigate whether or not goods produced with forced labor are making their way into the U.S. market, but they actually have the ability to stop those imports out and out through an authority called 'Countering America's Adversaries Through Sanctions Act.'"
Enos said this act is very important, as it has the ability to shut down imports from the companies and even those countries, as a whole, where forced labor is used.
She said the United States can also use diplomatic channels to discourage other countries from cooperating with countries that use forced labor.
Undercover video from outside of what was formerly Masanjia Forced Labor Camp. Shot by Yu Ming in late 2018, before he escaped to the United States in Jan. 2019. After the labor camp system was abolished in 2013, this facility was used as a "drug rehabilitation center." Yu Ming was detained here during 2007-2009.
Chinese translation available at http://www.epochtimes.com/b5/19/6/9/n11310954.htm