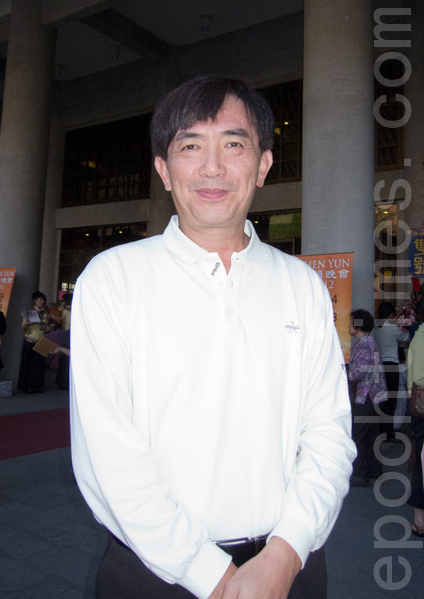 KAOHSIUNG, Taiwan—With locals lining up outside the National Sun Yat-sen University Sun-Yat-sen Hall on Saturday, March 17, an extraordinary record of six consecutive sellout shows is evidence of the popularity of Shen Yun Performing Arts New York Company that is sweeping across Southern Taiwan.
Hong-Mou Wu, Secretary General of Kaohsiung City Council, was one of many local government officials who attended the performance in the past week. "Very touching! The entire production was superbly done. I am completely bathed in great happiness, and I have a positive outlook about life in the future as never before," he said.
In 2009, when Mr. Wu was chief of the Public Services Bureau of Kaohsiung City Government, he saw Shen Yun the first time. Now seeing it again, he said that the positive nature and the emphasis in the programs on good virtues, had deeply touched him. "The programs were wonderful. It has positively portrayed the benevolent human nature, the caring, and other positive human virtues. Well done. The meaning of each individual program was likewise excellent," he said.
Mr. Wu said he was a firm believer in human goodness and that Shen Yun presented this quality in a crystal clear way, and was sure to be inspiring to today's society. "People are often very busy with life. However, they should think more about caring for the environment and loving people in this world," he said.
He expressed his joy and excitement after the performance. He said that genuine happiness and positive outlook about life always accompanied him after watching Shen Yun. "This is how people should treat each other, with care, love, and benevolence. I think these virtues are the core values of what makes us human beings."
He also gave some artistic points of view. He said: "Every year, the programs are wonderful. The costumes, dancing and everything are sensational." Snowflakes Welcoming Spring was one program he recalled. "Very touching and the programs were magnificent," he said.
Mr. Wu expressed his gratitude to Shen Yun Performing Arts. He said, "I would like to personally thank Shen Yun for touring the world with such wonderful programs and giving us the opportunity to see something truly magnificent."
In July, 2011, Mr. Wu was promoted to the position of Secretary General of Kaohsiung City Council. His civil service career started as section chief of Public Work Section of Public Services Bureau of Kaohsiung City Government, and included director of Sewage System Office Public Works Bureau of Kaohsiung City Government and chief of Public Works Bureau of Kaohsiung City Government. In recent years, Mr. Wu has been taking an active role in the renewal of urban space and the beatification of the city of Kaohsiung.
Reporting by De-Man Dai and Frank Fang
Shen Yun Performing Arts, based in New York, tours the world on a mission to revive traditional Chinese culture. Shen Yun Performing Arts International Company will give two more performances in Berlin on March 17 and 18, and then perform in Zurich, Switzerland, from March 23-26.
For more information visit ShenYunPerformingArts.org
Read the original Chinese article