A district in the southern Chinese city of Guangzhou announced more than 10 asymptomatic carriers of the CCP virus in recent days.
A neighboring province and the nearby city of Shenzhen also reported new infections among people who came from Guangzhou, indicating the second wave outbreak was further spreading in southern China.
In late April, over 100 new infections were reported in Guangzhou, as well as dozens among students and teachers in Shenzhen.
Meanwhile, residents of Heilongjiang Province, located in northeastern China, told The Epoch Times that more cities in the province have outbreaks. Authorities have only announced new infections in the cities of Harbin and Mudanjiang recently.
In Wuhan—the central Chinese city where the CCP (Chinese Communist Party) virus, commonly known as novel coronavirus, first broke out—residents were unable to enjoy the five-day Labor Day weekend. Social media videos showed long lines in front of hospitals; to visit another city, Wuhan residents must test negative in a virus nucleic acid test before traveling.
Guangzhou
On May 3, the Guangzhou municipal health commission announced one new asymptomatic carrier in Zengcheng district. This is the tenth officially reported infection in the district. Other districts in the bustling metropolis have reported new outbreaks in April.
The commission previously claimed that the first infection in the second wave outbreak in Zengcheng was diagnosed on April 26.
On April 27, the commission announced that one of the newly diagnosed asymptomatic carriers was a 24-year-old woman from Xintang town in Zengcheng.
She received a nucleic acid test at the Nanfang Hospital Zengcheng branch and tested positive, though authorities did not explain why the woman went to the hospital despite not feeling symptoms.
On April 28, the commission announced another seven asymptomatic carriers. Five of them are the young woman's family members. Another was her colleague.
The commission later announced more asymptomatic carriers from Xintang town on May 1 and May 2. It noted that the individuals were close contacts of previously diagnosed people, but did not specify whom.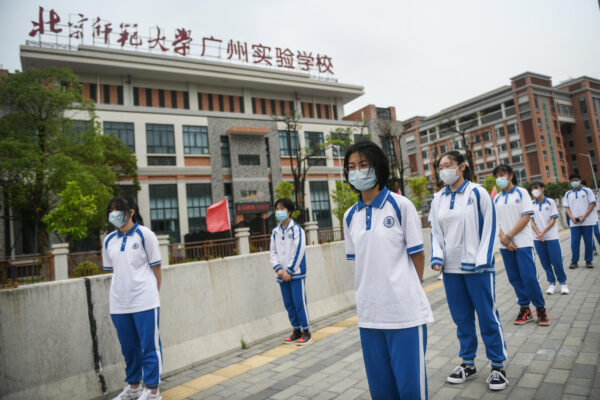 But data from nearby regions indicated that the outbreak in Zengcheng might have occurred earlier than these ten cases.
The Shenzhen city government announced a diagnosed patient on April 29, a 29-year-old man who arrived at Bao'an district in Shenzhen from Zengcheng on April 22. He started to develop symptoms on the evening of April 24. His condition deteriorated quickly.
On April 26, the man went to Bao'an People's Hospital and tested positive in a nucleic acid test. Two days later, he was officially diagnosed. Local authorities currently specify multiple criteria (not just nucleic acid test) before a patient is officially diagnosed COVID-19 positive.
Guangxi Province also announced a new case related to Zengcheng. Xu Wanjie and his wife visited Zengcheng and stayed at a hotel there from April 12 to April 26. After they returned home to Guangxi Province, attended a large-scale funeral reception with at least 35 families, and visited several areas, Guangzhou police called them on April 28.
The police told them that some guests who stayed at the same hotel were diagnosed with the virus. The couple and hundreds of their close contacts must now be placed under quarantine.
Though the Guangzhou police spoke of diagnosed cases in Zengcheng, authorities did not officially announce any diagnosed patients with symptoms in Zengcheng for that time period.
Guangzhou authorities have previously been known to report inconsistent data.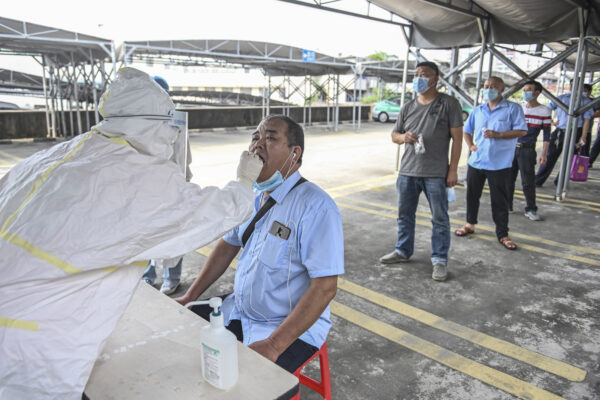 Heilongjiang
In northeastern China's Heilongjiang Province, official figures show no new infections in Jiamusi city. However, local people described a different situation.
Ms. Zhang lives in the Zhixing neighborhood of Xiangyang district, Jiamusi. She said on May 4: "[Authorities] are building walls to isolate each building in the neighborhood." She added that some residential compounds in nearby Qianjin district were locked down as well.
Zhang complained that local government officials have not explained whether there were new diagnosed cases or asymptomatic carriers, but residents are required to have their body temperatures taken and health code app scanned before entering or leaving their compound.
Mr. Li, another resident in Jiamusi, told The Epoch Times: "The security people at the checkpoints of our residential compound told us to stay at home because the outbreak is very severe. Some hotels are being used as quarantine centers."
On April 29, the Jiamusi government ordered the city "to take extraordinary measures to ensure no infections at hospitals," without providing further details.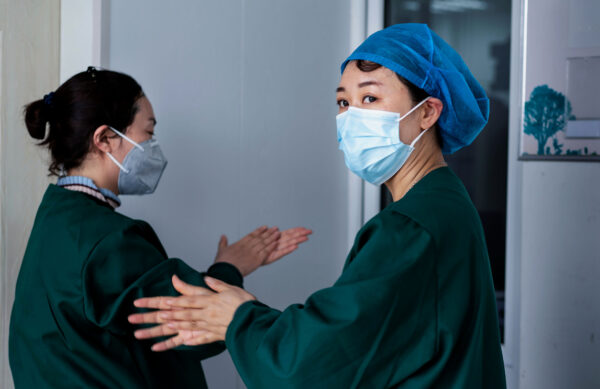 Within the province, its capital city Harbin is also undergoing a second wave outbreak. Authorities have admitted to cluster outbreaks at two major hospitals in the city and in neighborhoods of Daowai district.
Mudanjiang, which borders Russia, has also reported outbreaks inside hospitals and initiated strict measures to contain the virus spread, according to leaked documents that The Epoch Times obtained.