Senate Minority Leader Chuck Schumer (D-N.Y.) said on Jan. 7 that Democrats will attempt to force holding votes to call witnesses at the start of the impeachment trial.
"There will be votes at the beginning on whether to call the four witnesses we've proposed and subpoena the documents we've identified," Schumer said on the Senate floor.
Sens. Susan Collins (R-Maine) and Lisa Murkowski (R-Alaska) have both indicated that they will follow Senate Majority Leader Mitch McConnell's (R-Ky.) plan to delay a decision on calling witnesses. Meanwhile, Sen. Mitt Romney (R-Utah) told media outlets that he would like to see former White House adviser John Bolton testify.
"I would like to be able to hear from John Bolton," Romney said on Jan 7. "What the process is to make that happen, I don't have an answer for you."
Democrats aim to compel four specific witnesses, including current White House chief of staff Mick Mulvaney and Bolton, who publicly said he would be willing to testify in the trial.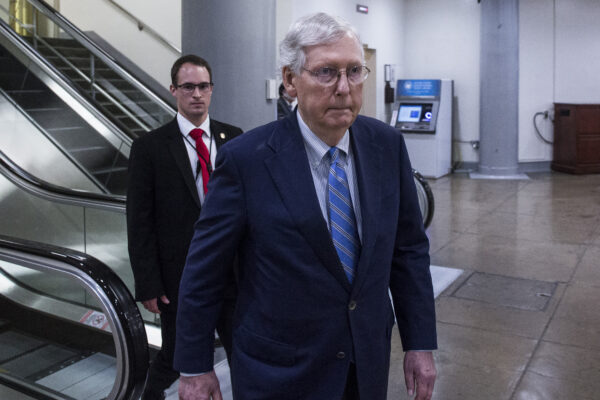 "A trial isn't a trial without evidence. A trial without all the facts is a farce," Schumer said. Earlier this week, Schumer said he hopes that four Republicans break with their party to vote in tandem with Democrats, the minority in the Senate, to call up witnesses.
That question "will have to be decided by a majority of senators in this chamber. That means four Republican senators at any point can compel the Senate to call the fact witnesses and subpoena the relevant documents," he said.
The Epoch Times has reached out to McConnell's office. McConnell also spoke on the Senate floor on Jan. 7, saying he wants to follow the precedent set during the impeachment trial of then-President Bill Clinton in the 1990s.
McConnell noted that during the first phase of Clinton's trial in 1999, senators carried out a unanimous "100 to nothing" vote on rules first before possibly voting on calling up witnesses later. "It left mid-trial questions to the middle of the trial where they belong," he said.
McConnell said he's not going to allow House Speaker Nancy Pelosi (D-Calif.) "to write new rules for the Senate. Not going to happen."
After President Donald Trump was impeached in the House of Representatives on Dec. 18, Pelosi indicated she would hold off sending the articles and House impeachment managers to the Senate because her caucus wanted to see how the Republican majority in the upper chamber would hold the trial.