Schools in Northern Ireland will close for two weeks from Monday, Oct. 19 and new restrictions for hospitality venues will apply for four weeks from Friday Oct. 16 in the country's renewed effort to slow the spread of the CCP virus.
The new measures announced in the Irish Assembly by First Minister Arlene Foster on Wednesday, follow three new CCP virus-related deaths reported in the country on Tuesday and a rise in hospitalisations.
The fortnight's closure for schools will include the usual half-term break and the children will return to school on Monday, Nov. 2, Foster said.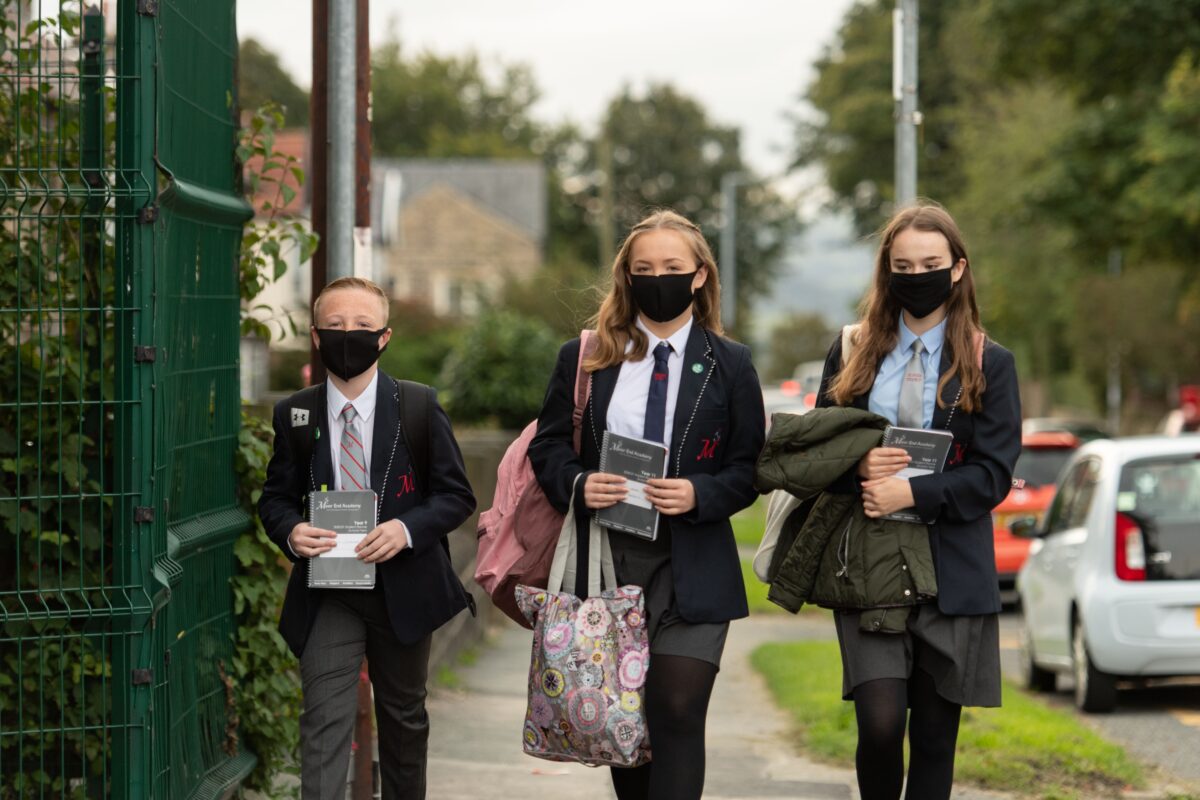 For four weeks from Friday pubs will close and there'll be no sit-down meals in restaurants allowed, which will only do takeaways and deliveries.
There will be 11 p.m. closures imposed for fast food and takeaway businesses and no alcohol sales after 8 p.m. in off-licenses or supermarkets.
'Essential Health Needs'
For the four weeks, no indoor or organised contact sport will be allowed involving people from mixed households, and apart from those meeting "essential health needs" all close contact services must cease including home visits by mobile hairdressers.
Whilst the retail sector will remain open under the new measures people who can work from home must do so and distance learning is advised for the higher education sector.
Gyms can stay open for individual training only but not for classes and masks must be worn by people going in and out of places of worship which can also stay open.
No unnecessary travel is advised and weddings and funerals can go ahead with no more than 25 people and without any reception s or gatherings before or after.
Existing measures already in place will continue including "bubbling" up to a maximum of 10 people from two households and no overnight stays in private households unless in a bubble.
Foster said in her announcement that personal responsibility was key in combatting the CCP (Chinese Communist Party) virus, commonly known as novel coronavirus.
"I plead with people today, please take personal responsibility for your actions," she said.
'This is not a lockdown'
In response to a question from Member of the Legislative Assembly (MLA) Joanne Bunting of the Democratic Unionist Party on the World Health Organisation (WHO) having recently advised that lockdowns should be only a last resort for governments Foster said "this is not a lockdown."
She also said, "We are not closing schools" and emphasised that the intervention was a temporary measure extending the usual "Halloween" break by just a few days.
MLA Pat Sheehan, of Sinn Féin told Foster that some countries have been "much more successful" in tackling the virus using "more nuanced" measures and described the new restrictions as a "blunt instrument."
Foster responded by emphasising that the new measures were a "time-limited intervention" similar to measures adopted in the Netherlands and explicitly designed to drive the R number of the virus (reproduction rate) to below one from its current level of around 1.5.
Foster was also questioned in the assembly about what will be put in place to support businesses affected by the new restrictions.
"There is no magic money tree," she said.
"But we will be putting in supports for our businesses."
A further announcement is expected following a discussion by the Northern Ireland executive on Thursday on support for businesses and other details related to the new measures.