School Shootings: American Schools Prepare
July 24, 2013 9:06 am Last Updated: July 24, 2013 9:06 am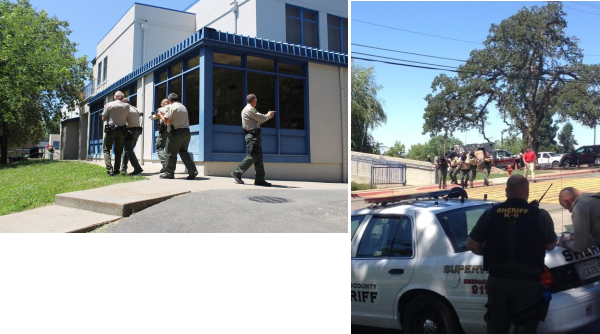 Across the country, police officers are playing out the terrifying scene that has claimed so many lives already and looms as a threat in the approaching school year.
On Tuesday, a police officer in Medina, Ohio, stalked the halls of a local high school playing the role of a school shooter.
A Columbus-based special response team, having received military training last year, instructed officers in Medina and from surrounding areas on how to quickly assess the situation and take down the shooter.
"We're trying to create a common baseline for tactical response and emergency medical care," Medina Police Chief Patrick Berarducci told the Medina Gazette. "These officers might not work together any other time; but if they're told to go in there and get a shooter, they all have the same approach."
Similar response training took place last week at El Dorado High School in Placerville, Calif., and Charles Russell Elementary School in Ashland, Ky.
Officers in Medina learned the layout of the school, and emergency first aid was emphasized. While taking down the shooter is the first priority, if police turn their attention immediately to wounded victims with advanced training in first response, it can save lives, Berarducci told the Gazette. 
Police alumni played the hostages during the exercise. In Eldorado High School, students played the hostages.
Responding officers and other officers playing the role of attackers all had weapons loaded with paint capsules instead of bullets. Scripts, a command post, and dispatch calls all added to the realism of the simulation.
"Through realistic training such as this, first responders (law enforcement and emergency medical personnel) and school officials, develop the required mental and physical preparedness, along with the necessary individual and team tactics, real events of this nature demand," reads a press release on the Eldorado County Sheriff's Office website. 
On July 16, more than 50 officers and more than 50 school personnel at Charles Russell Elementary School in Kentucky participated in a simulation with paint bullets as well, reports the Herald Dispatch.
Ashland Police Chief Rob Ratliff told the Dispatch: "Hopefully it will result in more combined training. Combined training and more inter-agency training is a goal of mine. In my 31-and-a-half years on the job, we've never had anything like this. We all do active shooter training, but we [usually] do it by ourselves."
Berarducci said the officers in Medina who have participated in the training have taken it very seriously—some of them have children who attend the school. "I've been in a lot of training exercises in my 39 years," he told the Gazette, "but this has gotten to the officers in a way I've never seen."
White House Initiatives
The federal government has headed several initiatives to prepare authorities and school personnel across the nation to respond to school shooters.
On May 1, an active shooter virtual roundtable brought together more than 2,400 law enforcement, school, and faith-based leaders.
The Department of Homeland Security (DHS) launched an Active Shooter Preparedness webpage on Jan. 16, consolidating information and resources, which has been accessed by more than 139,000 viewers. DHS has conducted more than 1,000 visits with authorities and schools to make site security assessments, give presentations, and more.