The extraordinary powers granted by the Emergencies Act raised concerns among some legal experts and regular Canadians as to what the implications are for the right to peacefully protest. The concerns remain even though Prime Minister Justin Trudeau, who invoked the act on Feb. 14, revoked it on Feb. 23, 10 days later, saying the situation is no longer an emergency.
Jay Riedel, mayor of Roche Percée in southeast Saskatchewan, says he feels freedom ralliers like him have been treated like "terrorists" since Prime Minister Justin Trudeau invoked the act on Feb. 14.
"Being mayor, I usually work with the RCMP. The RCMP have always been good with our rallies. They've blocked traffic for us. They've escorted us. They've even brought me coffee. And it's a relationship that I'd like to keep because there's never been any issues," Riedel told The Epoch Times in an interview prior to the revocation of the act.
Riedel organized a convoy of 400 trucks in Estevan, Sask., in 2018 to protest federal treatment of oil, gas, and coal. Last month he organized another convoy near North Portal, Sask., where Canadian and American truckers traded flags across a road that runs parallel to the Canada-U.S. border.
However, prior to a protest slated for Feb. 18 at the North Portal point of entry, RCMP set up police stops and handed drivers a "notice to demonstrators."
"It is considered breaching the peace to park a vehicle on the side of any public highways or grid roads," the notice said, adding that such an action could trigger responses authorized under the Emergencies Act, including "demonstrators being arrested, vehicles being seized and towed, vehicle insurances being suspended, and personal bank accounts being frozen."
Riedel said parking on the roadside wasn't the only limitation imposed by police.
"They weren't allowing us to be in a line of trucks, like we couldn't even do a slow roll around or anything like that. We basically had all our rights stripped away," he said.
"Still, even if the Emergencies Act wasn't on, we weren't planning on blocking the border. All we were doing was trying to create awareness and support."
Farmer John Graff told The Epoch Times he drove to North Portal to encourage the protesters and was disturbed by the police notice and the number of officers who were out. He added that other locals were tense due to the police presence, which covered every entrance in town as well as the community centre and post office.
"They were nervous and frightened and worried about getting fines," Graff said. "And their crime is that they want to protest the mandates."
In a Feb. 18 press release, RCMP said, "Demonstrators without access to a staging area on private land will be turned away. … Local residents will notice an increased police presence as we review and assess any ongoing situations to ensure order and public safety."
Dwayne McKenzie, a resident in the area who was going to allow protesters on his land, says a call from the RCMP changed his mind.
"If other people came in and created roadblocks or did anything anywhere along the line, I could be basically tied in with that," McKenzie said the RCMP told him.
"I was a little scared and intimidated and kind of on the spot because I had promised all these people that they could do [the protest]."
The Epoch Times contacted the RCMP for comment but didn't hear back by publication time. The Feb. 18 release said, "To ensure the safety of our police officers and the public, we do not disclose operational details."
Dallon Leger, a farmer and entrepreneur in Yorkton, Sask., wanted to organize a "Saskatchewan freedom campout." After McKenzie's land became unavailable, he found a landowner 20 kilometres east near a different border crossing at Northgate, Sask. Yet, one truck driver left before organizers could even set up.

"Once the RCMP and Saskatchewan Highway Patrol found out we were here, they all moved over here. … Just seeing them drive by the road terrified [the driver] so much that he took off," Leger recalled in an interview.
"There's more police here than [protesters]. It's insane. … They know who we are. They know that there's not going to be any problems, but the intimidation, the fear, is still being instilled, and it's not OK."
Leger's group found a place to camp at a corporate ranch adjacent to the border crossing with North Dakota. Chad Carlson, who runs the ranch on behalf of his bosses, says he and the owners agree Leger's group can stay as long as they like. He said the RCMP contravened their own notice to protesters by going to his ranch uninvited.
"They just walked in like they owned the property. They didn't have consent," he said.
"Honestly, a lot of people are being intimidated. There were eight check stops that one person had gone through from Estevan all the way to Northgate."
'Police State'
Darryl Davies, a criminology professor at Carleton University, draws parallels between the way McKenzie says he was contacted by the police and the case of Nadine Ellis-Maffei, a resident of Douro, Ont. After she expressed interest online in going to the trucker convoy protest in Ottawa, an Ontario Provincial Police (OPP) officer showed up at her door on Feb. 17 to give her a pamphlet, saying, "I'm simply providing information about a peaceful protest."
Ellis-Maffei posted a video of the incident on Facebook. "To say I'm furious is an understatement," she said. "This is not OK."
When contacted for comment, the OPP said in an email that members of its Provincial Liaison Team (PLT) "use proactive relationship-building and communication to facilitate safe and lawful environments for everyone wanting to exercise the rights to freedom of speech and peaceful assembly afforded by Canada's Charter of Rights and Freedoms."
"Publicly available information is used at times by PLT to identify event organizers for outreach. Proactive contact is one way to help facilitate events that are safe and lawful," the email said.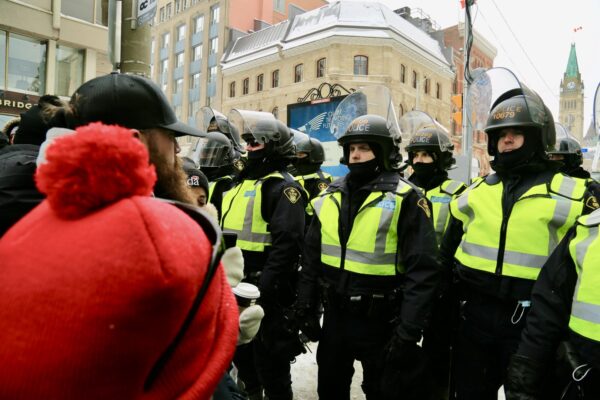 Davies said in an interview prior to the revocation of the Emergencies Act that Canada is operating like a "police state," which he finds "unconscionable."
"Canadians are losing their freedoms," he said. "The fact that the police are being used as pawns in this political game to advance, in my view, egregious measures is a sad commentary. It's functioning like a totalitarian state, not a democracy."
He said it seems to him that police "can lay whatever charges they want," and when those charges go to court "we'll find out whether or not Canadians have a Charter of Rights and Freedoms. If it's a bogus document, we're going to find out."
"I'm hoping that our judicial system is not going to support anything that even comes close to this."
'Psychological Intimidation'
When Trudeau invoked the Emergencies Act on Feb. 14, he said the trucker protests weren't peaceful and were harming the economy, and that measures were needed to strengthen law enforcement agencies.
"On Friday, Ontario invoked a state of emergency to respond to the blockades. This was the responsible and necessary thing to do. Today, to continue building on these efforts, the federal government is ready to use more tools at its disposal to get the situation fully under control," he said.
Justice Centre for Constitutional Freedoms founder John Carpay calls the Emergencies Act a "despotic" cause for "psychological intimidation without a legal basis."
"The Emergencies act, when properly applied, is not bad legislation, in my view. But … the facts on the ground tell any reasonable person that they are peacefully protesting," Carpay told The Epoch Times.
"The border blockades in Windsor and Emerson may possibly have justified it. But those three border blockades were brought down and stopped prior to Trudeau declaring a national emergency. The national emergency was declared purely on the basis of the peacefully protesting truckers in Ottawa."
Carpay says Canada's international reputation has suffered.
"We've become a banana republic with polar bears, where the leader of the country can go after people's bank accounts, just because he doesn't like their politics," he said.