Sarah Palin: Tesla Electric Car a 'Loser'
Rails against government-subsidized green companies
April 11, 2013 7:45 am Last Updated: April 11, 2013 7:47 am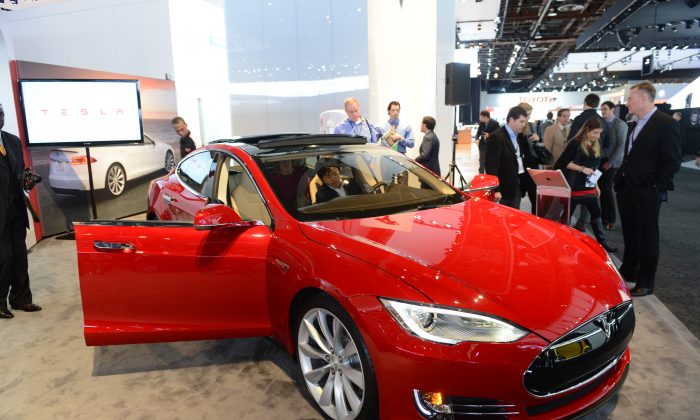 Sarah Palin—Tesla a "Loser": Sarah Palin lumped troubled government-subsidized electric car company Fisker in with Tesla and Volt "losers."
Former Alaska Gov. Sarah Palin doesn't think the U.S. government should choose 'winners and losers' in the free market by subsidizing green start-ups, she said in a Facebook post April 5.
California-based electric car company Fisker received nearly $200 million in federal loans to produce its luxury hybrid sports car, Karma. After a string of setbacks, including the bankruptcy of its battery cell producer, a number of recalls, and management changes, the company announced April 5 that it would lay off three quarters of its employees in Anaheim, Calif.
"This losing tax-subsidized venture joins other past losers like the Obama-subsidized Volt that gets 40 miles per battery charge," Palin wrote, "or like the Obama-subsidized Tesla that turns into a 'brick' when the battery completely discharges and then costs $40,000 to repair."
Telsa CEO Elon Musk Tweeted: "Sarah Palin calls Tesla a loser. Am deeply wounded." He also noted that the warranty does cover "bricking."
Facebook user Ben Faiola commented on Palin's post: "With all due respect, if it weren't for … [visionaries] and innovative minds such as Mr. Elon Musk and Mr. Fisker, we would still be riding donkeys today. … Progress requires sacrifice, it is no different this time around. However, the future looks bright and, most of all, sustainable. At the end of the day, sustainable transportation…. it's the right thing to do."
Kathy Wing Grindeland commented: "If a product is good, the free market will support it. If not, it will end and preferably without hard working people's tax dollars."
She noted that government support of other, traditional energy sources and products should also end.
Auto review writer John Voelcker praised the design of the failed Fisker Karma in an article for The Car Connection: "The Fisker Karma is one drop-dead stunning automobile, with a design so extravagant and so eye-catching that its green powertrain—it's a range-extended electric car—is practically beside the point."
Henrik Fisker, BMW and Aston Martins designer, is behind the design. Voelcker highlighted the solar cells feature that provides enough power to cool the interior while the car is parked while also adding energy to the car's battery. The Karma costs about $100,000.
"Fisker Automotive has endured numerous schedule delays, brutally negative reviews, and sales of apparently only small numbers—2,000 to 3,000, all of them 2012 models," Voelcker noted. "Fisker executives are now in China, seeking new investors."