Sarah Palin 'Nerd Prom' Jibe Aimed at White House Correspondents Dinner
April 29, 2013 9:52 am Last Updated: April 29, 2013 9:52 am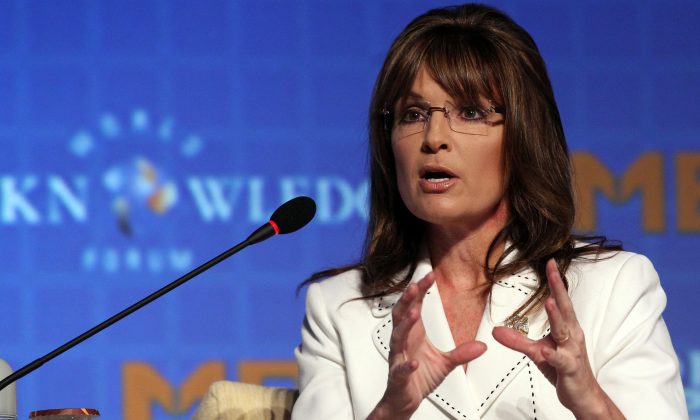 Sarah Palin 'nerd prom' jibe: Former Alaska Gov. Sarah Palin called the White House Correspondents Dinner on Saturday a "nerd prom" and said it was a waste of time.
Sarah Palin tweeted that the White House Correspondents Dinner on Saturday was "pathetic," and said while Americans are hard at work, President Barack Obama throws a frivolous "nerd prom."
She also wrote on her Facebook page: "While America is buried in taxes and a fight for our rights, the permanent political class in D.C. dresses up and has a prom to make fun of themselves. No need for that, we get the real joke."
Obama poked fun at himself, some of the news organizations represented at the dinner, and some of the politicians who attended the event. (See video below)
Many comments on Palin's Facebook page expressed agreement.
Phyllis Mcdonald, however, wrote, "I thought President Obama's jokes were 'right on' and hilarious."
Kollin Bliss wrote: "[The dinner] is paid for by selling tickets to the attendees, not [by] taxpayers. The proceeds go towards providing over $100,000 in scholarships."
Tickets usually cost about $2,000, according to the White House Correspondents Weekly Insider. With the proceeds from this year's dinner, the White House Correspondents' Association has awarded 16 college students with journalism scholarships of $7,000 each. It will also fund journalism programs in hundreds of high schools.
Palin has never attended the dinner, though she was scheduled to attend for Fox News in 2009, according to the Washington Post. She canceled due to flooding in Alaska, but her husband attended. In 2011, Palin attended the Vanity Fair and MSNBC after-parties, reports the Post.
NBC News anchor Tom Brokaw is also a critic of the event. He was a White House correspondent during the Watergate era. He told Politico last week: "The breaking point for me was Lindsay Lohan … She became a big star at the White House Correspondents' Dinner. Give me a break."
He also said the exclusive event "separates the press from the people that they're supposed to serve, symbolically."
President Barack Obama at the White House Correspondents Dinner on April 27, 2013