News Analysis
Small refiners in China are evading U.S. sanctions on Iranian and Venezuelan oil exports by using false flags, old tankers, turning off ship transponders, and transferring oil mid-ocean between vessels to hide the origin of illegally-exported oil.
Iran's crude oil sales, which jumped 40 percent in 2021, are primarily purchased by China—Iran's biggest oil client. Other large purchasers of Iranian oil in 2021 are all close to Beijing, including the United Arab Emirates, Syria, Venezuela, and Russia.
Iran's illegal oil exports are facilitated by the Biden administration's lax enforcement measures in its failed attempts at reviving the Iranian nuclear deal.
The Chinese Communist Party (CCP) has supported global dictators and rogue nations before, including through its oil imports. After the United States imposed sanctions on Russia for its 2014 invasion of Ukraine, China increased its crude oil purchases from the territorially-aggressive nation.
Despite Burma's genocide against the Rohingya starting in 2017 and coup in 2021, China has invested heavily in an oil and gas pipeline that starts at the military dictatorship's hydrocarbon fields off the Burmese shore and ends at the Chinese province of Yunnan.
China buys much of its oil from Iran despite the country's support of Hamas, Hezbollah, and Houthi terrorism in the Middle East. To finance the terrorists and boost Iran's economy, "Tehran uses a so-called ghost armada of foreign-flagged vessels to avoid detection and skirt international authorities," according to Adam Kredo in the Washington Free Beacon on Jan. 7.
"The country's ships routinely turn off their onboard tracking devices, which is illegal, so that they do not appear on radars as they ferry the oil across international waters."
Congressman Scott Franklin (R-Fla.) noted on Jan. 10: "Iran's illegal oil shipments to China skyrocketed by 40% in 2021 because of @POTUS's [President Biden's] lax enforcement of sanctions. Enforcement is critical to preventing the regime from paying off its terror proxies and engaging in uranium enrichment."
According to a Bloomberg analysis on Jan. 10, China's refiners doubled imports of Iranian and Venezuelan crude oil in 2021, more total imports than in the prior three years.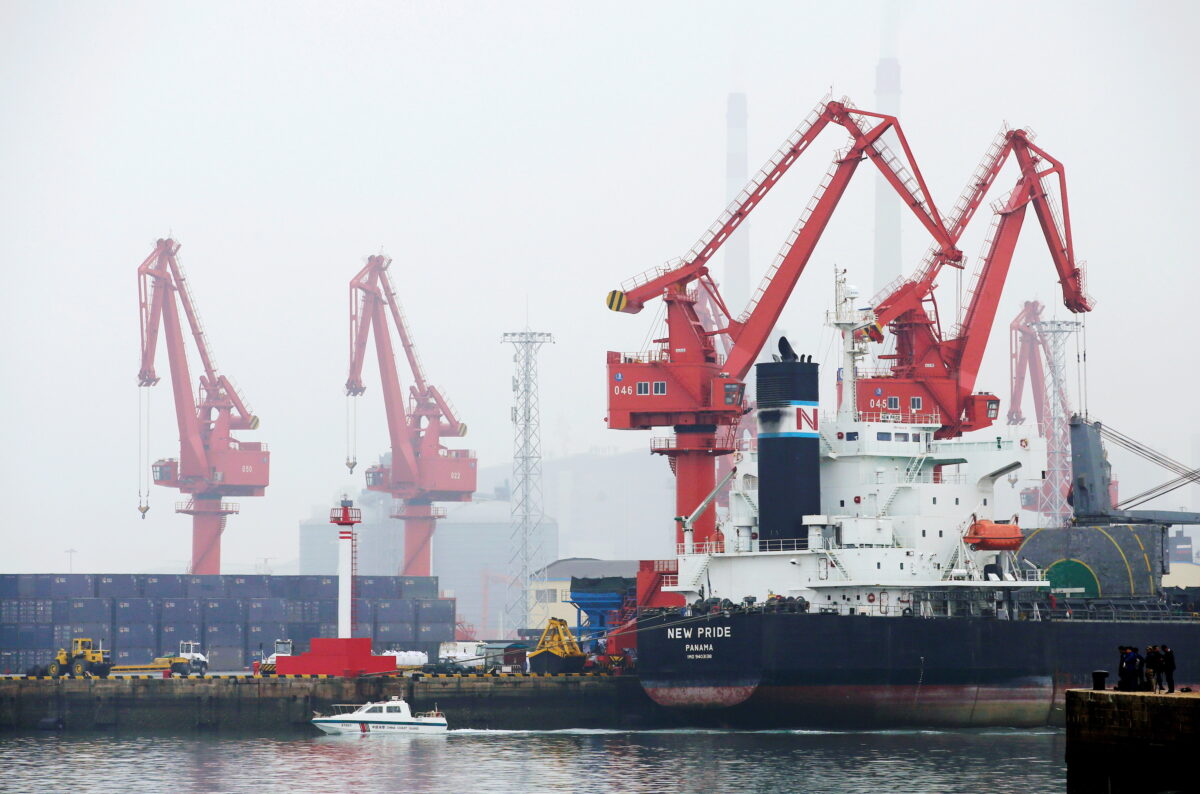 Small refiners with assets and markets largely limited to China and its allies are able to ignore the risk of U.S. penalties in order to gorge on the cheap oil, according to the report.
Processors in China bought 324 million barrels of Iranian and Venezuelan crude in 2021 on the cheap, up 53 percent compared to 2020. In 2018, China purchased 352 million barrels from the two rogue nations.
U.S. sanctions on Venezuela and Iran, without tougher enforcement measures against small importers, actually drive rogue exporters to the Chinese market and benefit Beijing.
"The risk that non-U.S. entities may lose access to the U.S. financial system or have their American assets frozen if found guilty of breaching the sanctions hasn't dissuaded them," according to the Bloomberg analysis.
"A glut of unsold cargoes, rising international prices, and the issuance of more crude import quotas by Beijing, have incentivized the private refiners, known as teapots, to snap up more oil from the pariah states."
Official customs data does not typically include the small shipments of oil sold at below-market prices.
The crude from Iran, for example, sells at 10 percent cheaper to China, according to a tanker analyst from Braemar ACM Shipbroking Pte. The analyst, Anoop Singh, told Bloomberg that sanctioned oil is usually transported by aging ships that are better suited for the scrapyards.
Oil can be shipped directly from Iran and Venezuela on tankers that "go dark" by turning off their transponders, or by transferring the crude between vessels on the high seas, in order to hide its origins.
The illegal cargoes are often rebranded as originating in Malaysia and Oman, according to the Bloomberg report. While China claims that its last Iranian oil imports were in December 2020, shipments from Malaysia and Oman—likely with falsified origin papers—rose dramatically the next month.
Beijing's allowance—if not encouragement—of illegal oil purchases from Iran and Venezuela undercut U.S. and allied attempts to promote democracy, free markets, and human rights globally. From the second quarter of 2020 to the first quarter of 2022, oil exports to China largely drove Iran's economic rebound. This allows Iran and other rogue regimes to thumb their noses at human rights and democracy, secure in the belief that they will always have an export market in China. Tehran can afford a 10 percent discount if a guaranteed buyer in Beijing keeps its regime in power.
If dictators know that they can run to Beijing for their sanctioned exports, then U.S. sanctions could actually hurt the promotion of democratic values globally by further aligning the global economy with Beijing, and empowering the CCP's totalitarianism and aspiration to global hegemony.
To avoid this double-edged effect, the United States should enforce sanctions against not only relatively easy targets like Venezuela and Iran, or inaccessible targets like teapot refiners in China, but by taking the tougher, riskier, and ultimately more effective action of sanctioning larger and more accessible refiners in China itself for the transgressions of smaller, less accessible entities.
All Chinese refiners are ultimately controlled by the CCP, and benefit the CCP. So sanctions must be enforced and should be escalated where necessary to send the signal that America and its allies will not be deterred, boxed in, or fooled by Beijing's fake companies and imports, or by Iran's ghost ships.
The entire market in China is controlled by the CCP and should be treated as such whenever any part violates international law.
Beijing's powerful surveillance technologies and state economic control must be aware of, and capable of stopping, the illegal trade in cheap sanctioned oil. But Beijing is profiting from the misery of Iranians and Venezuelans, and the instability caused to the U.S.-championed international system. So it falls upon the United States and allies to fix the problem.
The CCP's profit and growing threat to the international system and democracy can be stopped by escalating U.S. sanctions from small Chinese refiners to large Chinese companies with bigger global markets to lose. If even that fails, sanctions and tariffs can and must be increased on the entire country.
Views expressed in this article are the opinions of the author and do not necessarily reflect the views of The Epoch Times.