Dozens of opponents denounced a San Diego County ordinance they say redefines the meaning of the word "women" and puts women's rights and safety in jeopardy at a Board of Supervisors meeting on May 10, before the board passed the ordinance by a 3–2 vote.
"No amount of hormones or surgery will turn a man into a woman," opponent Erin Friday told the board. "Permitting male-bodied people to enter into single-sex spaces, take women's positions on podiums, [and] take their positions in sports teams is the essence of discrimination."
The ordinance is based on the United Nations women's bill of rights but adds transgender and nonbinary inclusive language, which opponents contend changes the definition of "women," diminishes the rights of biological women in sports, and puts them at risk of sexual assault in prisons.
President Jimmy Carter signed the original U.N. bill, called The Convention for the Elimination of All Forms of Discrimination Against Women (CEDAW), on July 17, 1979. Though it has never been ratified by the U.S. Senate, the international treaty was eventually adopted by more than 180 other countries.
Friday questioned how the ordinance is supposed to protect women and girls from discrimination "if anyone can self-identify as a woman."
"I am a mother and attorney and have been a Democrat for over 30 years. I am a woman. I am not a belief. … I am an adult human female," she said. "The erosion of women's rights by both Republicans and Democrats is beyond the pale."

Women's Jails
Jonathan Peck, a law enforcement officer, told the board that biological men are being booked into women's jails in the county, but are held separately.
"If a bearded man with a wife and children decides he feels like a woman that day, he can request to be booked there, and I have to [place] him there," Peck said. "Currently, they're being held separately from women, but if you pass this ordinance, we will have no way of keeping these people separate from women."
Rev. Earl Clampett of Simple Truth Ministries, a retired attorney and administrative law judge who has served as a jail chaplain with the San Diego County Sheriff's Department for more than a decade, advised the board not to vote on the ordinance until they had more time to weigh its potential effect on women's jails.
Clampett said allowing biological male prisoners to mingle with the female inmate populations was a "toxic mixture" that would result in violence and sexual assault.
"It's dangerous. We talk a lot about being concerned about women's rights and protecting women, but that is actually doing the opposite," he said.
Ray Smith, a senior pastor at United Baptist Church made a tearful and impassioned plea to the board to drop the ordinance and focus on other issues.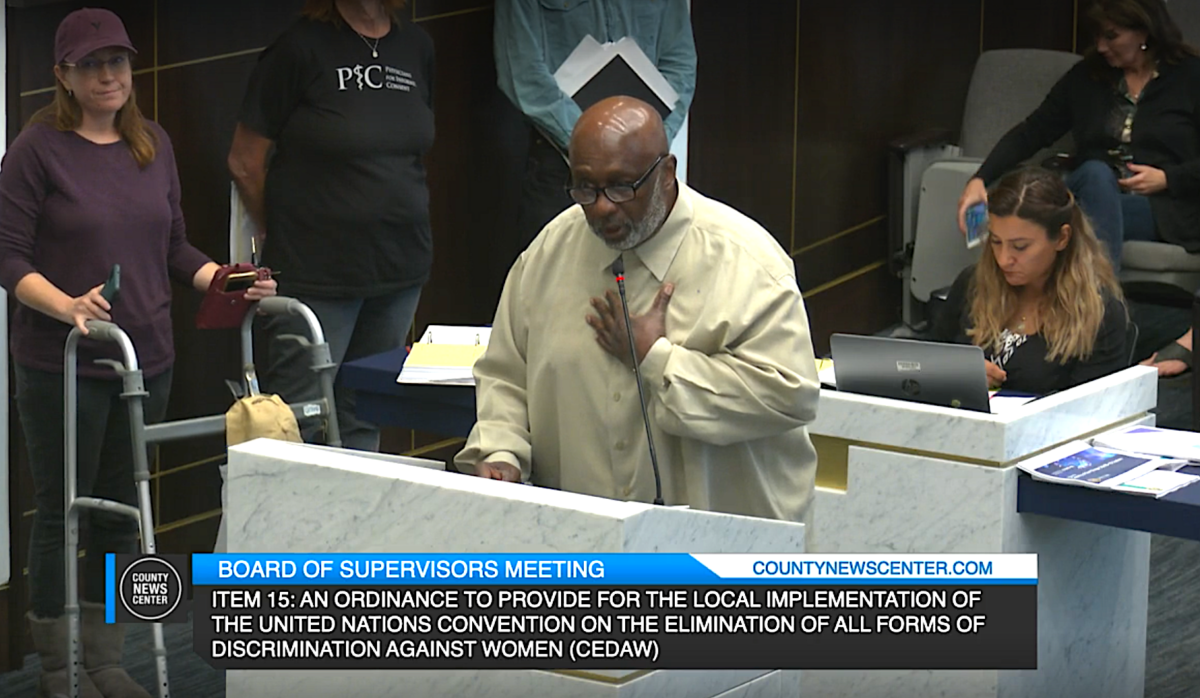 "I stand to oppose this item because it's not good for our community. We do not need little girls and little boys to shower together or be a part of sports. [They] need their own," Smith said.
Several other pastors from various local churches also opposed the ordinance.
One county employee who called into the meeting asked the board to stop referring to staff as "birthing people."
"We want to be called mothers," she said.
Several opponents also criticized Supervisor Terra Lawson-Remer for leaving the meeting unannounced in the morning after a handful of supporters spoke and opponents had just begun to speak.
Lawson-Remer then returned to the meeting later that afternoon to vote.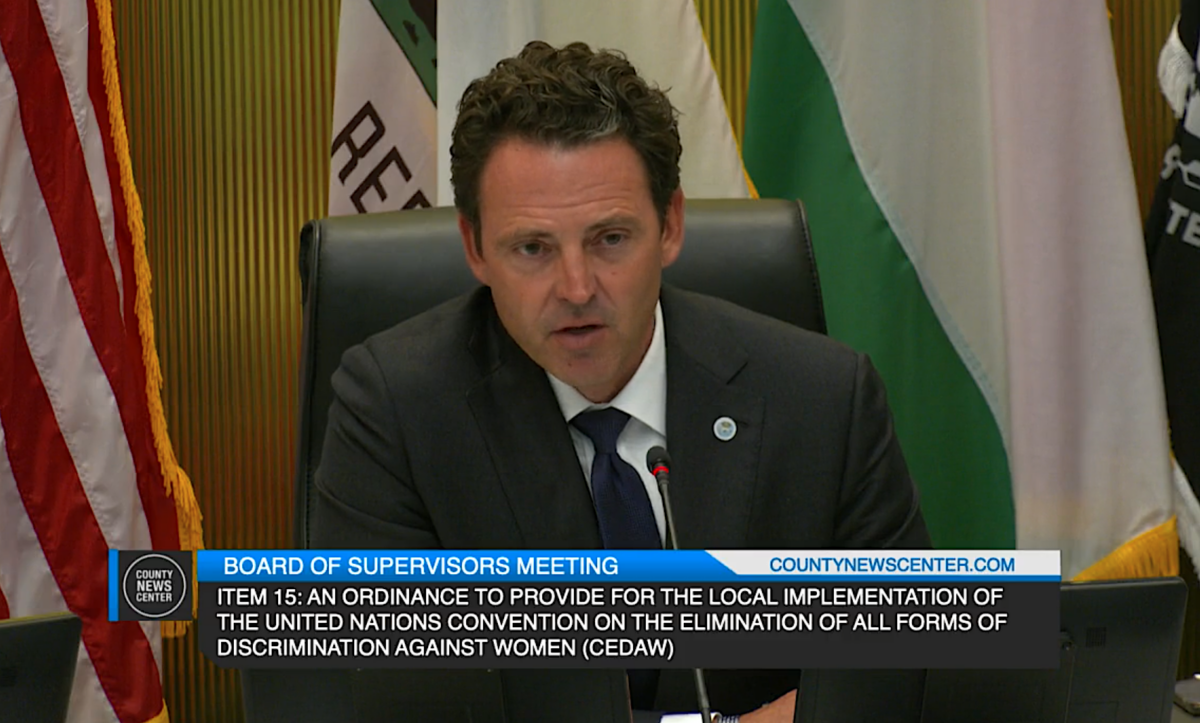 Opponent Arrested
Nathan Fletcher, the board chairman, called on sheriff's deputies to remove two opponents from the meeting for alleged disruptive behavior.
Fletcher slammed down his gavel and ordered sheriff's deputies to remove one opponent who remained at the podium and continued to speak after her mic was cut at the end of a two-minute time limit.
Fletcher then warned another opponent, Audra Morgan, several times in rapid succession when she questioned his decision to oust the first woman.
"Are you for real? Are you going to arrest her?" Morgan asked.
"Your conduct is disrupting the function [of] the meeting, and Audra Morgan, first warning. Second warning Audra Morgan, your conduct is disrupting the function of the meeting. That's your third warning, you can go too," Fletcher said.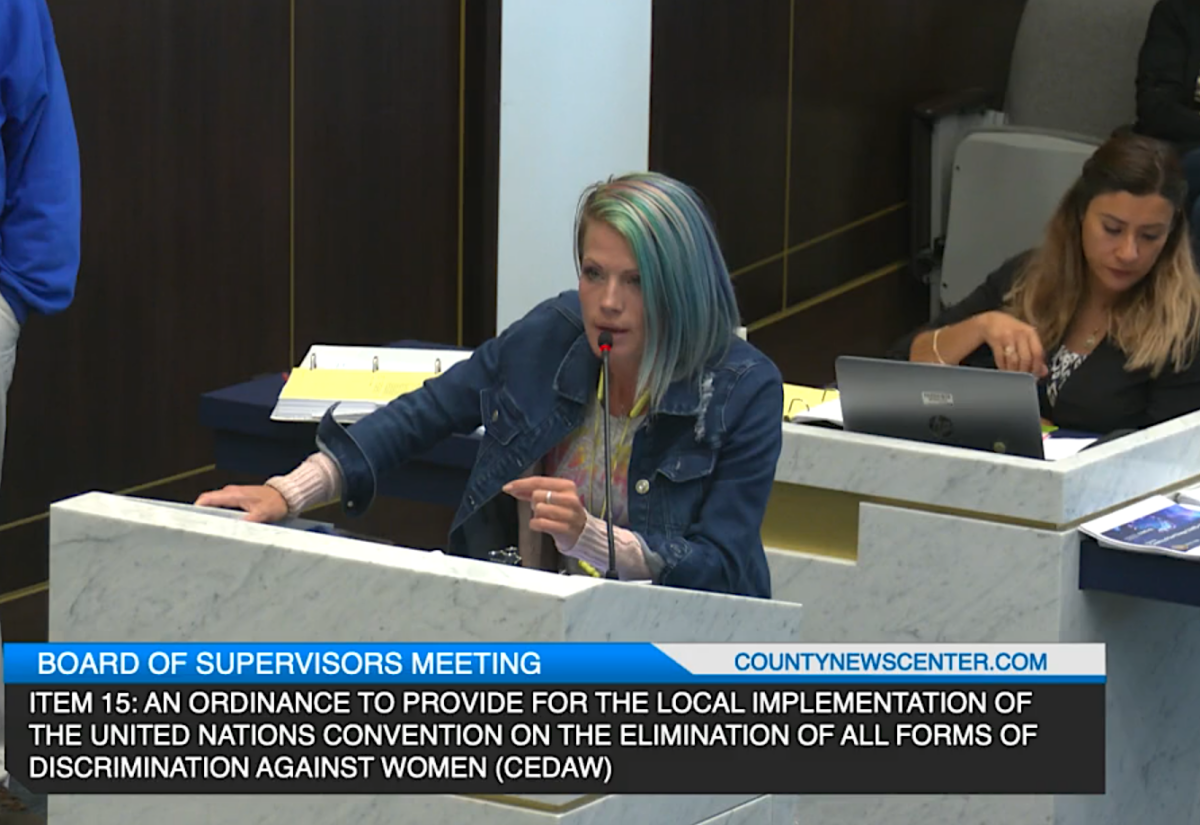 Morgan, a known local activist who fought against vaccine mandates and has accused the board of corruption and violating the Brown Act, among other allegations, refused to heed Fletcher's three warnings.
A San Diego Sheriff's Department spokesman later told The Epoch Times that after a fourth warning, Morgan was arrested on charges of disrupting a public meeting and delaying a peace officer, and was booked into a county jail.
"Nobody else was arrested," the spokesman said.
Following the incident, Fletcher called a recess that lasted for more than an hour.
Intersectional 'Gender Equity'
Supporters argued the intent of the ordinance was to implement "an intersectional and inclusive view of gender equity."
"Homelessness, economic status, health care, education, disabilities, violence, and unequal pay and more all affect women and girls more deeply and severely," said Jenni Prisk, a former chairwoman of the San Diego Commission on the Status of Women and Girls. "Just as the suffragettes fought and won the right for women to vote in 1920, so we are fighting today to continue their legacy by passing a bill of rights that protects all women."
Prisk suggested the ordinance should include trans women.
"There are naysayers in this chamber who believe that adopting CEDAW creates a salute to transgender women," she said. "I say the adoption is a salute to the Board of Supervisors in recognition of all women, including those who have known from childhood that they are living in the wrong body and make the decision to become a woman after years and years of counseling, therapy, fear, and abuse."
Rebecca Boyce, vice chair of the county's Status of Women Commission, also supported the ordinance.
"Sex trafficking is the second-fastest growing crime in the country as well as in San Diego County. People who have experienced homelessness, domestic violence, or child abuse are more vulnerable to being trafficked," Boyce said.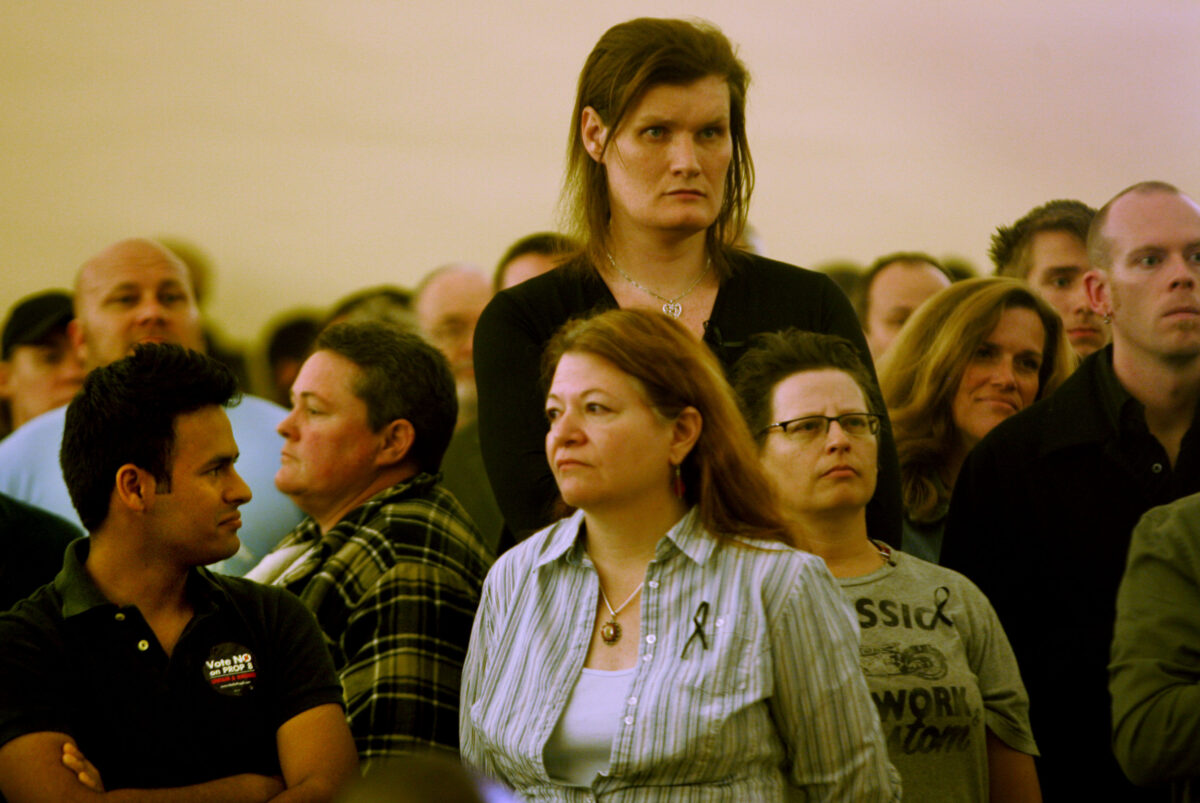 The trans community is disproportionately affected by trafficking because they're often rejected by their families and their communities for being who they are, Boyce said.
The ordinance designates the county's Office of Equity and Racial Justice (OERJ) to oversee the implementation of the new law and consult with the commission to create "intersectional gender equity action plans" in every county department, according to supporting documents.
As of April 1, 2022, the overall county workforce consists of 60 percent women, and women hold 59 percent of all leadership positions. Of those women, more than 63 percent are "women of color," the documents state.
The ordinance defines "gender equity" as the "redress of discriminatory practices and ensuring equitable conditions that enable women and girls to achieve full, substantive equality with men, recognizing that needs of women may differ, resulting in fair and equitable outcomes for all." The document states the redress is to include "persons identifying as transgender, nonbinary and/or gender non-conforming to achieve full equality and equity."
The ordinance contains a segment on "intersectional" social and individual categorizations and characteristics that overlap, including "gender, gender identity, race, ethnicity, nationality, immigration status, sexual orientation age, socio-economic status, education, language and disability."
The plan includes actions such as equitable economic development for women and girls, including those who self-identify as trans or nonbinary, in gaining employment, licenses, permits, registrations, and public contracting, and it demands equal treatment in employment and the right to equal pay.
The ordinance states that because women are disproportionately impacted by poverty, the county "shall take all appropriate measures" to eliminate discrimination against women and girls in the administration of public benefits and creating "family-friendly" workplace policies.
The ordinance also commits the county to "equitably educate" women and girls about their voting rights and encourage voter registration, "civic and political engagement," and encourage more women to run for public office and get involved in local commissions, boards, and task forces.
The counties and cities of Los Angeles and San Francisco have approved similar legislation.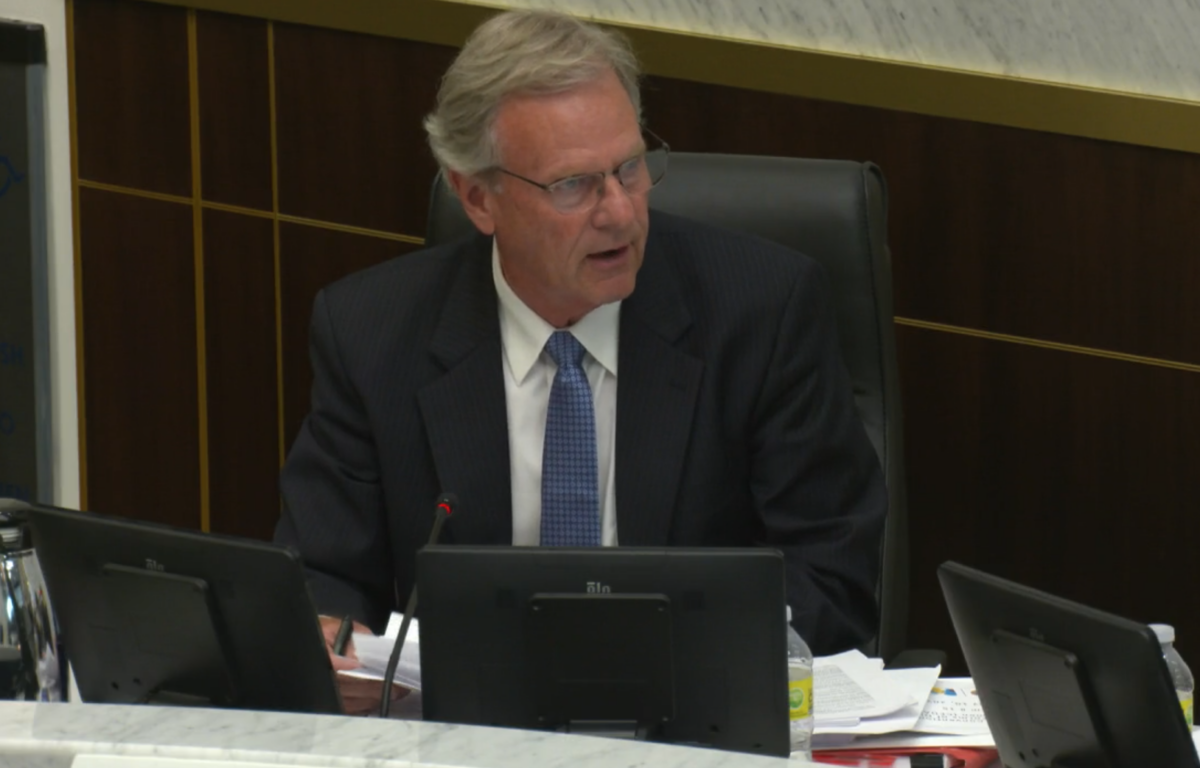 Ordinance Passes
The board narrowly passed the ordinance, with Fletcher, Vargas, and Lawson-Remer in support and Desmond and Anderson opposed.
Supervisor Jim Desmond said that while he supports the original U.N. bill, the ordinance infringes on the rights of biological women.
The U.N. bill, as it was adopted in 1979, "is a good document, and it's as good today as it was in 1979 when it was created."
"It points out equal rights and equality between men and women, but it doesn't have a distinct definition of a man or a woman, and so what's before us today is that same U.N. document with a definition of a woman added to it. And this definition conflicts with biological women's rights," he said.
Desmond pointed out examples of when "rights are not absolute."
"We have freedom of speech, but you can't inadvertently yell fire in a crowded room or theater because of the potential harm you could cause to that community or to others. You've got a right to own a gun, but you can't shoot it off in your backyard in your neighborhood."
Though both transgender individuals and biological women have rights, he said, "we've yet to find a way to balance those rights, and this definition of a woman given the language today infringes upon the biological women's rights when it comes to sports scholarships and privacy in women-only facilities. So, this definition is unbalanced. It directly infringes upon the rights of biological women."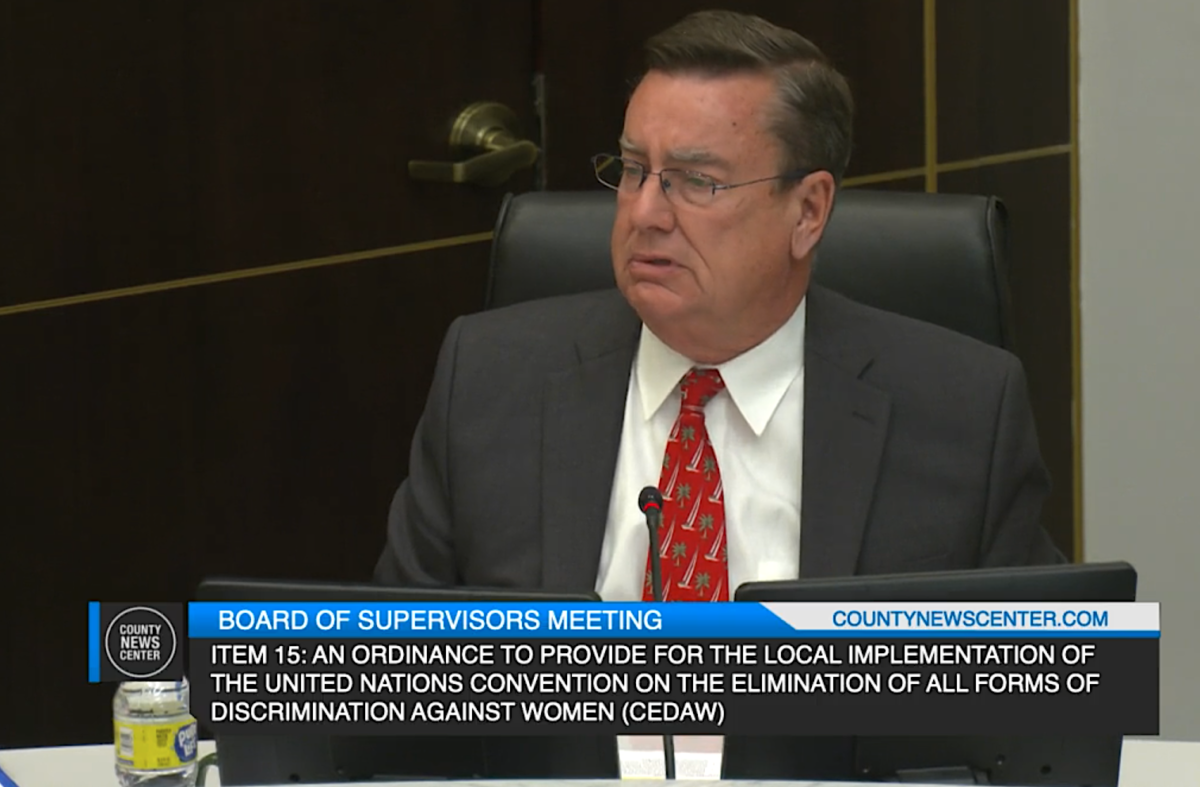 Supervisor Joel Anderson said he was concerned about the impact the ordinance could have on Title IX, a U.S. civil rights law that prohibits sex-based discrimination in any school or any other education program that receives federal funding. California also has its own Sex Equity in Education laws that expand Title IX laws and gender equity.
"I'm concerned that in the wrong hands, this language would be weaponized, potentially, and used to take advantage of women yet again. And so, just like the Democrat-led U.S. Senate, I can't support this today," Anderson said.
Supervisor Nora Vargas, who proposed the ordinance, thanked the county Commission on the Status of Women for working closely with county staff to bring the ordinance forward.
Vargas accused opponents of spreading "incorrect" information about the ordinance, and claimed it wouldn't affect women's rights, education, or sports.
"It's pretty disturbing to hear the amount of misinformation and fear-mongering," she said.
The ordinance is consistent with state and federal anti-discrimination laws and will provide guidance to conduct gender equity analysis to find gaps and make improvements across county departments, Vargas said.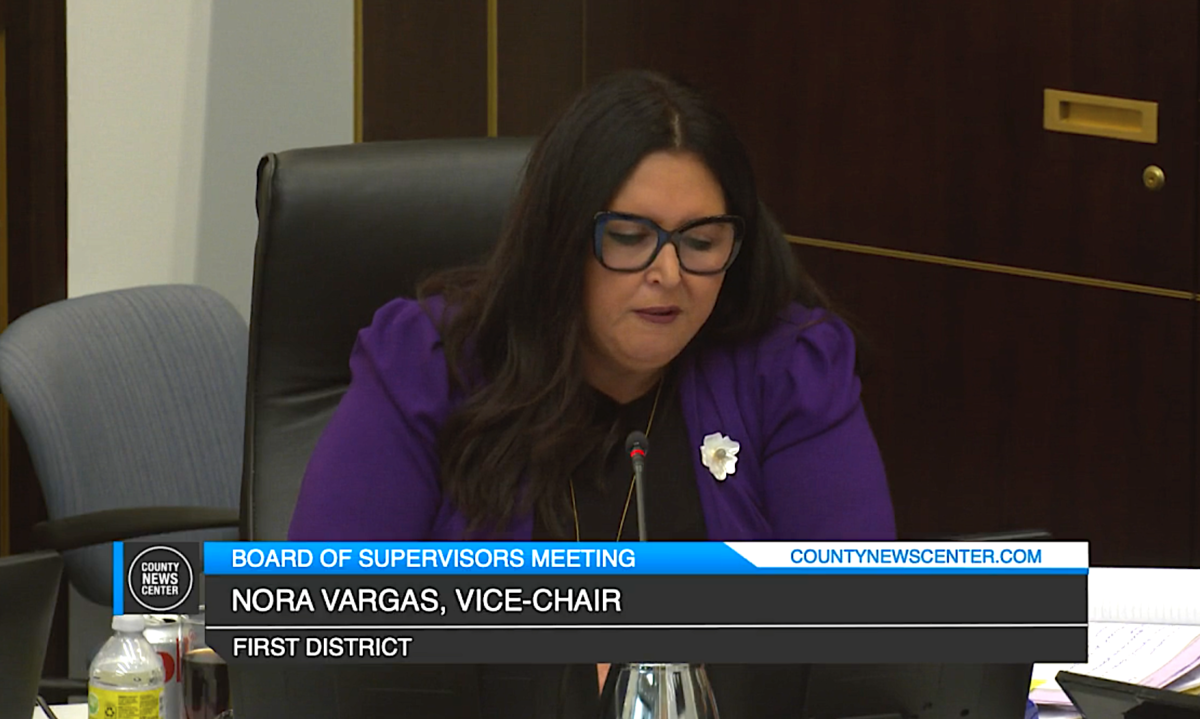 "Although certain county departments have made laudable strides in improving diversity, there is much more to be done to achieve gender justice throughout San Diego County," she said.
Supervisor Lawson-Remer asked for clarification from county staff that the ordinance would not impact women's sports, and was reassured it wouldn't.
During the meeting, Chairman Fletcher dismissed the concerns of opponents and suggested the whole debate over the ordinance is really about political division and fear.
"And in this case, that whole argument is surrounding people's sexual orientation, or how they identify their gender," he said. "And even though that those debates generally fall along partisan lines, the reality is someone's sexual orientation—and their gender identity—does not. And what I think is truly heartbreaking is to watch the absolute cruel nature by which people talk about one another."
Ultimately, he said, the "sideshow" is rooted in "a fear of people who may not be just like you" and compared the trans movement to the civil rights movement of the 1960s and the segregation of black Americans in some southern states.