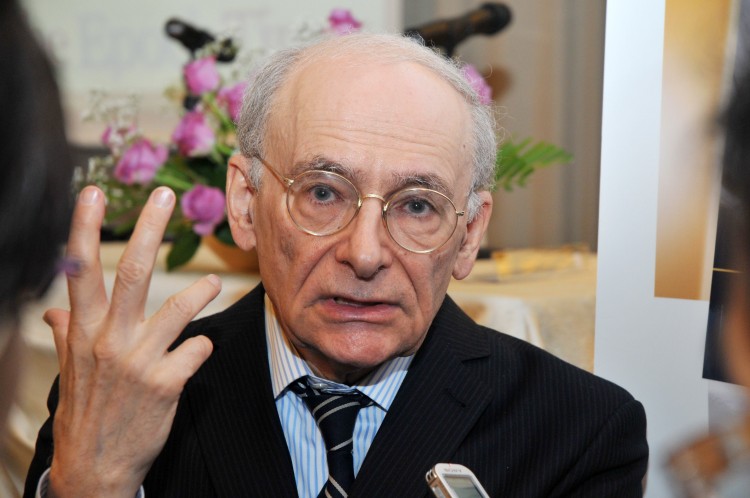 SINGAPORE—Canadian human rights and immigration lawyer David Matas was in Singapore on July 9 to present a paper at the Annual International Conference on Law, Regulations and Public Policy (LRPP 2012). 
In a paper titled "Anti-rejection Drug Trials and Sales in China," Matas, a 2010 Nobel Peace Prize nominee, explains how multinational pharmaceutical companies are helping unethical organ transplantation in China.
Truth Behind Transplants
Matas began by citing the Chinese government's acknowledgement that "organs for transplants done in China come overwhelmingly from Chinese prisoners." He added that Deputy Health Minister Huang Jiefu announced during an organ donor pilot project in August 2009 that executed prisoners "are definitely not a proper source for organ transplants."
However, the attempt to set up an organ donor project failed to take off. Matas referred to a Beijing Today report in March 2011 which says that "not one person has elected to be a donor" in Nanjing, while "only 37 people nationwide had registered to donate their organs." Yet organ transplantation figures have not receded.
The reality is that the "bulk of prisoners who are the source of organs for transplants are Falun Gong practitioners who do not consent, who are killed by the organ harvesting operation and who are not sentenced to death," Matas finds.
This conclusion was reached after Matas and David Kilgour, a former Canadian Member of Parliament, investigated allegations that surfaced in 2006 of illegal organ harvesting and transplantation of Falun Gong practitioners in China. Matas and Kilgour released the findings in two reports in 2006 and 2007, and consolidated their findings in 2009 with their book, Bloody Harvest: The Killing of Falun Gong for their Organs.
That the organ source comes from imprisoned Falun Gong practitioners is a pertinent fact for pharmaceutical companies selling anti-rejection drugs to Chinese hospitals, Matas said. While pursuing evidence in an early attempt to refute the organ harvesting allegations, Matas and Kilgour got Chinese-speaking investigators to call Chinese hospitals posing as potential organ buyers. In a call made to Shanghai Jiaotong University Hospital's Liver Transplant Centre (also known as Affiliated No. 1 People's Hospital and Shanghai First People's Hospital) on 16 March 2006, a Dr Dai claimed that they were carrying 'live' organs from Falun Gong practitioners.
Lack of Due Diligence
This discovery is compounded by the fact that several pharmaceutical companies are providing anti-rejection medication for clinical trials to the Shanghai Jiaotong University Hospital. They do so without prior knowledge about where the hospital gets its organs. Matas reveals that companies such as Roche, Norvatis, Astellas, and Wyeth/Pfizer are involved with providing the hospital with anti-rejection medication, which is required for successful organ transplantation.
Matas argues that ignorance and an unwillingness to pursue knowledge of the organ source is a form of unethical practice by these pharmaceutical companies. This is so as there are stringent guidelines made by the World Health Organization (WHO) regarding transparency in organ donations to prevent illegal organ trafficking. Further, Matas cites an article in the 2011 edition of the American Journal of Transplantation that states: "Pharmaceutical companies must ensure that no executed prisoners are the sources of organs used in their studies."
At least one of these companies, Roche, has been publicly shamed for its unethical practices. Two Swiss NGOs, The Bern Declaration and Greenpeace Switzerland, in January 2010 gave Roche the Public Eye Award 2010 and also the Public Eye People's Award for the practice of conducting research on transplant patients in China without knowing the origin of the organs donated. Two Dutch banks, Triodo and ASN Bank, sold their investments in Roche as a result of the negative publicity.
No Transparency, No Support
Matas summed up his presentation by recommending that pharmaceutical companies should not participate in clinical trials in China without verifying the source of the organs. Also, he said that while sale of anti-rejection drugs should proceed so that current patients can survive, there should be a cap on the amount of drugs sold to prevent unethical organ sourcing. 
He concluded that: "Unless China respects the World Health Organization principle that organ donations are to be transparent, traceable and open to scrutiny, neither pharmaceutical companies nor transplant professionals should cooperate in Chinese transplantation activities."
The Epoch Times publishes in 35 countries and in 19 languages. Subscribe to our e-newsletter.