The Tampa Bay Buccaneers attempted to clinch the NFC South Division on Sunday, but ran into a New Orleans defense that shut out Tom Brady at home for the first time in his career after 179 home games. The Saints' defense completely dominated the Bucs, knocking out several big offensive stars with injuries, while the Saints managed three field goals to win 9–0.
The last time Brady was shut out was 15 years ago, with the New England Patriots on Dec. 10, 2006, losing away to the Miami Dolphins 21–0. Brady was sacked five times and threw for 70 yards against the Nick Saban-led Dolphins.
"I think it's just a testament to what our defense is able to do to come in here to Tampa," said Saints DE Cameron Jordan. "I haven't seen the stadium this packed in all the 11 years I've been playing. "This is the defending world champions. These are the guys that's at the top of our conference, and we knew that everything that we had to do would have to be on the defense."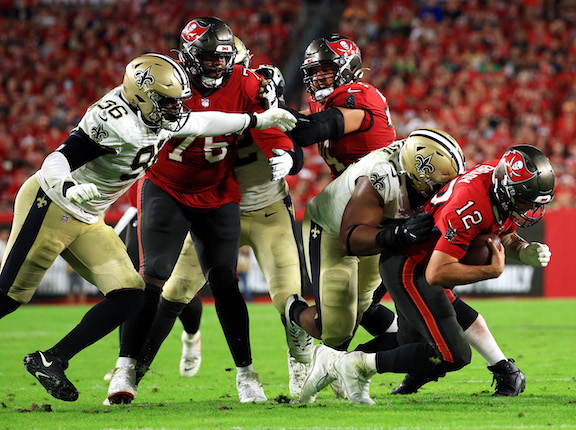 With Saints head coach Sean Payton out with COVID-19 protocols after testing positive two days before the game, defensive coordinator Dennis Allen took the reins as interim coach.
"Obviously, a big win for us, I thought our guys went out and played extremely hard," said Allen. "We said going into this game that we had to play with a great effort and a great energy against a really good football team. I think we did that. We protected the football. We did a pretty good job in terms of playing the field position game." "I thought defensively we were really good."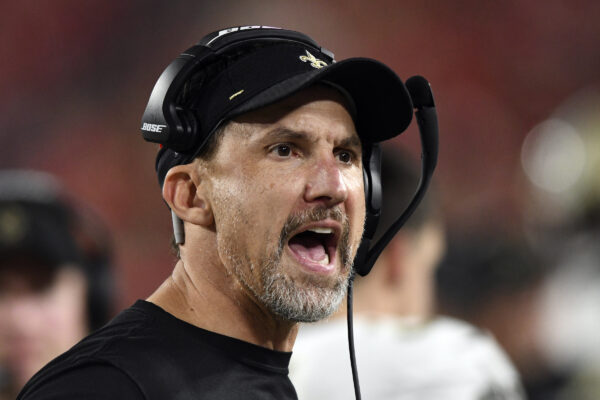 The win gives the Saints a 7–7 record with still a possibility of making the playoffs. They had won the last four NFC South titles, and have beaten Brady, 4–0, in the last two regular seasons since Brady became a Buccaneer. The Bucs were able to win their Divisional Play-off meeting at the Saints last year, 30–20, en-route to the Super Bowl Championship.
The Buccaneers drop to 10–4, but remain ahead of New Orleans and can clinch the division with one more win. They may find this more difficult with the injuries suffered in this game.
When commenting on the loss, "It hurts more losing all the players we lost," said Tampa Bay coach Bruce Arians. "We lost about seven starters in this game, so I'm more concerned about that right now."
The Buccaneers' offensive injuries include their top wide receivers—Chris Godwin with a knee that buckled and Mike Evans with a hamstring pull—who were sidelined in the second quarter. Running back Leonard Fournette also injured a hamstring in the third quarter.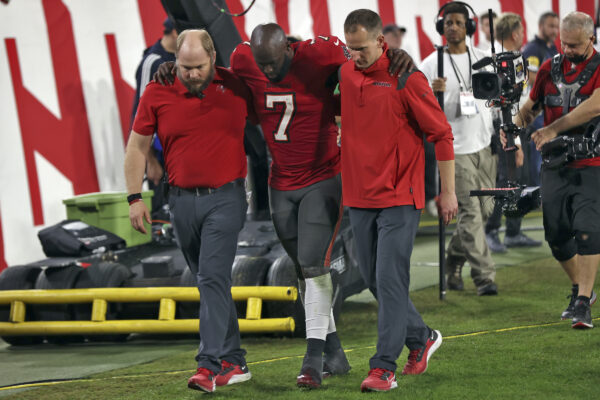 The Saints would need just three field goals from Brett Maher, 3–3, as their defense dominated the Bucs' top-rated offense. Quarterback Taysom Hill completed 13 of 27, for 154 yards and threw no interceptions.
Brady completed 26 of 48 attempts for a mere 214 yards; he threw an interception, and also had a fumble.
Late in the third quarter down 6–0, the Buccaneers drove to the Saints' 24 yard-line. On 3rd & 7, Brady was forced to scramble up the middle from pressure by Saints DE Jordan, who had two of the Saints' four sacks; Jordan knocked the ball loose as he tackled Brady and Marshon Lattimore recovered ending the Buccaneers' threat.
"For us to have a chance for us to affect Tom Brady, [it has] to be on the D line and then … we installed a four-man rush front and we got after him," said Jordan. "We hit him early. We hit him often." "He's got one of the best releases in the game, so I'm just overly impressed by the line by David Onyemata, Marcus Davenport, Carl Granderson; the way we were able to attack the offense. I love it."
With 4:33 remaining in the third quarter, the Saints had a 42-yard drive that ended with Maher kicking his third field goal, of 42-yards, to give the Saints a two-score advantage of 9-0 with 7:28 left in the game.
Maher's other field goals were a 39-yarder at the end of the first quarter and a 35-yarder early in the second quarter.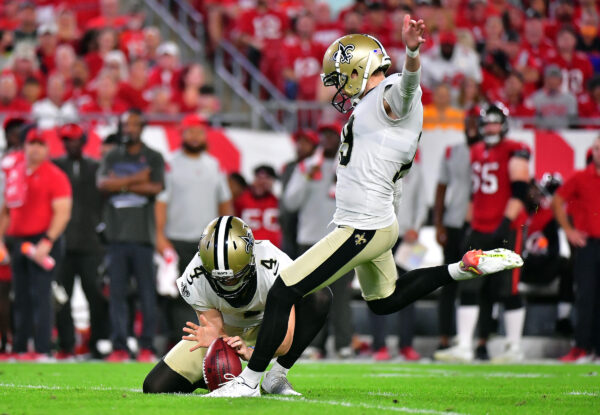 The Buccaneers' best scoring attempt was a Ryan Succup missed 45-yard field goal early in the second quarter.
"We just didn't execute great obviously and just a tough night, so I don't think we're much good at anything tonight," said Brady. "I wish it was just one thing. It was a lot of things so we got to do better in every facet of offensive football to score points. We're not gonna win scoring no points." "A lot of guys got banged up tonight, but that's part of football. [We have] got to try to figure out who can go in and fill in some holes, and play great football, and we're going to have to put together a great week this week."
Buccaneers next play at Carolina for the first of two games against the Panthers in the final three weeks of the regular season; the Saints are at home against the Miami Dolphins on Monday Night Football.