KYIV, Ukraine—Ukraine has so far thwarted an attempted Russian advance into the northern part of its Donetsk region, but the city of Sloviansk and other civilian areas are being heavily shelled, Ukrainian officials said on July 6.
Russia has increased its focus on Donetsk, the southern part of which the country and its proxies already control, after completing its seizure of the neighboring Luhansk region on July 3 with the capture of Lysychansk, which now lies in ruins.
Moscow says fully pushing the Ukrainian military out of both regions is central to what it calls a "special military operation" to ensure its own security, a now four-month-long offensive that the West is calling an unprovoked war of aggression.
Donetsk and Luhansk make up the Donbas region, the industrialized eastern part of Ukraine, which Russia wants to wrest control of on behalf of Moscow-backed separatists in two self-proclaimed people's republics.
Ukrainian officials said heavy fighting has been taking place as Russian forces have tried to push from Luhansk into Donetsk region and toward the city of Sloviansk.
"We are holding back the enemy on the border of Luhansk region and Donetsk region," Luhansk governor Serhiy Gaidai told Ukrainian television.
He said Russian regular army and reserve forces have been sent to the border in an apparent effort to cross the Siverskiy Donets river and that two small settlements just inside Luhansk's borders were the scene of fierce fighting.
"Luhansk region even now is fighting. Almost all the territory has been captured, but in two settlements fighting is ongoing" he said in a video briefing.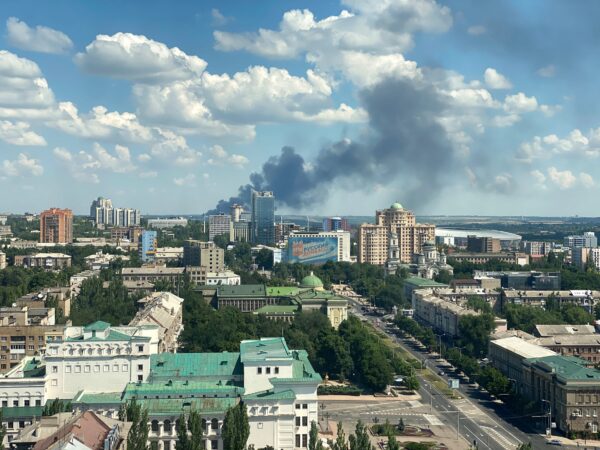 Gaidai and other Ukrainian officials have said that Russian forces are pounding targets in the Donetsk region with artillery.
Vadym Lyakh, mayor of Sloviansk, said in a July 6 video briefing that the city has been shelled for the past two weeks.
"The situation is tense," he said, speaking a day after local officials said Russian forces had struck a market and a residential area in Sloviansk and killed at least two people.
Russia says it doesn't target civilians.
Lyakh said 17 residents had been killed and 67 wounded since Russian President Vladimir Putin ordered his troops into Ukraine on Feb. 24. Its pre-war population of more than 100,000 people has shrunk to about 23,000, and more and more people wanted to leave because of the shelling, he said.
The southern port city of Mykolaiv was also being heavily shelled, its mayor, Oleksandr Senkevych, said in a briefing. Russian forces were using multiple launch rocket systems to shell the city, which has shed about half of its pre-war population of half a million people.
"There are no safe areas in Mykolaiv," he said. "I am telling the people of the city that they need to leave."
Gaidai said Russian forces were pillaging Lysychansk and its twin city Sievierodonetsk.
"Everything is being destroyed," he said.
Reuters couldn't immediately verify this report.
By Pavel Polityuk and Max Hunder