Conservative host Rush Limbaugh, who was awarded the Medal of Freedom during President Donald Trump's State of the Union, returned to his radio program on Friday after announcing earlier this week that he was diagnosed with advanced lung cancer.
"What a week. What an incredible week," Limbaugh said on his show. "You know, I don't like to brag … but everything happening to the Democrat Party today, if you go back … you'll find that I predicted this implosion of the Democrat Party. And that's exactly what it is."
On Monday, the longtime host announced that he was diagnosed with cancer and would be undergoing treatment. At the time, Limbaugh said he would attempt to return to his regular hosting duties on Friday.
"The last thing that I did on Monday was inform all of you of a medical diagnosis, advanced lung cancer. I told you Monday that I really wished that I could not announce it because I don't like making things about me, and I promised you that I was not going to live every aspect of this on the air," the 69-year-old said.
Limbaugh noted that millions of Americans have been diagnosed with lung cancer.
"So you don't need me sharing all of the details with you," he said. "I wouldn't want to do it anyway because there is a lot of factors involved including privacy and distraction."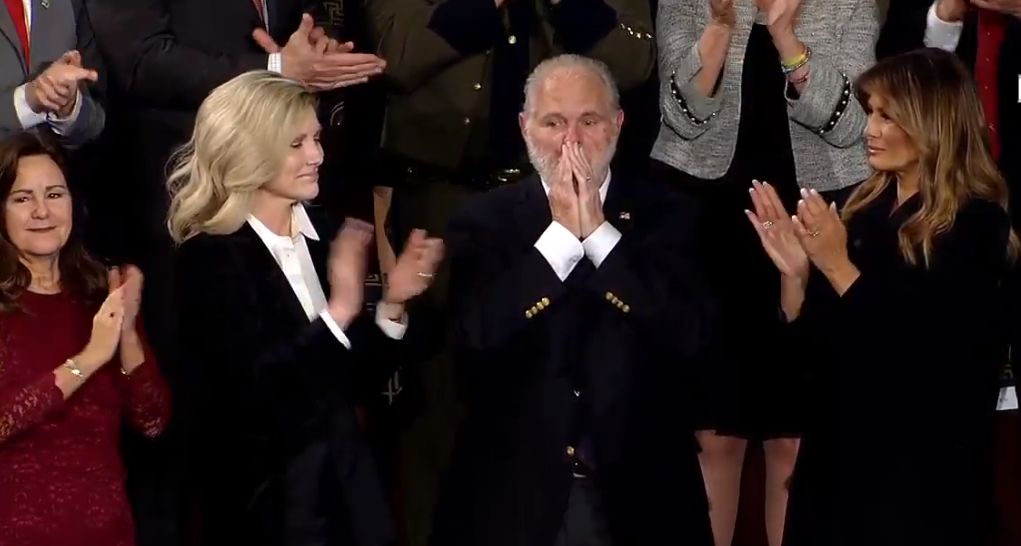 He later thanked listeners for their support in the wake of his diagnosis.
"I cannot thank all of the people that I have heard from since Monday," Limbaugh said. "To have this kind of support, and to know it, to be fully aware of it, it does make me one of the luckiest people alive."
The "sentiments" and "thoughts" that people have shared with him "makes me one of the luckiest people alive," Limbaugh said.
Trump on Tuesday night surprised the nation when he pointed to Limbaugh in the audience during his State of the Union.
"He is the greatest fighter and winner that you will ever meet," Trump said on Tuesday night in reference to the cancer diagnosis in a move that received applause from mainly GOP members in the Capitol building. Limbaugh, who was seated in a wheelchair, then rose from his seat before First Lady Melania Trump presented him with the Medal of Freedom.
The medal was presented "in recognition for all that you have done for our nation … to millions of people a day, and all of the incredible work that you have done for charity," according to the president.
Limbaugh began his nationally syndicated radio show about 30 years ago and has been considered one of the most influential conservative pundits in the United States.