Royal Baby of Interest to American Audience?
July 23, 2013 10:23 am Last Updated: July 24, 2013 8:53 pm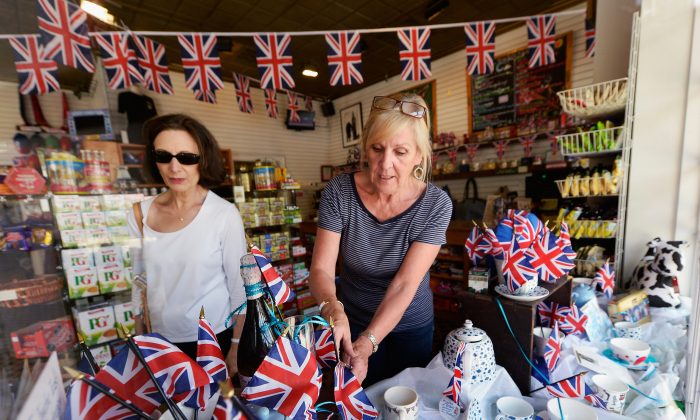 Royal baby news was ubiquitous in the United States on Monday, but surveys have shown American interest pales in comparison to the interest in Commonwealth nations. 
Americans in the 55–64 age group are most likely to take an interest in the birth, though only 36 percent of this group reported an interest in a Pew Research Center survey conducted December 2012. At the low end of the scale, were 25–34-year-olds, only 16 percent of whom reported an interest.
But, with about 25,000 tweets per minute on the topic Monday, American companies jumped on the royal bandwagon.
Charmin bathroom tissue company tweeted a photo of a golden potty "throne" and scepter. Hasbro tweeted an image of the baby prince in Play-Doh. An Oreo cookie and milk bottle on a red cushion is accompanied by the words, "Long live the creme." Magnum tweeted a photo of a "miniroyal" ice cream treat wearing a crown. The list goes on.
The BBC noted the rolling coverage on American media outlets with "plummy voiced 'royal watchers,'" and celebrations in regions such as New York City's "Little Britain" in Greenwich Village.
Yet, Statista.com statistics portal states that polls have shown Americans have always been more interested in American political news than anything to do with the royals.Even U.K. publication The Guardian had to decide between conflicting interests among its readers—opting to let the readers decide instead.
Article continues after the discussion. Please feel free to vote and comment.
[tok id=590ea5dd4c5fc1e8924a86c0641cc39f partner=1966]
A button on the website front page allowed the U.K. reader to choose either "Royalist" or "Republican." The "Republican" choice would pull up a completely different front page without royal birth coverage. For American Guardian readers, the option was between "Royalist" or "Not a royalist."
U.S. President Barack Obama and first lady Michelle Obama released a joint statement following the birth on Monday: "Michelle and I are so pleased to congratulate The Duke and Duchess of Cambridge on the joyous occasion of the birth of their first child. We wish them all the happiness and blessings parenthood brings.
"The child enters the world at a time of promise and opportunity for our two nations. Given the special relationship between us, the American people are pleased to join with the people of the United Kingdom as they celebrate the birth of the young prince."