Road to U.S. Open Starts at Rogers Cup
August 9, 2009 9:39 pm Last Updated: October 1, 2015 9:32 pm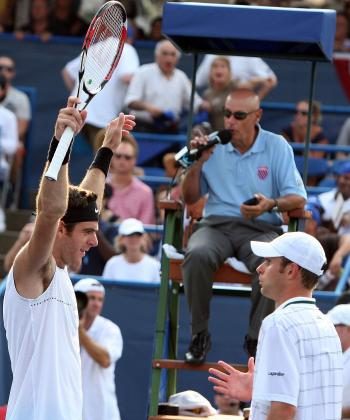 The Rogers Cup kicks off in Montreal on Monday. It is the sixth of nine Masters Series tournaments this year and a key warm-up for the U.S. Open, which starts at the end of the month in Flushing, N.Y.
The Canadian Open, now known as the Rogers Cup, is the third oldest tennis tournament in the world after Wimbledon and the U.S. Open. It was first held in 1881. The Canadian Open alternates every year between Toronto and Montreal.
Rabid Canadian tennis fans mobbed defending champion Rafael Nadal as he came to practice on Saturday. In 2007, the tournament attracted just over 182,000 spectators, which is a world record for a one-week-long tennis tournament, according to the ATP.
Fans have plenty to be excited about, as Roger Federer will headline the tournament after his wife Mirka gave birth to two twin girls on July 23. Nadal is the second seed and sees his first action since the French Open. He has been struggling with tendonitis in both knees.
In fact, the top 10 and 18 out of the top 20 men's players in the world are in Montreal to compete for $3.0 million in prize money. Top prize is $443,500 and 1,000 ATP ranking points.
Top U.S. hope Andy Roddick enters the draw in fine form as the fifth seed, narrowly missing out on the Legg Mason title in D.C. on Sunday. Roddick lost to Argentina's Juan Martin del Potro 3–6, 7–5, 7–6.
Both Roddick and del Potro will receive first round byes as they are both seeded in the top eight. They will likely not play until Wednesday.
Nadal actually faces fourth-seeded Novak Djokovic on Monday albeit in doubles. Both singles superstars have chosen countrymen for their partners so it will be a Spain vs. Serbia doubles affair that will give fans their first glimpse of Nadal at the tournament.
Federer will face the winner of the match between Russia's Igor Kunitsyn and Canadian wild card Frederic Niemeyer. He could face Britain's Andy Murray in the semis.
Nadal could face his tough countryman David Ferrer in round two and potentially Roddick or Djokovic in the semis. His quarterfinal opponent could be del Potro.