Roger Stone, the longtime friend and former adviser to President Donald Trump, was sentenced on Feb. 20 to three years and four months in prison at a federal court in Washington amid controversy over how the Department of Justice handled his case in recent weeks.
Stone was convicted on charges including lying to a congressional committee that was investigating Russian interference in the 2016 U.S. election.
Judge Amy Jackson, an appointee of then-President Barack Obama, disputed claims that Stone was convicted because he was being accused by outside political forces.
"This case did not arise because Roger Stone was being pursued by his political enemies," the judge said in court. "It arose because Roger Stone characteristically injected himself smack into the middle of one of the most significant issues of the day."
At the same time, prosecutor John Crabb Jr. said the sentencing should be higher because "the defendant threatened both his personal safety and his pet," referring to witness Randy Credico. Before that, Roger Stone's defense attorney, Seth Ginsberg, wrote that Stone shouldn't receive a longer sentence because that threat wasn't "serious enough" to "trigger the guidelines," adding that he is known for "rough, hyperbolic language," and Credico knew "it was just Stone being Stone."
Stone, meanwhile, told the judge that he doesn't want to issue a statement in court.
The charges stemmed from then-special counsel Robert Mueller's investigation into Russian interference in the 2016 election. Ultimately, he found no evidence of collusion between Trump's campaign and the Kremlin. Also, during his later trial, prosecutors said Stone collaborated with WikiLeaks to release Democratic Party emails during the 2016 campaign.
The Department of Justice, led by Attorney General William Barr, intervened and withdrew the seven-to-nine-year sentencing recommendation in Stone's case. Four prosecutors involved resigned from the case, triggering Democrats in Congress to accuse Trump and Barr of politicizing the department during its investigations.
Barr, in an ABC News interview on Feb. 13, called on the president to refrain from commenting on Justice Department investigations on social media, saying it was making it "impossible to do my job." Trump had described the Stone conviction and sentencing as "unfair" and a "miscarriage of justice" on Twitter.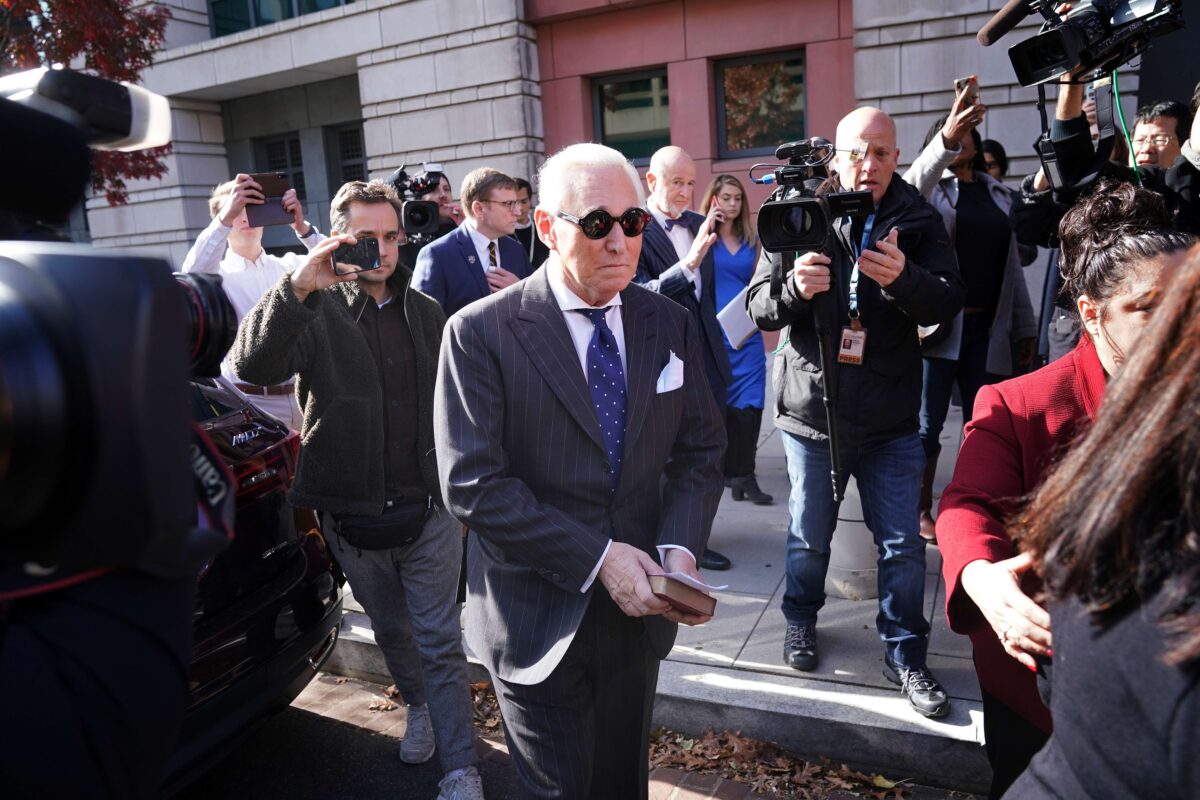 Despite Barr's comment, Trump posted a clip on Twitter at 2 a.m. on Feb. 20 of Fox News host Tucker Carlson calling Stone's case a "shocking insult to the American tradition of equal justice." He then pinned the post to the top of his Twitter feed.
In his interview, Barr denied discussing the Stone case, or any other case, with Trump. "I'm not going to be bullied or influenced by anybody … whether it's Congress, a newspaper editorial board, or the president," the attorney general said. "I'm gonna do what I think is right. And you know … I cannot do my job here at the department with a constant background commentary that undercuts me."
In response, the White House said Trump has full confidence in Barr's abilities, while Trump told reporters that he has the right to get involved in cases, including Stone's.
"Just so you understand: I chose not to be involved," Trump told reporters on Feb. 18. "I'm allowed to be totally involved. I'm actually, I guess, the chief law enforcement officer of the country, but I've chosen not to be involved."
U.S. District Judge Amy Berman Jackson on Feb. 18 said she would delay enforcing Stone's sentence until making a decision on if he should get a new trial or not.
Trump also granted clemency to former Illinois Gov. Rod Blagojevich on Feb. 18 as well as nearly a dozen others. Blagojevich was convicted for trying to sell Barack Obama's U.S. Senate seat and attempting to extort a children's hospital, although the former governor has long denied the charges against him. As a result, there has been speculation that Trump may eventually pardon Stone.
Trump, during an event in Nevada, said Stone "has a very good chance of exoneration in my opinion," but didn't elaborate.