Rising Pneumonia Cases in Shanghai Amid Bird Flu Fears
April 5, 2013 5:27 pm Last Updated: April 7, 2013 12:22 am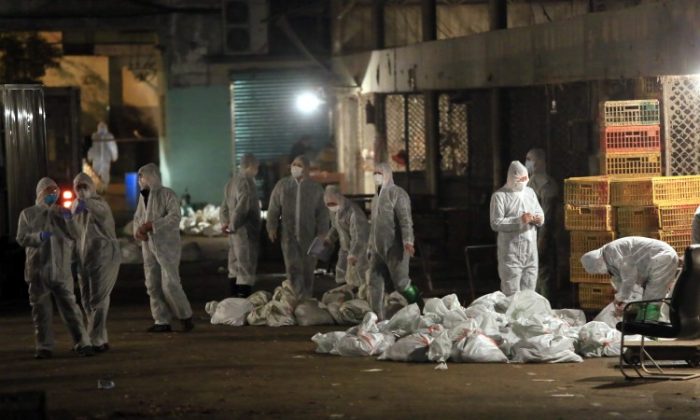 Six people have died out of 14 H7N9 bird flu cases, according to official figures from the Chinese regime Friday afternoon, with four of the deaths in Shanghai.
Local authorities slaughtered more than 20,000 birds at the Huahei poultry market Friday, as pigeons sampled there were found to be carrying the virus. 
Shanghai is home to 23 million people, and recently made news after upstream farmers dumped thousands of diseased pigs in the Huangpu River, a major source of drinking water for the city.
Residents speaking with The Epoch Times said locals are concerned, as the bird flu symptoms are very similar to pneumonia, and there are an unusually high number of patients with respiratory conditions in the city at the moment.
During the 2003 SARS outbreak, the Communist Party deliberately under-reported the number of cases, leading to insufficient isolation restrictions, and a wide spread of the deadly disease.
"The two deceased H7N9 patients are from our Minhang district No. 5 hospital, not far from here, and we go to that hospital," said Shanghai resident Ms. Jing. "Now, there are unusual high number of respiratory and pneumonia patients; there is a very long queue."
Another woman surnamed Tang, also from Minhang district, confirmed the situation: "I went to the hospital a few days ago. There are a lot of pneumonia patients, both adults and children. They have heavy coughs, and many are being admitted to the hospital."
Ms. Tang added that everyone is concerned about the gravity of the outbreak due to the SARS cover-up 10 years ago. "Now, bird flu is here; everyone is in a panic," she said. "It seems like another calamity is coming. I don't believe that Shanghai has only this small number cases."
Hong Kong-based newspaper Wen Wei Po quoted a Shanghai hospital respiratory specialist on April 4, saying more pneumonia patients are being admitted to the facility, with 20 to 30 percent dying, and suspected of being infected with the H7N9 virus.
Feng Zijian, director of China's Center for Disease Control and Prevention, told the Party's mouthpiece Xinhua on April 3, "H7N9 is a totally different virus from SARS … therefore, the chance of it spreading like SARS is very small. However, we expect to find more cases, while the monitoring intensity is increased, and the monitoring procedure and policy is improved."
Netizens remain suspicious of the regime's handling of the disease, and believe the last part of Feng's statement is laying the foundation for a cover-up.
One Internet user commented: "That sounds to me like a lot more cases have been found."
And another netizen said, "I saw a Weibo message from a Shanghai friend on March 24, that six patients were admitted to hospital, all with symptoms of fever, and five died. But this news never got reported; that's the state of our society."
Read the original Chinese article.