Rigorous Training in China's Military Parade Village
September 30, 2009 3:45 pm Last Updated: October 1, 2015 9:21 pm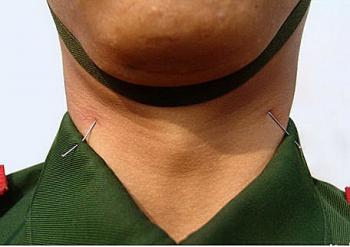 With the 60th anniversary of the founding of Communist China just around the corner, military parade training for the soldiers has reached maximum intensity, according to official Chinese media.
The military parade village, situated in Beijing's Changping District, was established in May for the parade preparations and training for the 14 formation forces. Servicemen from the Army, Navy, Air Force, Artillery, Armed Police, Militia and Reserve Forces come from across the country to train here.
The majority of these parade performers are young people born after 1980 or 1990, who have never been allowed to leave their military bases.
To achieve optimum results, The training for the soldiers in the village has used maximum physical and psychological conditioning, according to a CCTV International report from Sept. 11.
The training is hard, requiring standing straight and steady for an hour, and not blinking for at least 40 seconds. "For ordinary people, this might be an endurance test, but for hundreds of soldiers taking part in the National Day Parade, it is a daily routine," the report says.

China Youth Daily reported that one young trainee attached a pin to his collar to prick him if he moved his head. After two weeks of parade drill, he had 58 holes in his neck.
According to Ta Kung Pao, the organizers are using string to create lines that will help ensure that the troop formations are uniform. The five lines are: head, chest, gun, hand, and foot. A scanning laser beam reads out any displacements during a rehearsal.
The parade includes navy, land and air forces. Multiple ground and air rehearsals have been conducted along the parade route down to Tiananmen Square. The parade team members have endured mental and physical fatigue through rehearsals and joint practice.
Many training methods, including the transformation training method, mental suggestion, incentive training method and the target traction, have been used to compel acceptance of strict training standards. Consequently, the soldiers have been trained rigorously, according to SourceJuice.com.
A psychological counseling team was also established to provide psychological support services. It has been established that as of Sept. 12, about 600 mental health files have been opened reporting psychological tests on more than 2,500 village trainees, group counseling more than 80 times, and 1,300 individual consultations.
This military parade will be the 14th National Day military parade on Oct. 1 since 1949.
The China Daily newspaper, citing a spokesman for the Defense Ministry, said that the October 1 parade would be held in an "economical manner" as the authorities plan to spend only 300 million yuan (US$44 million) on it.
Read the original Chinese article.