At least 13 arrests have been made in the most recent confrontation with Antifa in Portland, Oregon, the Portland police confirmed on Aug. 17.
Right-wing groups from across the country had converged on Portland to protest Antifa and bring attention to its terrorist-like activities.
Antifa is a far-left group whose members have made Portland a stronghold and often engage in protests that eventually turn violent. President Donald Trump wrote on Twitter today that major "consideration is being given to naming Antifa an 'organization of terror.'"
Major consideration is being given to naming ANTIFA an "ORGANIZATION OF TERROR." Portland is being watched very closely. Hopefully the Mayor will be able to properly do his job!

— Donald J. Trump (@realDonaldTrump) August 17, 2019
The Portland Police said they are trying to keep two large groups away from each other—presumably Antifa and the Proud Boys. The Proud Boys describe themselves as "Western chauvinists who refuse to apologize for creating the modern world," according to their website.
Videos have surfaced on Twitter of what appear to be members of the far-left group and other right-wing groups fighting and berating each other. A group of people can be seen attacking their rivals in a video uploaded by Elijah Schaffer S.O.
Warning: These videos contain violence and explicit language.
Antifa attacks people on a bus. They try to pull them out and hit them with a hammer. #PortlandProtests pic.twitter.com/JSkCE1Vrcy

— Andy Ngo (@MrAndyNgo) August 17, 2019
When the buses left, antifa chased it down and broke windows. One antifa guy fell down. pic.twitter.com/ySyfIzO7ii

— Julio Rosas (@Julio_Rosas11) August 17, 2019
In a video uploaded by The Post Millennial, police are seen arresting a man who was believed to have been carrying a gun.
This man was just taken down and arrested. According to @TPostMillennial, he may have had a gun. #PortlandProtest
pic.twitter.com/hZUgrpmxKY

— Andy Ngo (@MrAndyNgo) August 17, 2019
Another man who was insulting reporters and protestors is seen being arrested. People tried to calm him down in the video.
"I didn't come to talk, I came to bring it out." Things are getting tense at the antifa protest. Someone hit a man's microphone to the ground.

I recognize this shirtless man from Seattle last year at another antifa protest. He came up to me and said, "Death is coming." pic.twitter.com/mzK2i9y5Gl

— Andy Ngo (@MrAndyNgo) August 17, 2019
The aggressive antifa shirtless man who was threatening people was arrested by police. This angered the mob who said this was police bias. #PortlandProtests pic.twitter.com/OYDsyLw3EY

— Andy Ngo (@MrAndyNgo) August 17, 2019
A large antifa mob chase & attack a man & a young girl who got separated from the others. No police. #PortlandProtests pic.twitter.com/erceCRVnad

— Andy Ngo (@MrAndyNgo) August 17, 2019
The Portland Police are periodically updating their Twitter page concerning the demonstration.
Portland Mayor Urged People Not to Come
Portland Mayor Ted Wheeler and city officials held a public relations event on Wednesday urging people not to show up over the weekend but a speaker there said there was no equivalency between Antifa and the groups its members oppose and urged police not to deploy large numbers on Saturday.
Wheeler later told Fox News that there will be a large police response. The message to protesters was: "We don't want your hatred, we don't want your violence, but if you come here, we're going to be prepared."
Wheeler has consistently condemned conservative groups but avoided mentioning Antifa by name. He struggled to say why police haven't' made any arrests from the assaults Antifa committed last month when a host asked "What message does that send?"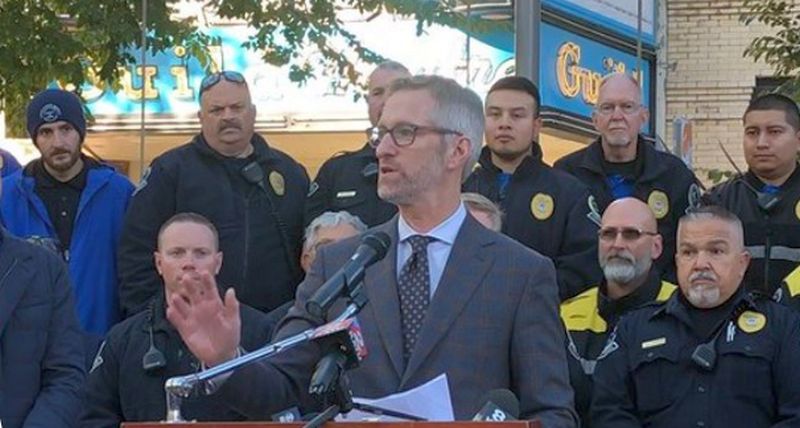 "With all due respect I disagree," Wheeler responded. "We don't tolerate any act of violence—not that act of violence or any other. And the police are investigating and they are following up on leads."
"They have photographs of some of the individuals that they believe were the perpetrators. I know that the intelligence unit continues to follow-up on those leads and I'm confident that there will be arrests in that particular case. This isn't about anybody's politics," he said. "If they're breaking the law, we're going to enforce it. We're going to hold people accountable."
Portland's Struggle
The city has long struggled with public displays of violence and mayhem, including leftwing protesters last year shutting down city streets and hitting the vehicles of those who refused to comply as police officers stood by watching. The police department said it feared intervention would "change the demeanor of the crowd for the worse."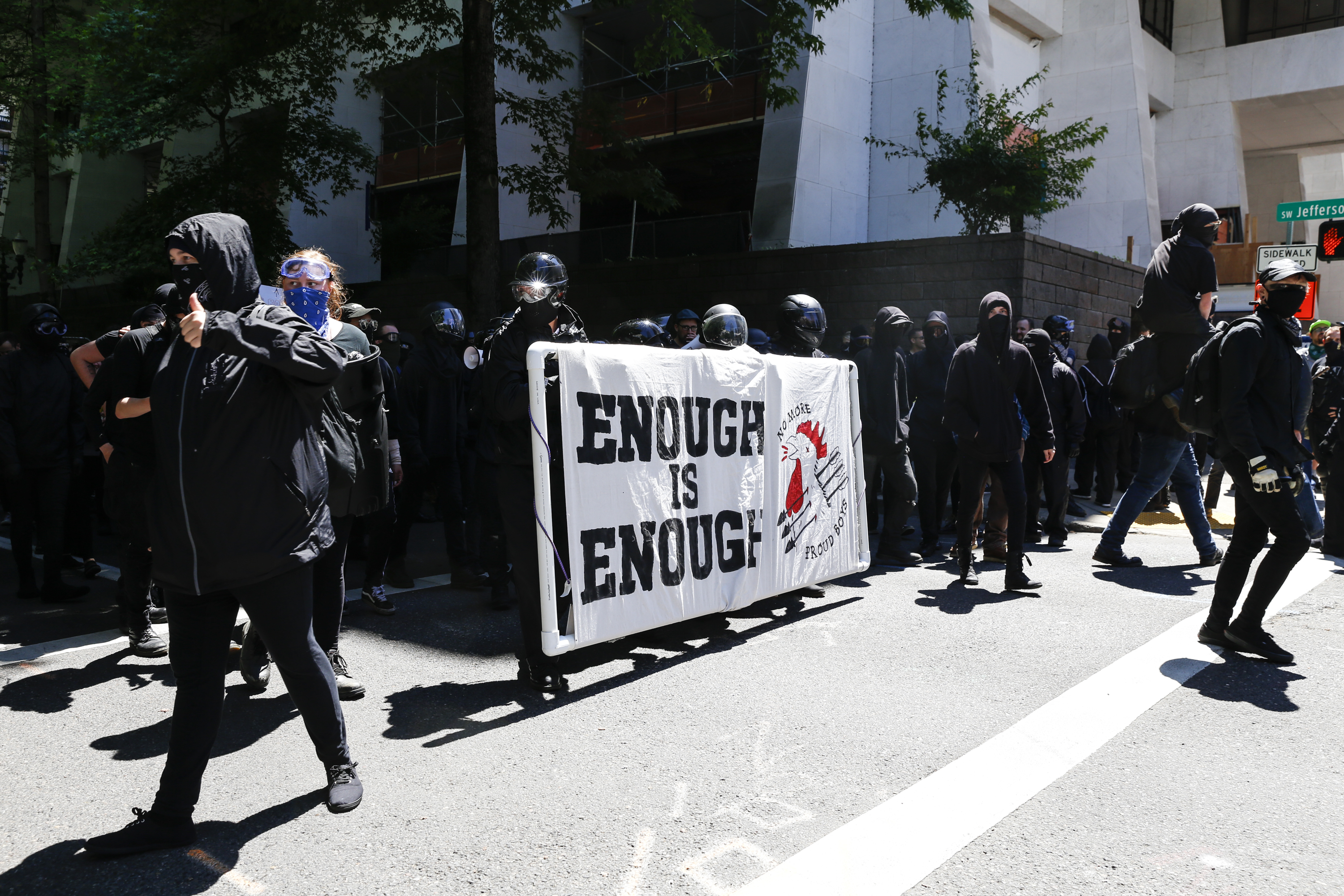 The city has also failed to take action on an anti-mask law proposed by Portland Police Chief Danielle Outlaw after the assault of Ngo and the other men. Antifa members like to obscure their faces to try to avoid arrest and prosecution.
Wheeler, a Democrat who was elected in 2016 and also serves as police commissioner, was reportedly heard saying in November 2018 that he "can't wait" to leave office but he's since said he will run for election.
Zackary Stieber contributed to this article.