Just three days after Carlie Trent's disappearance, her pediatrician, Dr. Chris Calendine, offered a $10,000 reward for information leading up to her safe recovery. 
Since then, the total reward for that information has skyrocketed to over $40,000. Trent, 9, was taken by her uncle, 57-year-old Gary Simpson, and was last seen just over a week ago, during the afternoon hours of May 4.
Dr. Calendine told Epoch Times that there are 16 total contributors to the fund—5 of them major.
In the statement, Calendine said, "I have spoken with Knoxville contacts and want to confirm, update that the current reward total is $40,000."
US Marshal $5,000
Matt Daniels, Tim Williams Apex Bank $10,000
Jim Clayton $10,000
Chris Calendine $10,000
Trey Healy $5,000
"We have list of approximately 11 other individuals that have committed smaller donations, but we will wait until those funds are deposited into account before adding to total," Calendine said.
The pediatrician said the major pledge donors are all professionals and have confirmed their amounts.
"In order to try to keep tip-lines free from these calls, we have set up a funding platform: BringCarlieHome.causevox.com," Calendine said in the statement.
Anyone with donation questions can email, BringCarlieHome@gmail.com, or call, (423) 923-9100.

In a May 7 interview with Epoch Times, Calendine says why he felt the need to pitch in.
"I'm fortunate, there's not a lot of times in my life I would've had ten grand," he said, adding that rural pediatricians don't quite make as much money as people think.
Calendine had initially intended to buy himself a boat with the money, but changed his mind. "It's been a busy year, I've been working a lot and had been putting away, yeah, that's kinda what we were planning toward, but I mean whether it was a boat or a trip, the bottom line is there's plenty of time for that, but none of it is worth more than helping out a little bit."
The pediatrician didn't know Trent outside of his medical practice. He said she'd attended the rural health center for primary care, for well-child checks, and sick visits, but wasn't in the office excessively. As soon as he saw her picture though, he recognized her from her visits at the center throughout the years.
"The gentlemen who actually is involved [Gary Simpson], he had been one of the people that brought her to the clinic. I recognized him as well, he's very involved in her life, that's kind of been the odd thing here. At one time he had custody, and it sounds like he still had daily contact with her, so it's kind of puzzling as to why he'd take this approach."
Her father, James, believes his brother-in-law was "obsessed" with the girl, according to an interview with Local 8 News.
She was signed out of Hawkins Elementary School in Rogersville, Tennessee, by her uncle, who had allegedly given a false pretense that her father had been in a car accident. The pair, and the van they're believed to be in, are yet to be found.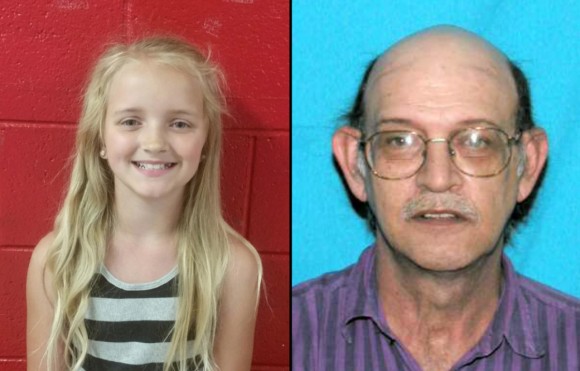 Carlie is 4 foot 8 inches tall, weighs 75 lbs with blonde hair and blue eyes, and was last seen wearing a black and grey tank top and blue jeans.
Simpson is a white male, 5 foot 10 inches tall, weighing 157 lbs. He is balding, has brown hair and eyes, and was last seen wearing a brown cap, a dark colored shirt and jeans.
An AMBER alert update by the TBI states "authorities have developed specific and credible information which leads law enforcement to believe the child is in imminent danger of serious bodily harm or death."
Just a few days prior to the kidnapping, the Tennessee Bureau of Investigations (TBI) reported that Gary Simpson shopped at a Walmart store and purchased clothes for himself and a number of items presumed to be for Carlie:
Blue and orange striped blanket
Khaki pants
Pack of underwear
Two shades of nail polish (purple and sparkling green)
Two shades of lipstick (purple and green)
Pink child camp chair
Purple child night gown with stars
Black and pink and white bikini swimsuit
Here are items Gary Simpson purchased, before taking Carlie from her school May 4th. #BringCarlieHome pic.twitter.com/fGuVw7LSsZ

— TBI (@TBInvestigation) May 10, 2016
Josh DeVine, the Tennessee Bureau of Investigation (TBI) public information officer, said people need to call 911 immediately if they see the van. There have been nearly 1,500 tips and alleged sightings, but none credible so far. It has the registration plates 173-GPS and can be seen below: 

For any information, tips concerning Carlie's return continue to call 1-800-TBI-FIND or 423-272-7555. If you see the vehicle or suspect involved please immediately call 911.