A Reuters photographer was removed from the House Judiciary Committee hearing in Washington on Thursday after walking over during a break to where Democratic members of Congress had been sitting and surreptitiously photographing their notes.
"During the break, a Reuters photographer, Josh Roberts, walked over to the dais and took pictures of the notes of the desks of several of my Democratic colleagues," Rep. Matt Gaetz (R-Fla.) told lawmakers at the committee hearing.
"We noticed that, announced it to staff, and that reporter, that photographer, has been removed. And I would just say, no member, Republican or Democrat, should be subject to that—we ought to have the opportunity to take our notes, participate in debate, and have a fair discussion."
Video footage of the photographer talking to someone else near the dais before quietly getting out his camera and snapping multiple pictures was widely circulated online, including by Rep. Mike Johnson (R-La.).
.@RepMattGaetz just announced this photographer has been removed from the #ImpeachmentHearing https://t.co/Na8ipK68vp

— Rep. Mike Johnson (@RepMikeJohnson) December 12, 2019
Reuters has pictures from Roberts available to websites using its wire agency taken at the committee meeting. Two pictures were initially described by Reuters as being of the desk of Rep. Ted Lieu (D-Calif.), who was not at the meeting on Thursday because he's recovering from emergency surgery.
Reuters later updated the captions, saying the photographs showed the desk of Rep. Jamie Raskin (D-Md.).
Objects on the desk included a copy of the Washington Post and the "Federalist Papers."

The "Federalist Papers" written by the framers of the U.S. Constitution are seen sitting among other papers at the desk of House Judiciary Committee Democratic member Rep. Jamie Raskin (D-Md.) during a break as the House Judiciary Committee continues its markup of articles of impeachment against President Donald Trump on Capitol Hill in Washington on Dec. 12, 2019. (Joshua Roberts/Reuters)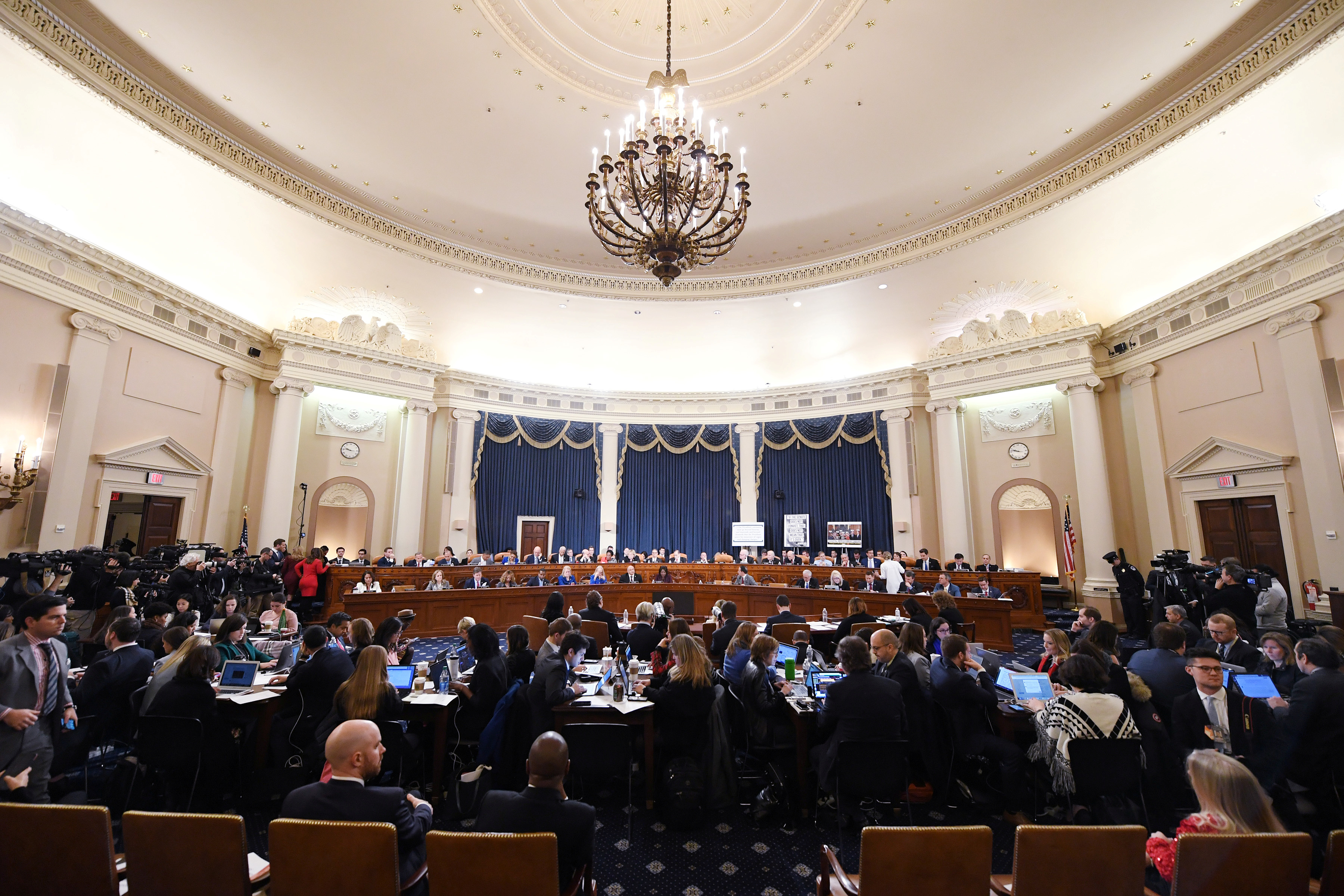 Another photograph was of the desk of Rep. Madeleine Dean (D-Penn.).
None of the lawmakers have commented on the situation. Jesse Lee, a staffer for Speaker of the House Nancy Pelosi (D-Calif.), defended the photographer, writing on Twitter to someone who shared a clip of Roberts' taking pictures: "The photo being taken was also not of notes, it was of a Bible and another book."
A wire story from Reuters did not include the detail that its photographer was removed from the hearing. A Reuters spokesperson told The Hill that Roberts didn't take pictures of any personal notes.
"His photos include members' copies of the U.S. Constitution, the Holy Bible, The Federalist Papers and pieces of illegible paper that were sitting on the dais," the person said in a statement. "He broke no rules and left the hearing voluntarily."
This story was updated on Dec. 13 with additional details.