When David Culmer was growing up in Philadelphia, he knew early on that he wanted to be a Marine.
"I saw this guy who was ten feet tall, and he had gold stripes, a blue uniform, a red stripe down his pants, and he stood like a giant," Culmer recalled when he spoke to The Epoch Times. "I wanted to be like him. He had pride, he had statuary, he had everything I wanted as a six-year-old kid. That's why I joined the Marines."
That was over 80 years ago. Since then, Culmer has turned that flicker of a childhood dream into reality.
He has served as a United States Marine in Vietnam, China, Japan, Okinawa, Thailand, and the Philippine Islands. A Congressional Gold Medal recipient, Culmer also has the unique distinction of being a member of the last platoon at Montford Point in North Carolina, a segregated camp where the first African American Marines received basic training from 1942-1949.
After retiring from the Marine Corps in 1972, Culmer spent the following 25 years as a counselor to his fellow veterans through various programs in Los Angeles.
"I was good. I was a natural at it," he said.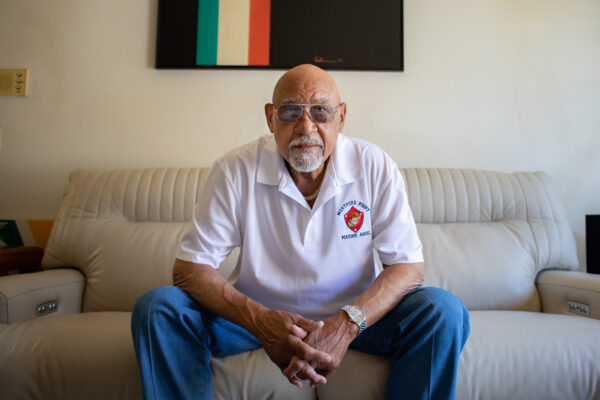 Culmer, who is approaching age 90, proves to be an electrifying storyteller. He recounts his memories with dramatic flair and punctuates the details with exact dates, times, names, and places. Though his life has carried him through many journeys, his time as a Marine was vividly burned into his psyche. He carries those experiences with him to this very day.
"They wanted us to be absolutely, totally, and completely proficient in every way humanly possible—not only for the three months [of training] at Montford Point, but for the rest of our lives," Culmer said.
'A Rude Awakening'
On Mar. 28, 1949, Culmer, the youngest of four brothers, enlisted in the Marines. That moment kickstarted a series of events that made him realize that, up to that point, he had it too easy.
"Whenever I screwed up as a kid, somebody in my family always bailed me out," he said. "And that became my life. I didn't have to pay the price for screwing up. Nobody knew what effect that would have on me. … And I learned the hard way."
At that point, every African American who enlisted was sent to boot camp at Montford Point in Jacksonville, North Carolina as a result of President Franklin Roosevelt's 1941 executive order prohibiting discrimination in the defense industry. By the time the camp was decommissioned on Sept. 9, 1949, about 20,000 black Marines were trained on the premises.
"The old generals that ran the Marine Corps felt that blacks couldn't hack it … couldn't keep up and keep the pace up of white guys, and they're going to fall through their ass," Culmer said. "'So put them over there in the boondocks area over in Montford Point, because when they fail, we can say, "Okay, we tried, we gave him a chance, they blew it, and now it's back to an all white Marine Corps"'—that was the thought, [but] that didn't happen, obviously."
As a result of this perception, Culmer said the drill sergeants at Montford Point were determined to prove their superiors wrong. That meant black Marines were disciplined with "painful rigidity," he said: "I've never had such a rude [expletive] awakening in all my life."
Boot Camp
Upon arrival, Culmer was surprised that every recruit at the camp was black. He remembers thinking, "Wow, boy, this will be fun … This is a buddy-buddy thing."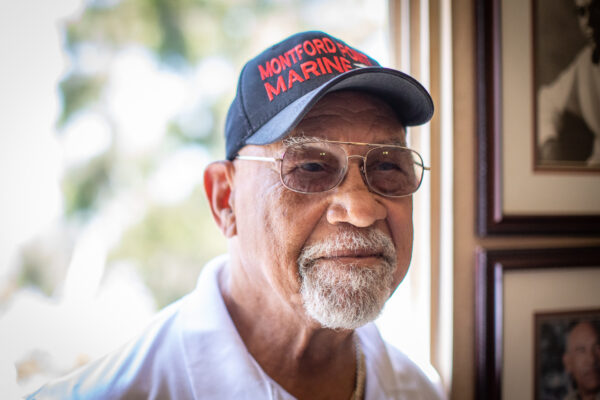 Staff Sgt. "Big Red" Martin was the first to dispel Culmer of that notion. He said the sergeant reminded him of some of his parents' friends, which sparked an instant feeling of familiarity. So it was natural for Culmer to smile whenever he caught the sergeant's eye—but that only lasted about two days.
"I saw him across the street from me, and he said, 'Boot, get … over here,'" he recalled.
"Who do you think I am?" Culmer remembers Martin saying. "Am I a clown to you? Is there something about me that is funny to you? Every time you see me, you have to laugh?"
Culmer said the sergeant's "fusillade of profanity" that followed made him realize that his training was "not going to be a fun thing."
For the following three months, Culmer and his fellow recruits barely had time to even socialize. Any extra time was taken up squaring away gear, polishing rifles, cleaning boots, making bunks, emptying GI cans, gathering coal, spit-shining cartridge belts, and ensuring everything was ready to get up at 5 a.m. the next day and do it all over again.
"We didn't sit around and sing Negro spirituals in the barracks," he said. "There wasn't time. When guys wrote letters home, it was after nine o'clock when lights were out … They pulled a blanket over themselves completely with a flashlight on a piece of paper."
Culmer said his training was never cruel, but "devastatingly hard … hard as nails."
Mixed Feelings About Not Serving in Korea
After training, Culmer was reassigned to duty as a steward in the officer's dining hall—the only position that black Marines were allowed to hold at the time.
But admittedly, Culmer wasn't graceful and continually dropped plates.
"All of the guys that were in the steward's branch predominantly were all from the south," he said. "They understood servitude, and bowing and scraping, and 'Yessuh, boss.' That was a part of their life growing up, but it wasn't mine. And I didn't like it."
Culmer's position was modified shortly thereafter. He spent the next three years in the Marine Corps cleaning 32-gallon steel trash cans until they were "crystal clear."
He also joined the Marine Corps football team, where he attended practice every day at 1 p.m.
In fact, it was a football injury that initially prevented him from going overseas to Korea in 1950. If he hadn't broken his leg during a game, he almost certainly would have been deployed.
Later on, he received orders to go to Korea, but a poorly maintained weapon caused him to miss out a second time. Typically, he said, soldiers have their equipment examined before they depart. But the inspection showed that Culmer hadn't properly cleaned his rifle. As a result, he had to remain on U.S. soil for the three months it took for his rifle to be surveyed to assess the damage and cost for repair.
"Believe it or not, I ended up having to pay $4 for the rifle bore," he said, referring to the barrel.
Culmer has mixed feelings about not having served on the ground in Korea: "I'm sad that I didn't go and I felt like I didn't hold up my end of the bargain, as far as my buddies and shipmates were concerned."
When he was stationed at Marine Corps Air Station El Toro in Irvine, Calif., Culmer saw the impacts of war on his fellow servicemen.
He recalled how one man had a jet black crew cut when he left, but when he came back a year later his hair was "absolutely snow white," Culmer said. Another fellow left with a full set of teeth, but returned without any.
"Whatever trauma they experienced in combat was the reason, but you don't even ask," he said. "I have no idea what happened and I'll never know. … The closest I got to the answer was Korea—period."
Culmer didn't let his next opportunity to serve pass him by. He volunteered to go to Vietnam in 1965, and three months later, he was deployed.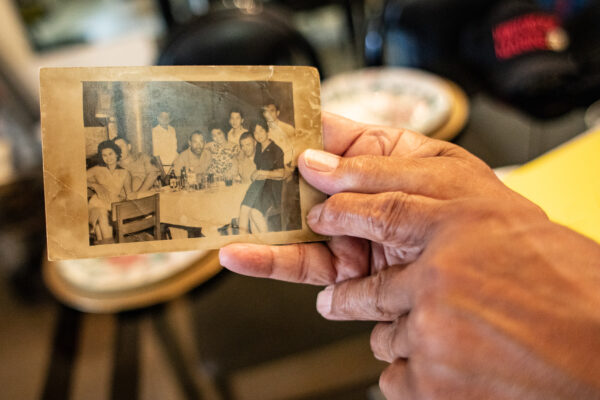 Recreation for the Troops
Culmer was stationed at a base called Ky Ha, 50 miles south of Da Nang. As a special services officer, it was his duty to see that his fellow Marines had proper recreation activities.
Upon arrival, he began assessing the troops' emotional, psychological, and physical needs. So, he approached the colonel about setting up a "boxing smoker," an event that traditionally allowed men from different units to come together, smoke cigarettes, and watch boxing matches as a way of unwinding.
The colonel put his arm around Culmer, promptly ushered him out of the tent, and told told him, "Well, I'll look into that. I'll check on it."
Translation: "That's a big [expletive] no," Culmer said.
But three days later, an argument between two Marines—one black, one white—escalated into a shooting. Luckily, no one was injured, but it was clear that the men needed some form of recreational bonding to release the tension.
Soon after, Culmer was told to rush to the colonel's tent.
"Culmer," the colonel said, "I want a boxing smoker!"
That's when Culmer, who happened to have gone to projectionist's school in San Diego, had the idea to instead screen movies for the troops each night.
"The guys didn't have much relief," he said. "[Movies] would give them something to holler about, yell about, scream about."
Movie Nights in Vietnam
Screening movies night after night was no easy task.
Every week, Culmer had to retrieve seven canisters of film from Da Nang, a city he couldn't drive to from the base.
"I was bumming rides on airplanes," he remembers. "Anything that would get airborne."
Often, he might find himself halting an airplane on the runway in order to board the plane with his precious cans of celluloid.
He acquired a screen that had to be freshly whitewashed with paint every week because it constantly accumulated brown dust from vehicles that came roaring by.
Culmer earned the nickname "Dracula" because he emerged every evening at sunset and loaded up a new black-and-white American movie for the troops.
When his thirteen months of service were completed, Culmer had to go through the sad process of leaving his fellow servicemen behind. During wartime, it wasn't customary for Marines to say goodbye.
"Nobody did that," he said. "You'd say, 'I'll see you later man. Before I go, I'll check with you'—and you're outta there. And that was a goodbye. And that's the way it was."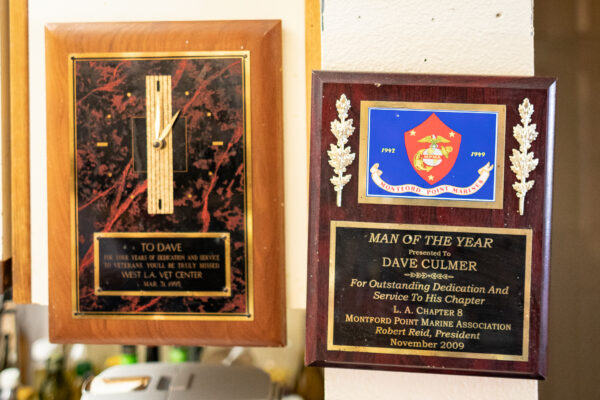 Helping Vets With PTSD
After retiring from the Marines in 1972, Culmer began work as a counselor at Los Angeles Veterans Administration Outreach Readjustment Counseling Center.
"I was virtually doing psychotherapy without a formal education," he said.
Over the next quarter century, Culmer estimates that he aided over a thousand veterans in dealing with post-traumatic stress disorder (PTSD). He said over 90 percent of the veterans he's worked with had PTSD as a result from childhood trauma.
"What they experienced in Vietnam was simply an exacerbation of what they experienced as a child, [but] they never connected the two, of course," he said. "So by only dealing with post-traumatic stress disorder from their combat experiences, you're only cooking the food halfway … unless you deal with the childhood. … so that's where we started rebuilding the damage done."
About one year or so into his work as a counselor, he made that connection between trauma in childhood and trauma on the battlefield. From then on, the healing process accelerated. Culmer said he saw damaged veterans feel better and get healthier; he saw their eyes "brighten up."
He said the process is like mining for gold in a cave. He kept chipping away tirelessly to arrive at the "gold" or source of the trauma. Sometimes, he found pyrite, a worthless metal that looks like gold. But eventually, he would find real gold and keep chipping away until it got bigger and bigger. Finally, he would help the veteran unearth the underlying problem.
The Pleasure of Helping People
During those 25 years, Culmer said he never took a vacation day. Early on, he was so driven to help as many veterans as possible that he was seeing eight men every day. Eventually, in the late-90s, he realized he needed more time off and stepped away from his counseling position.
Now, apart from occasionally helping veterans and their spouses process claims with the Veterans Administration, Culmer is pleased to say he does "a lot of nothing."
He likes to ride his motorcycle and looks forward to his favorite drink—Gentleman Jack whiskey: "Three fingers with three ice cubes."
Though he claims to do nothing now, it's apparent that he has spent most of his life finding different ways to serve others.
"I get a great deal of pleasure out of helping people," he said. "Because to me, it's like money in the bank.
"You give a kid an ice cream cone or a lollipop and there's a big smile on his face. And he's grateful as hell, but when the candy is gone, so is the smile. But you'll have the smile for the rest of your [expletive] life from when you gave him that ice cream cone. You see, that's money in the bank."