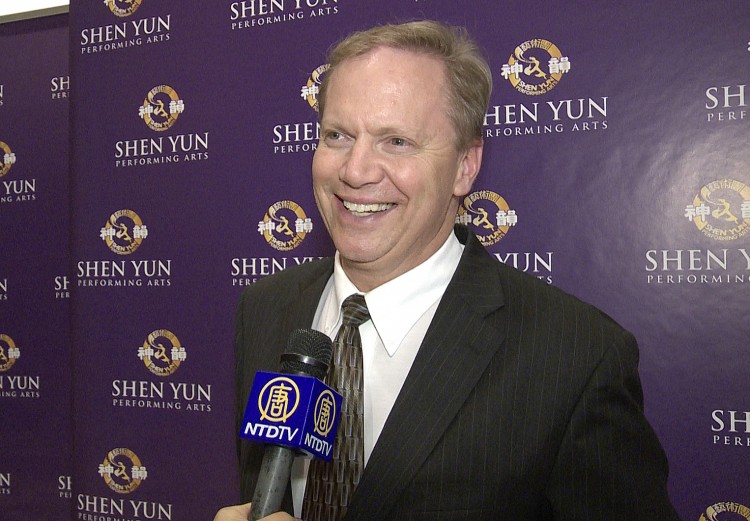 NEW YORK—Mark Davey, a retired broadcaster who worked for CNN and other major media since youth, felt a connection to China he couldn't explain. 
During intermission at Saturday night's Shen Yun Performing Arts performance at Lincoln Center, Mr. Davey said, "I felt a kinship, a fondness, for the people and now when I watch this production, I understand why."
The New York-based company revives 5,000 years of Chinese civilization. Traditional Chinese instruments, legends, and the ancient art form of classical Chinese dance bring the viewer through different dynasties and ethnic regions in China. 
"It felt like their souls were touching mine, and that is a rare thing to find in a production—a soul touching a soul," said Mr. Davey. "Usually it is a mind touching a mind, or a maybe an ear touching an ear, or an eye touching an eye, but I felt a soul touching a soul," explained Mr. Davey. 
He said it went beyond any feeling he has ever had from music and dance. He said he sensed a purity resonating from the dancers. 
The Shen Yun program book explains that, "indeed, more than just being accomplished artists, members of Shen Yun Performing Arts bring an unusual depth to their work. They take to heart an ancient Chinese belief: that to create true art, there must first be inner beauty. Many draw personal inspiration from the values inherent in traditional Chinese culture, and naturally bring a calm expressiveness and depth to their work."
Mr. Davey was eager to experience the second half of the performance following intermission. 
"I feel uplifted. I feel like I want to go back for more. I feel like I am missing something. Like they are calling me to go back and I want to go back," said Mr. Davey. "It is a very special experience."
After retiring from a 15-year career in broadcasting, Mr. Davey started up www.squeegi.com, a website he describes as the "G-rated version of YouTube," a family-friendly place for online videos. He posted a promotional video for Shen Yun before going to the performance, expecting that he would like it very much, but perhaps not expecting such a "soul touching" experience. 
He saw on stage "a communication between …people of like character and people of like mind and thought."
"It is absolutely wonderful," said Mr. Davey. 
Reporting by NTD and Tara MacIsaac.
Shen Yun Performing Arts, based in New York, has three touring companies that perform simultaneously around the world, with a mission to revive traditional Chinese culture. Shen Yun Performing Arts Touring Company will perform at the David H. Koch Theater at Lincoln Center through April 22.
For more information, visit ShenYunPerformingArts.org.