If the November election was an indicator, 2021 could mark a turning point for cannabis sales in Orange County, California. 
Measures in three cities—Costa Mesa, La Habra, and Laguna Woods—proposing various iterations of authorizing, regulating, and taxing cannabis sales have received passing votes. 
Meanwhile, Stanton is reviewing applications vying for the four retail licenses voters authorized last year. In Fullerton, city council is preparing to review a proposed ordinance to allow cannabis retail within the city. And in Anaheim, which voted down a similar ordinance in June, Councilmember Jose Moreno said the recent election could be a game-changer. 
"To my knowledge, no formal request has been made to revisit [it]," Moreno told The Epoch Times. "But given the election outcome, I expect it to come back."
Right now, Santa Ana is the only city in Orange County where you can legally purchase cannabis. But a trend in favor of cannabis sales is heating up, potentially increasing the number of cities from one to seven. 
Although recreational cannabis use is legal statewide, local governments can still decide how to regulate it.
Costa Mesa
Measure Q, which received two-thirds of support from voters, permits the city to authorize, regulate, and tax the storefront sale and delivery of cannabis. 
Some restrictions apply: businesses are only allowed within the commercial zone and they must be a minimum of 1,000 feet from daycare locations, K–12 schools, playgrounds, and homeless shelters. 
The measure requires a 4 to 7 percent gross receipts tax on all sales, and the city could receive an estimated $3 million in revenue. 
Carol Molina, Costa Mesa's finance director, told The Epoch Times in August that the extra earnings could "help close a little bit of [the] gap" caused by a decline in tourism. 
When the city council voted to put the measure on the ballot at a July 21 meeting, Councilmember Allan Mansoor offered the only vote in opposition. Today, he still has the same concerns.
"The people have spoken, but only time will tell if this helps eliminate problems with unlicensed retailers," he told The Epoch Times. "My main concern is that the council majority painted this as a revenue source that will seemingly fix all of our problems."
As for the $3 million projected revenue for the city, Mansoor said, "only time will tell how much revenue comes in."
"I doubt that figure comes from Costa Mesa purchases alone, but rather people coming here from other places," he said. 
The city has seen such estimates prove inaccurate in the past.
When Costa Mesa authorized marijuana manufacturing, testing, and distribution (but not retail) in 2016, it expected more than $1.5 million in revenue. But the city's assistant finance director, Jennifer King, told The Daily Pilot it ultimately pulled in about $160,000.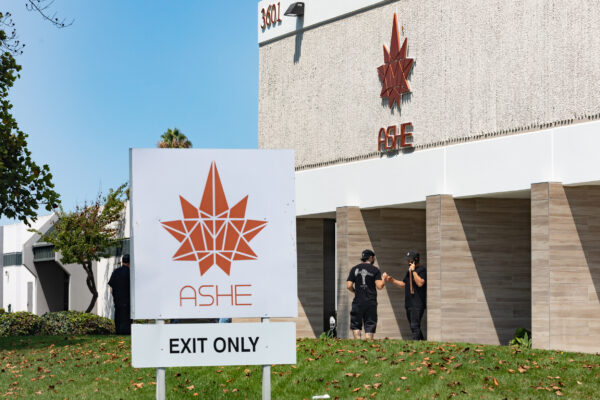 Although Councilmember Sandra Genis voted in favor of putting the measure on the ballot for voters to decide, she had reservations about the measure herself. She said at the July meeting that residents have expressed concerns, including a potential increase in people driving under the influence of marijuana and effects the substance may have on teen brain development.
Criticisms from residents across the county have also included that legalizing retail could normalize cannabis use for young people, that it could fail to prevent illegal dispensaries as promised, and that the dispensaries could particularly impact the neighborhoods where they are built. 
Proponents have said the highly regulated nature of the legalization would prevent many of these potentially negative impacts.
La Habra
La Habra's Measure W would authorize four delivery-only cannabis businesses. 
The city currently has four distribution facilities and four testing facilities. At a panel discussion in Fullerton earlier this year, La Habra city planner Chris Shaefer said these facilities netted about $340,000 in revenue for the city in a nine-month period. 
The new measure, which passed with two-thirds support, establishes a 2.5 percent tax on distribution and testing businesses and a 6 percent tax on retail businesses. 
The projected annual revenue of between $1 million and $2 million would fund municipal services like fire protection, 911 emergency response, public safety, and open space preservation. It would also be used to address homelessness, and retain small businesses. 
"At a time when La Habra is struggling to keep our city services operating at normal levels, Measure W will bring us much-needed revenue," Councilmember Tim Shaw told The Epoch Times. 
"The cannabis uses overwhelmingly approved by La Habra voters will have negligible impacts on our city but could yield significant revenues. Surrounding cities are quickly approving cannabis, so cannabis is readily available to our residents already."
Laguna Woods
Unlike the other measures, Measure V in Laguna Woods received an extremely narrow approval. Only 50.91 percent of voters said Yes, outnumbering those who voted against it by a mere 237 votes. 
The measure was an advisory vote, which allowed citizens to express their opinion about whether or not city officials should consider allowing marijuana dispensaries to operate commercially. The favorable outcome is not binding on decision-makers. 
Laguna Woods is an age-restricted village for people 55 or older. For several years, the Santa Ana dispensary Bud and Bloom has been shuttling seniors from Laguna Woods to their establishment every month to stock up on cannabis supplies. When the pandemic hit, the store switched to a delivery service for their customers in the village.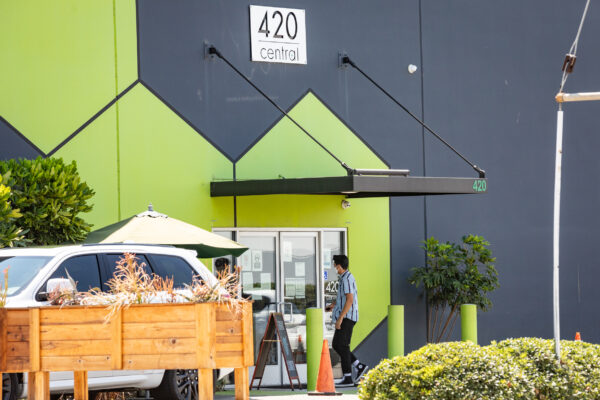 "The comments I am hearing are joyful," Shari Horne, Laguna Woods mayor pro tem, told The Epoch Times. "This is something so many have hoped for, for years. No one has said anything negative to me about this issue." 
Horne, who was responsible for getting this measure on the ballot, relayed several stories about seniors who experienced pain, nausea, depression, anxiety, and a variety of other ailments. 
"I see pain relief and relaxation as good things, especially for seniors," she said. "I am sensitive to those who voted no, but I see no intolerance to their neighbors who use it."
"This was just an advisory vote, but I am sure it will be a matter of discussion at council."
Stanton
Last year, Stanton voters approved a measure for a 6 percent tax on retail sales and a series of other taxes on testing, distribution, manufacturing, and cultivation. 
The cut-off for applications was Oct. 29. According to the city's website, a review committee will notify approved applicants within the next 45 days. 
Once approved, applicants must submit the location of their business and obtain planning and state cannabis permits. They will have up to 12 months to obtain business licenses through the city. 
Fullerton
The prospect of allowing five cannabis retail shops in Fullerton has caused some friction among city officials and residents. 
An ordinance that was introduced on Oct. 6 was eventually tabled, only to be re-introduced at a Nov. 2 meeting. The motion to bring the item back up for discussion was supported by Mayor Pro Tem Jan Flory and Councilmembers Jesus Silva and Ahmad Zahra. Mayor Jennifer Fitzgerald and Bruce Whitaker opposed. 
"I've led the charge to oppose retail sales of cannabis," Fitzgerald told The Epoch Times via email. "I'm extremely disappointed at this latest attempt to force the residents of Fullerton to live next door to these shops and without proper publicity so residents by and large don't even know what the council is doing."  
At the Oct. 6 meeting, she said that, as a mother, she is aware of how children already get approached on the way to school by older students "who think it's funny to see a third-grader smoke."
"But they want to go a step further and encourage now fancy Apple-like stores in every council district in this city so that kids think it looks even more inviting. I'm certainly not going to be a part of that," she said.
Councilmember Zahra, who is in favor of the ordinance, responded: "You're okay with bars. You support bars and liquor stores."
A second reading of the ordinance was scheduled for Nov. 17. 
Anaheim
Although Anaheim currently prohibits the sale, commercial cultivation, and processing of recreational cannabis, Moreno believes that might change. 
He suggested that the addition of two new councilmembers, Jose Diaz and Avelino Valencia, might generate renewed interest in the ordinance. 
"[Because of the] makeup of [the] council … the proposed ordinance [could] be re-introduced by those who advocated for it," Moreno said. 
At a June 9 city council meeting, two members supported the ordinance and five voted against it. One of the No votes was from Councilmember Trevor O'Neil, who said: "I don't think it's a good thing for our neighborhoods. I don't think it's a good thing for our at-risk youth. … We'll bring more problems that end up costing us more in the long run."
According to the city's website, Anaheim continues to see 10 to 15 illegal dispensaries operating at any given time. 
"We expend police and code enforcement resources to address this," the site reads. "We even cut power and water to these facilities as soon as we are able to do so. But for each dispensary we close, we see another crop up."