Restaurant Review: The Olde Stone Mill
January 12, 2013 4:46 am Last Updated: October 1, 2015 11:26 am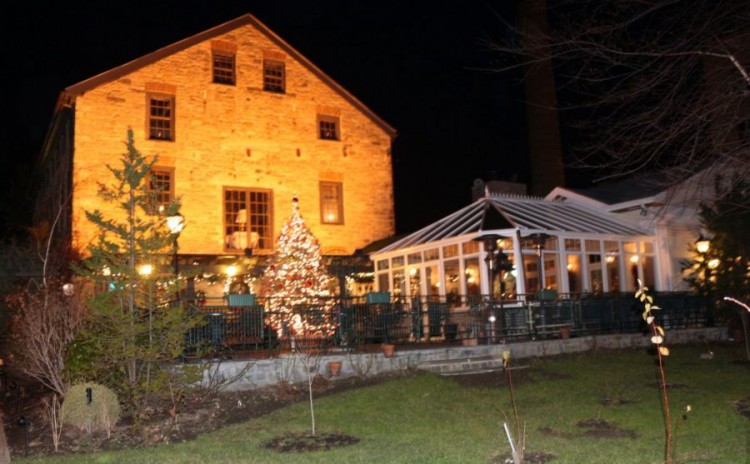 Joann DiNapoli decorated the restaurant for the holidays. Every table had a flickering candle in a holiday globe, the hearth was bedecked with a grand red ribbon, and wreaths and holly surrounded the room to give it an intimate look. Built around 1804—right on the Bronx River—in the hamlet of Tuckahoe, the large fieldstone building served as a cotton mill for more than a half-century.
The grand structure had also been used as a rubber factory, a raincoat factory during World War I, a pharmaceutical factory, and finally renovated as a restaurant. Stone Mill is owned and operated by Louis DiNapoli and family.
Every detail is attended to with the labor of love that only a family business instills in a place. Everything from a magnificent Christmas tree and outside holiday lights, to inside décor and decorations, were tastefully set. Warmth radiates from the rooms.
"The building itself is over 200 years old. Ten years ago this section was added and we built this atrium in May," Louis said. The atrium offers views of the restaurant's park-like grounds. The main dining room seats 85. There is a small room for parties and an inviting old-world style bar off the entrance that resembles a European pub.
"Barges came up the Bronx River and tied up outside in the 1800s; a water wheel supplied power to the cotton factory. When we did this room the excavators discovered a tunnel that at one time led to the building across the street. When we took over the restaurant, the atmosphere was very cold," Louis explained. "I added family antiques; friends that are artists gave us their works. The antique mirror over the hearth…"
The owner, an affable, gregarious person, was more than willing to share good stories, and good food, which has turned The Olde Stone Mill into one of New York's finest American-Italian restaurants.

"We like to call it American-Italian. We're Americans but we serve Italian food. The mirror… two sisters ate lunch here every day with their husbands when they were taking care of their mother. They had to move her into a nursing home. One day they said, 'Our mother's mirror would look great here,' and they gave it to me. I left it the same way. You can see where the antique mirror has some black streaks from age. It makes the place feel warmer."
The restaurant's previous owners had TV personality Gordon Ramsay film the place for his restaurant makeover television program. "They added drapes. They wanted to make the restaurant into a steakhouse. A steakhouse is not called for in this area. I keep steak on the menu but it is basically an Italian restaurant. We also own Angelino's across the way. Our chef here is different than our chef at Angelino's. Angelino's is only Italian. Angelino's we can call Italian-American," Louis smiled.
All of Louis and Joann's sons work in the restaurant business. Louis III manages The Olde Stone Mill and Angelino's. The youngest son works with his father. Their third son's catering business is based at The Olde Stone Mill.
The restaurant captain is Ubie Castro. Ubie works Friday and Saturday nights bringing to table amazing salads, entrees, and desserts. "He makes flambés," said Louis, as his hands and face formed a clear sign of delight visualizing Ubie's creations.
"I spent 35 years at the Waldorf Astoria," Ubie said. His vast experience and following from his dedicated work as Captain at the world famous Bull and Bear Restaurant in the Waldorf is making The Olde Stone Mill famous as well.
Mellow music filled the dining room as Ray and Larry rendered familiar melodies that never intruded on diner's conversation, instead adding a special warmth and class to the dining experience. While Avni served with skill as Ubie attended to diners with a sommelier's skill.
On the Menu
Clams Casino made their way to the table along with a colossal shrimp cocktail. The gigantic shrimp were served peeled back, on ice, resting against perfect slices of endive. The clams, chopped littlenecks with hints of bacon, pepper, and onion minced in.
Ubie tosses his famous Caesar salad at the table. A special arugula salad was tempting. It was made for two with freshly pulled mozzarella on the side. Appetizers also include escargot, calamari, mussels, fresh oysters, and lump crabmeat cakes. Appetizers run from $10 to $20.
Pasta dishes are a specialty, and are about $20. Linguine with clam sauce, truffle ravioli, and penne offer a pasta lover's palate a treat. Steaks, as Louis promised, remain on the menu. Shell steak is a 12-ounce portion, the rib eye is 20-ounces of juicy meat, and the filet mignon is served with mushrooms and Burgundy wine sauce. Steaks run from $32 to $44.
Entrees run from $18 for lemon roasted chicken to $44 for the twin lobster tails.
Entrees include salmon Dijon, flounder filet, Shrimp Fra Diavolo, lobster tail with crabmeat, and broiled lobster tails. "I like the grilled porterhouse pork chop," Louis III said, when asked his favorite. It came out of the kitchen garnished with hot and sweet peppers prepared in a vinegar sauce with a balsamic glaze topped with potato crisps. Chicken Martini was served with a light breading in white wine sauce with butter. It was tender and delicious.
Well-Rated
The Olde Stone Mill received the coveted four-star Top Rated Restaurant in 2012 by Restaurants.com. The award is based on post-diner interviews. The Yonkers Chamber of Commerce awarded them the 2012 Best Special Occasions Award, and Westchester Magazine cited their truffle ravioli as the county's best.
"I cook new-world and old-world Italian," Chef Michael Gallo said. He enjoys the freedom the DiNapoli family gives him in the kitchen where he works with one sous-chef and a cook.
The Olde Stone Mill is an easy walk west of Tuckahoe's Metro-North railroad station. From Grand Central Station the trip is about 20 minutes.
Take time to stroll around Tuckahoe's main square. For the holidays it is lit up with a large tree and an impressive old town hall now converted into an office building, bedecked with bright lights.
Appropriate dress is requested for dinner, and reservations are suggested for holidays and weekends. Visit The Olde Stone Mill for an uncrowded, unrushed, elegantly served meal in a convivial atmosphere that is easy to get to from New York City. There is plenty of free parking.
For more information about The Olde Stone Mill, visit TheOldeStoneMill.com
John Christopher Fine is the author of 24 books. His articles appear in magazines and newspapers in the United States and Europe.
The Epoch Times publishes in 35 countries and in 20 languages. Subscribe to our e-newsletter.