Numerous Chinese cities are battling a resurgence of the COVID-19 pandemic since December last year, with northeastern China being hit particularly hard. Various cities in Heilongjiang, a province that borders Russia, Suihua, Qiqihar and Harbin, have been shut down to contain the CCP (Chinese Communist Party) virus.
Draconian Lockdown Measures
Wangkui county of Suihua city in Heilongjiang is one of the six areas designated as "high-risk" in the country for pandemic control. At the initial stage of the latest CCP virus outbreak, each household was allowed to send out one person to do the shopping every three days. But starting from Jan. 20, stricter measures were imposed, and everyone is required to stay at home for seven consecutive days.
The draconian lockdown measures are taking a toll on residents.
On Jan. 20, a video circulated on social media showed that a resident had taken his own life by jumping from a high-rise apartment building in Suihua.
The next day, another disturbing video was posted online, showing that a resident committed suicide by hanging himself on a horizontal bar.
Around the same time, a video was shared on Chinese social media, in which an elderly man was seen arguing with the police on the street about the harsh lockdown measures. At one point, he pounded on the police vehicle out of frustration. He said, "I have heart disease. The building I live in is very cold. What else can I do? I don't have anything to eat! Take me to prison. At least I will have something to eat in the prison!"
The man said he is a military veteran who is over 70 years old. "I used to be a soldier. I am not afraid of death," he said. "What is the definition of the Chinese Communist Party? They are all bastards!"
A resident in the countryside of Wangkui county complained on Chinese social media that he couldn't use the bathroom because he is locked up inside his home. In rural areas, the bathroom is usually located outside of the house and in the courtyard. He posted, "What did you [authorities] have in mind [when you sealed us inside our homes]?"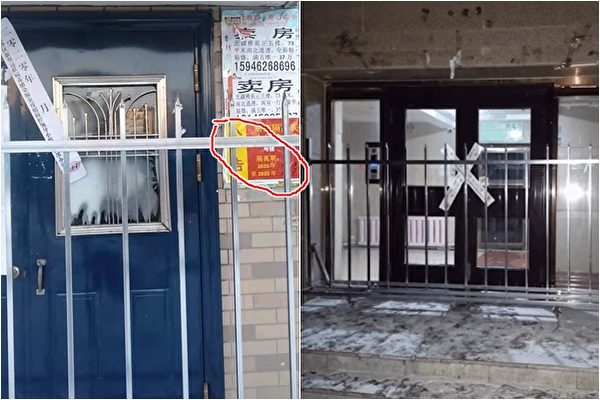 The situation in Qiqihar city is similar. A resident surnamed Chen told The Epoch Times on Jan. 21 that everyone had been placed under strict home quarantine for a week.
"The epidemic is very serious now. We are forbidden to go out," Chen said. "Our community has been placed under lockdown since Jan. 12, and all shops are closed. So far, more than ten confirmed cases have been reported in our district."
In Fularji district in Qiqihar, in addition to ordering residents to stay at home, local authorities told family members in the same household to maintain a social distance from one another.
A local told The Epoch Times's sister media NTD that doors have been sealed with paper strips to prevent residents from going out.
"Someone came to seal the doors with paper strips yesterday (Jan. 20), treating us like prison inmates. Moreover, he would not tell us how many days we are expected to stay inside. We were told to wait until they [authorities] notify us later. We would be violating the law if we attempted to break the seal. I did not have enough food at home so I asked him what I should do. He said it was none of his business and I have to find a solution myself."
In Zhaoqing county of Heilongjiang Province, an insider told The Epoch Times that villages have been closed off and roads are blocked.
"The roads connecting villages are all blocked. Previously, the authorities had policemen patrolling the road checkpoints. Now, they just dumped truckloads of mud to block the roads, so that no vehicles can drive through. I don't think they need policemen at the checkpoints now."
Soaring Food Prices
Chen Xin (pseudonym), a resident of Harbin, revealed that the entire city is totally under lockdown, and the authorities had issued urgent notices to ban all kinds of social gatherings.
Chen noticed that food prices have significantly gone up in his area.
"Commodity prices are getting out of control in Harbin. Green onion is 11 yuan [about $1.70] per pound, eggs are 8 yuan [about $1.23] per pound, pork is over 30 yuan [about $4.63], beef and lamb are both around 45 yuan [about $6.94] per pound," he said.
Locals Don't Trust Chinese-made Vaccines
Chen said everyone inside the city is aware about the severity of the situation. However, outsiders don't know what's going on in Harbin because state-run media is downplaying the severity of the crisis.
Nonetheless, local residents are reluctant to receive vaccination.
"Many of my friends and former classmates work in government and public service organizations. They do not dare to take the vaccination. Even if the vaccine is free, they would refuse to take it. They are very afraid that Chinese-made vaccines do not meet the quality standard, and they are also afraid of side-effects. None of my relatives have taken it yet."
Most people in mainland China, including experts, have stayed away and raised concerns about the safety of Chinese-made vaccines, especially since several pharmaceutical companies are still conducting clinical trials for their products. According to a report by The Epoch Times, local authorities in Zhenjiang City, Jiangsu Province, didn't get the COVID-19 vaccine after mandating that residents must be vaccinated. In Shanghai, medical staffers as well as ordinary citizens are concerned about the safety of the vaccine.
Chinese media reported that the central government planned for 50 million vaccinations, with 25 million people receiving the first dose before Jan. 15, 2021, then receiving a second dose before Feb. 15, 2021.
Chen also said most citizens do not trust the official data of COVID-19 cases. "Everyone knows that the real figure is at least ten times that of the official data," he said.
Chen Han, Li Shanshan, and Lin Cenxin contributed to this report.