Researchers and U.S. health regulators are concerned that the CCP (Chinese Communist Party) virus may quickly develop resistance to new antiviral treatments from Pfizer and Merck, prompting scientists to find new combinations that better protect against the pathogen that causes COVID-19.
Molnupiravir, developed by Merck and Ridgeback Biotherapeutics, is intended for home use by adults with mild-to-moderate COVID-19 who are at high risk of developing severe disease. The drug is taken orally in pill form, twice a day for five days, within five days of the onset of symptoms.
Meanwhile, Pfizer's oral antiviral treatment Paxlovid is taken twice per day for five days in combination with a second medicine called ritonavir, a generic antiviral drug. The drug is aimed to help patients who are suffering from "mild-to-moderate" COVID-19 symptoms from becoming so sick that they need to be hospitalized, Pfizer stated.
The Food and Drug Administration (FDA) last month issued emergency use authorizations for both antiviral pills, and the Biden administration has already purchased some 10 million courses of Paxlovid in a more than $5 billion agreement. It has agreed to buy 3.1 million courses of the Merck antiviral drug for about $2.2 billion.
Earlier this month, President Joe Biden directed the federal government to double its purchase of Paxlovid to 20 million therapeutic courses of the new pill.
But there is growing concern among researchers that the virus may start to evade the new drugs, creating a setback.
"We know this is likely to happen at some point, so we need to beat it to the punch and nip it in the bud before it gets out of hand and starts to take over," Katherine Seley-Radtke, a medicinal-chemistry professor at the University of Maryland, Baltimore County, told The Wall Street Journal.
John Mellors, an infectious disease specialist at the University of Pittsburgh who has been working in the antiviral field for 35 years, added that "there is no drug that I know of that's resistance-proof."
Clinical-trial data showed that molnupiravir cut hospitalizations and deaths by 30 percent, compared with a placebo pill.
Meanwhile, Pfizer has stated that its COVID-19 antiviral pill showed an 89 percent efficacy in preventing hospitalizations and deaths in high-risk patients, and recent lab data suggest the drug retains its effectiveness against the highly transmissible Omicron variant of the virus.
Both companies also have stated that clinical trials showed that no resistance to SARS-CoV-2 is likely to develop but acknowledged that clinical research is continuing.
"We specifically designed PAXLOVID to retain its activity across coronaviruses, as well as current variants of concern with predominantly spike protein mutations," Pfizer said in a statement.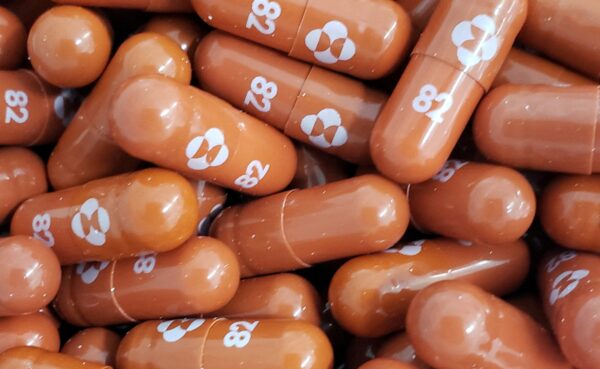 However, successful antivirals typically target two of the virus's enzymes, polymerase and protease, to stop it from replicating.
Pfizer's oral antiviral treatment works to stop COVID-19 by blocking protease, while molnupiravir works to inhibit replication of the virus by tricking polymerase, the enzyme it also needs to replicate, into inserting errors or mutations so that it can't survive.
However, the way in which molnupiravir works means it may be risky to use it in combination therapy, Luis Schang, a virologist at Cornell University in Ithaca, New York, told Nature.
If the pill doesn't completely eradicate the virus in a patient, some of the RNA errors or mutations it creates might inadvertently provide the virus with resistance against the other drug used in the combination, which is why it's important for researchers to find a drug that works to block the virus's RNA polymerase, which also could be used in partnership with a protease inhibitor.
Schang said that researchers should develop further treatments that target other parts of the virus if they want to effectively combat another pandemic.
"This time we got lucky with a virus that encodes both a polymerase and a protease, and here we are two years later with only a suboptimal arsenal," he said. "We really have to identify and validate new targets for antivirals so that when the next [pandemic] happens, we have a much broader pipeline to choose from."
Another issue researchers have raised is that both pills need to be taken twice a day for five days, meaning that if individuals were to stop taking the treatments before the five days are up, resistance to the virus could increase. Another issue is lack of access to testing, leaving people unaware that they are even infected.
"We can build the best drugs in the world, but if people don't understand that they have to get on board quickly, they're not going to do any good," Carl Dieffenbach, director of the Division of AIDS at the U.S. National Institute of Allergy and Infectious Diseases, told Nature. "Pills do not take themselves."
Spokespersons for Pfizer, Merck, and Ridgeback Biotherapeutics didn't respond by press time to a request by The Epoch Times for comment.