Senate Minority Leader Mitch McConnell (R-Ky.) said on April 13 that President Joe Biden's $2.3 trillion infrastructure plan will face stiff opposition from Republicans if it involves raising taxes by undoing portions of the Trump administration's landmark 2017 tax reforms.
"The point of this is, this tax bill of 2017—undone—would create an extensive loss of jobs in our country and do exactly the wrong thing and move us in the wrong direction," McConnell said at a press conference April 13.
Biden's infrastructure plan, which Republicans say stretches the definition of infrastructure to include things such as social programs, includes a partial repeal of the 2017 Tax Cuts and Jobs Act, a major achievement of the Trump administration and a legacy the GOP is keen to preserve.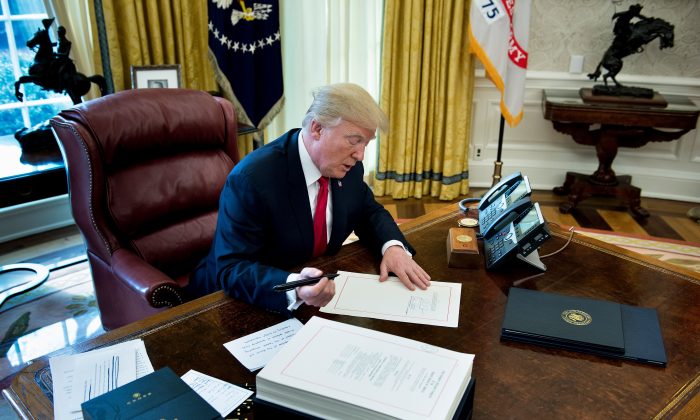 Investing in the nation's infrastructure is a popular proposition with Americans, and while both Republicans and Democrats want to fix crumbling roads and bridges, the plan's $2.3 trillion price tag has politicians in both parties concerned about the scope of the package and how to fund the bill.
McConnell said what's needed is an infrastructure bill "as big as we're willing to credibly pay for without going back and undoing the 2017 tax bill."
"It took 30 years to get another comprehensive tax bill after 1986, and I don't think there's going to be much of any settlement among Senate Republicans for undoing the 2017 tax bill," he said.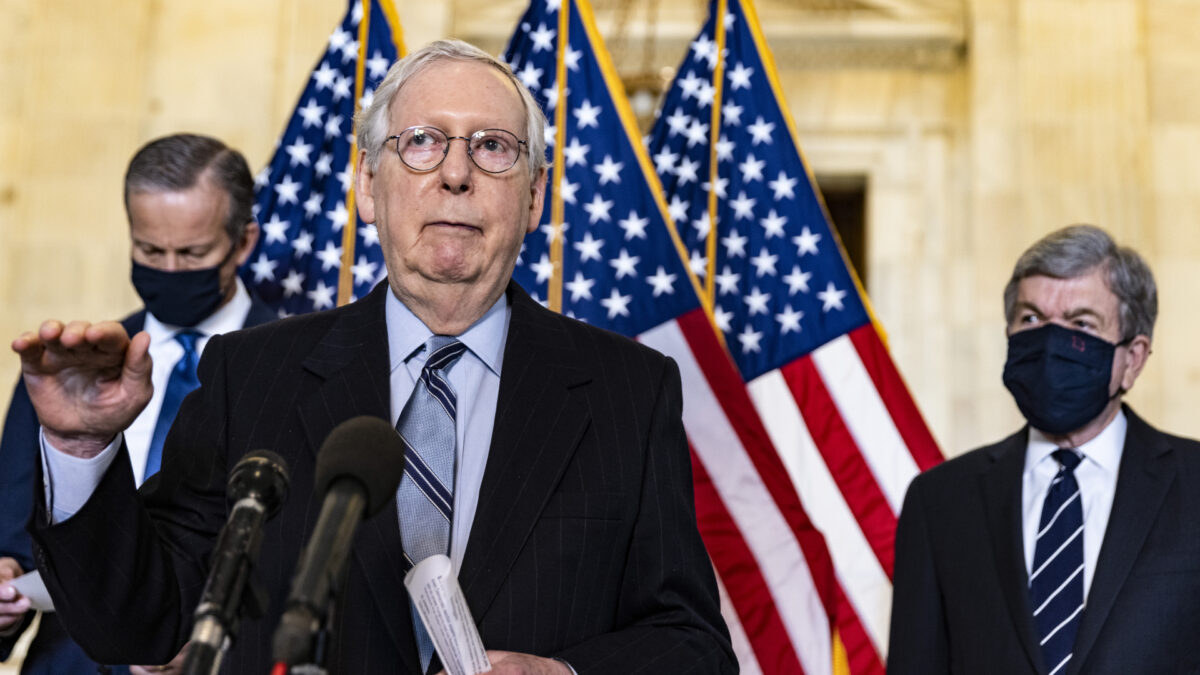 Biden's tax hikes would kill 1 million jobs and harm the economy, according to a new study released by the nation's largest manufacturing association, which called Trump's 2017 tax cuts "rocket fuel" for manufacturers.
Jay Timmons, president and CEO of the National Association of Manufacturers (NAM), said in a statement that if the Biden administration rolls back the Trump tax cuts, "manufacturing workers will lose out on jobs, growth, and raises."
The study (pdf), conducted by Rice University economists John W. Diamond and George R. Zodrow for NAM, found that the average annual job losses would be 600,000 each year over 10 years, and real wages would fall by 0.6 percent in the long run.
"This study tells us quantitatively what manufacturers from coast to coast will tell you qualitatively: increasing the tax burden on companies in America means fewer American jobs. One million jobs would be lost in the first two years, to be exact," Timmons said.
The changes to the 2017 tax reform bill that the study assumed in its analysis included raising the corporate tax rate to 28 percent, restoring the corporate alternative minimum tax, removing expensing (100 percent bonus depreciation) of most investments in depreciable assets, and repealing the 20 percent deduction for certain pass-through business income.

Biden said he hopes to win bipartisan backing for his infrastructure plan and is "prepared to negotiate" both its size and funding. The president met with lawmakers from both parties on April 12 to discuss the American Jobs Plan as they returned to Washington following a recess.
"I'm prepared to negotiate as to the extent of my infrastructure project as well as how we pay for it," Biden said ahead of an Oval Office meeting with House and Senate members from both parties. "I think everyone acknowledges we need a significant increase in infrastructure. It's going to get down to what we call infrastructure."
Besides concern about the steep price tag, Republicans believe the bill goes beyond fixing roads, bridges, and water infrastructure.
"There is a bipartisan appetite for smart infrastructure bills. In fact, all the multi-year highway bills have been bipartisan going back decades. There isn't an appetite for using the word 'infrastructure' to justify a multi-trillion-dollar slush fund for unrelated bad ideas," McConnell wrote on Twitter on April 13.
McConnell expanded on that point in remarks from the Senate floor on April 13, calling Biden's package "misleadingly titled legislation."
"The White House has lumped together a motley assortment of the left's priciest priorities," McConnell said.
"Less than 6 percent of this proposal goes to roads and bridges. It's not remotely targeted toward what Americans think they are getting when politicians campaign on infrastructure.
"But instead of coming up with a better bill, Democrats have decided it's the English language that has to change. They are embarking on an Orwellian campaign to convince everybody that any government policy whatsoever can be labeled infrastructure. Liberals just have to believe in it hard enough."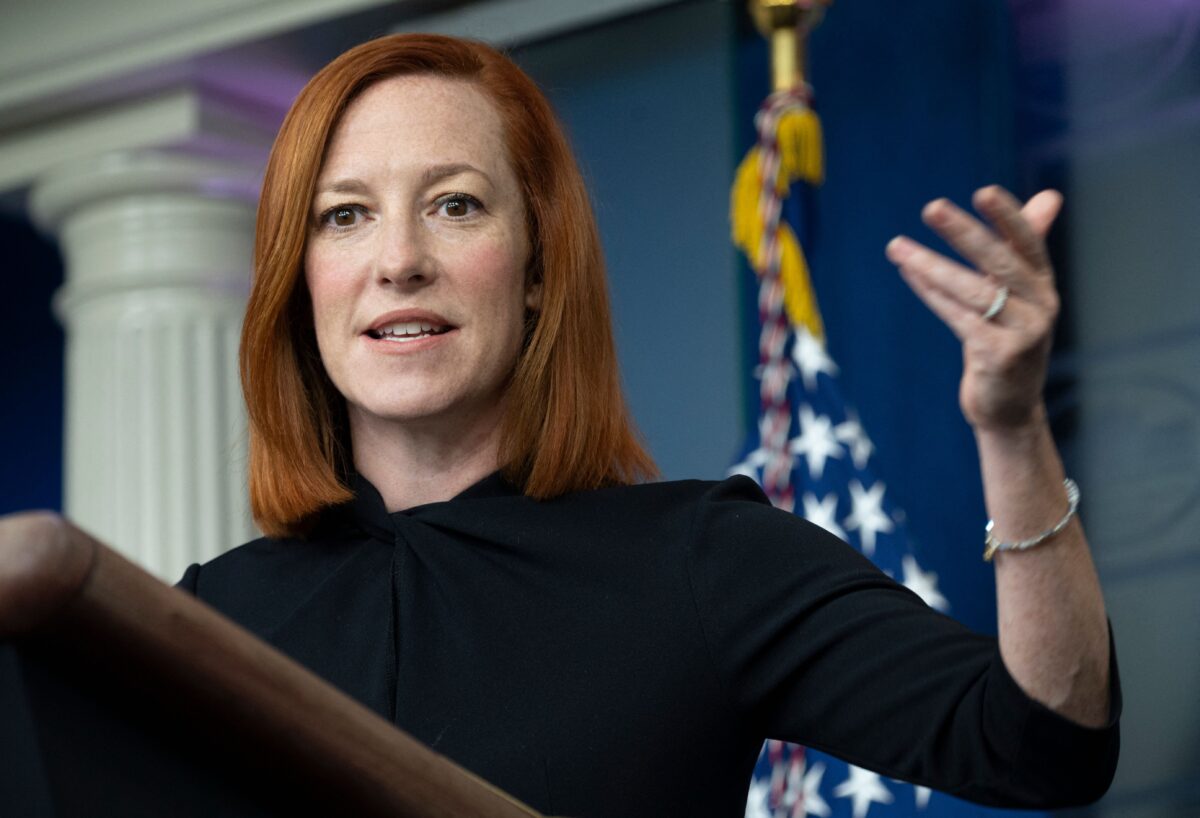 White House press secretary Jen Psaki defended the sweeping nature of the package at an April 5 briefing, when asked by a reporter why not pare the plan down by cutting some of its social program and electric vehicle aspects.
"Some don't think that building a support system to take care of elderly parents or kids with disabilities at home so people can go back into the workforce … some think that that is not investing in the infrastructure. … The president disagrees," Psaki said.
"Some don't believe that rebuilding schools so that they're safe and asbestos-free isn't investing in infrastructure; the president disagrees," she said, listing several other contentious items such as supply chains, broadband internet capacity, high-speed rail, and water systems, which she said Biden believes should fall under the scope of the infrastructure plan.
Psaki said Biden is keen to engage with Republicans skeptical of his proposal and try to win over their support, a theme she reiterated at an April 13 briefing.
"His only red line is inaction," Psaki said, adding that "he is happy to hear" Republican proposals, including on tax hikes.
In a statement following Biden's meeting with lawmakers, the White House stated that the sides "had a good exchange of ideas, and the President asked for their feedback and follow-up on proposals discussed in the meeting, while underscoring that inaction is not an option."
Biden is expected to speak to a joint session of Congress on April 28, giving him an opportunity to pitch his infrastructure plan to lawmakers.
Emel Akan contributed to this report.