Republican Congress members said House Intelligence Chairman Adam Schiff (D-Calif.) should confirm the name of the intelligence staffer who filed an anonymous complaint against President Donald Trump, sparking a Democrat-run impeachment inquiry.
A report published late Oct. 30 by RealClearInvestigations included the name of the staffer, but it has not been confirmed by any official sources.
"I can't tell you what happens in the depositions, but I can tell you there's one person in one's group of staff members who know who the whistleblower is and that is Adam Schiff, and so you need to ask him whether this guy is the real deal," Rep. Mark Meadows (R-N.C.) told reporters in Washington.
"Hey, you need to ask Adam Schiff. Don't ask me," Rep. Andy Biggs (R-Ariz.) told the Washington Examiner.
"We do not know if that is the whistleblower. Only one member knows and that's Adam Schiff," Rep. Jim Jordan (R-Ohio) told the outlet.
The complaint that was filed, reliant on secondhand information and media reporters, was largely focused on Trump's July phone call with Ukrainian President Volodymyr Zelensky. House Democrats launched an impeachment inquiry based on the complaint, which was publicly released a day after Trump's White House released a transcript of the call.
Schiff's contact with the whistleblower included at least one staffer receiving information from the person before the complaint was filed, Schiff admitted on Oct. 2.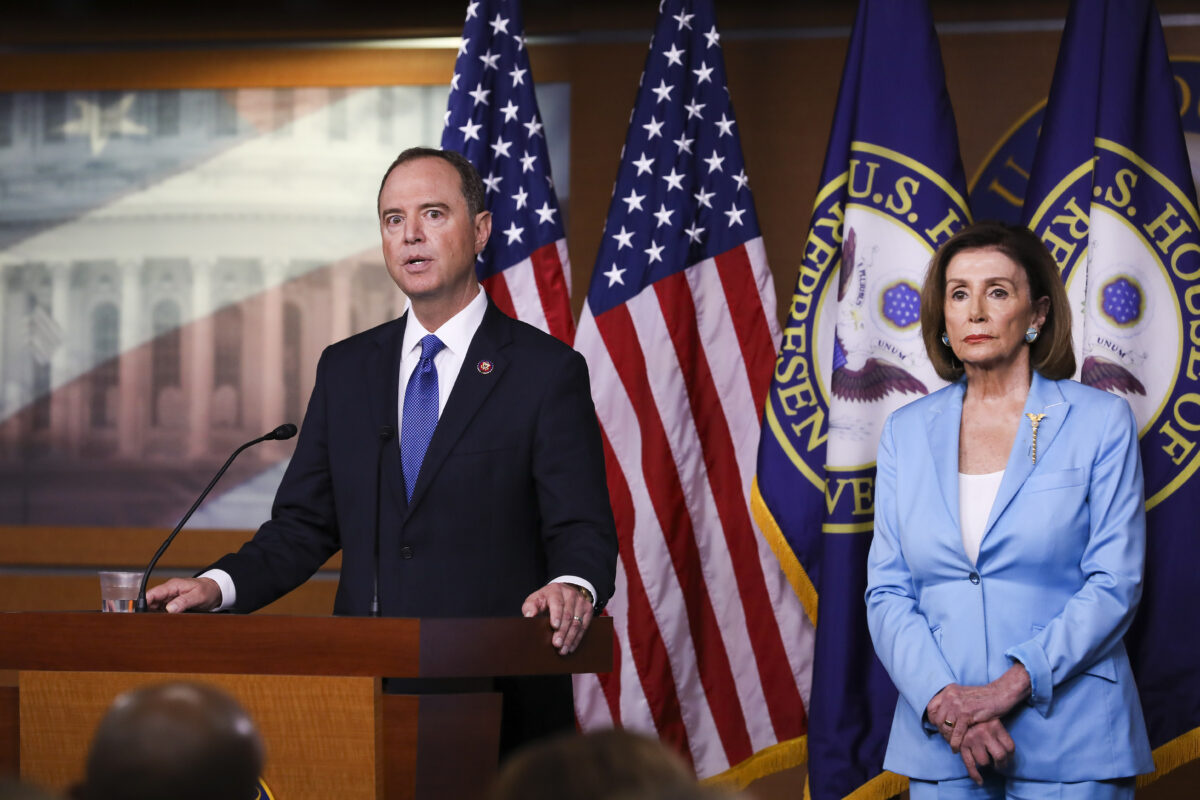 Schiff, during an interview on television in mid-September, had claimed: "We have not spoken directly with the whistleblower."
Schiff said in October that he regretted not being "much more clear." He has resisted efforts to identify the whistleblower and reversed his position after initially saying he wanted the person to testify before Congress.
The whistleblower's attorneys, meanwhile, declined on Wednesday to confirm the reported name but criticized attempts to out the person.
"We neither confirm nor deny the identity of the Intelligence Community Whistleblower. Our client is legally entitled to anonymity. Disclosure of the name of any person who may be suspected to be the whistleblower places that individual and their family in great physical danger," attorneys Mark Zaid and Andrew Bakaj claimed in a statement.
"Any physical harm the individual and/or their family suffers as a result of disclosure means that the individuals and publications reporting such names will be personally liable for that harm. Such behavior is at the pinnacle of irresponsibility and is intentionally reckless."
But some experts said the name of the person doesn't need to be protected by the media.
The whistleblower system "is an internal government system designed to protect people inside the government from being retaliated against for reporting wrongdoing by their superiors or by others in their agencies," political commentator Brit Hume told Fox News.
"It is binding on people inside the government. It is presumably perhaps binding on Congress—though I'm not quite sure about that. It is certainly not binding on the news media."