Senators in the House and the Senate introduced legislation on Feb. 13 that would block federal funds from states that allow illegal immigrants to obtain driver's licenses.
Known as the "Stop Greenlighting Driver Licenses for Illegal Immigrants Act," the bill would ban certain federal funding to sanctuary states, including those that "defy federal immigration enforcement or that allow illegal aliens to get driver licenses without proof of lawful presence."
In particular, the bill would halt the Department of Justice's Edward Byrne Memorial Justice Assistance Grants, meaning non-complying states would no longer enjoy access to millions of dollars in funding under the program.
The bill was introduced to the Senate by Sen. Marsha Blackburn (R-Tenn.) in an effort to crack down on sanctuary cities and states, improve public safety and national security, and ensure that state and local governments are cooperating with immigration enforcement officials.
It is co-sponsored by Kevin Kramer (R-N.D.), Tom Cotton (R-Ark.), Joni Ernst (R-Iowa), Kelly Loeffler (R-Ga.), Shelley Moore Capito (R-W.V.), and Mike Rounds (R-S.D.), while Ken Buck (R-Colo.) will carry the bill in the House of Representatives.
Blackburn said in a statement after introducing the legislation, that "Tennesseans know all too well what can happen when illegal immigrants are granted driver licenses."
"While Tennessee and many other states prohibit driver licenses for illegal aliens, a growing number of states are moving in the opposite direction and unleashing dangerous open borders policies. Immigrants must follow the proper federal process and obtain citizenship or lawful status before obtaining a state driver license. In America, no one is above the law."
According to the statement, the JAG program "provides substantial support on a yearly basis to states for local law enforcement and criminal justice initiatives," and in 2019 states that issued driver's licenses to illegal immigrants received nearly $53 million from the program.
States that fail to comply with the legislation (pdf) would be required to "return unallocated funds to the JAG program within 30 days," and would be deemed "ineligible to receive future JAG funds until they comply with the driver's license and federal information-sharing provisions."
The bill comes amid escalating tensions over sanctuary policies, many of which limit local law enforcement from cooperating and communicating with federal immigration authorities. All sanctuary policies shield, in some way, illegal immigrants from federal immigration authorities.
Trump's administration is fiercely opposed to the policies and has been attempting to highlight the dangers of sanctuary cities and states, with the president citing a recent case in New York in which a 92-year-old woman was raped and murdered by a criminal illegal alien.
"Tragically, there are many cities in America where radical politicians have chosen to provide sanctuary for these criminal illegal aliens. In sanctuary cities, local officials order police to release dangerous criminal aliens to prey upon the public, instead of handing them over to ICE to be safely removed," Trump said during a State of the Union address.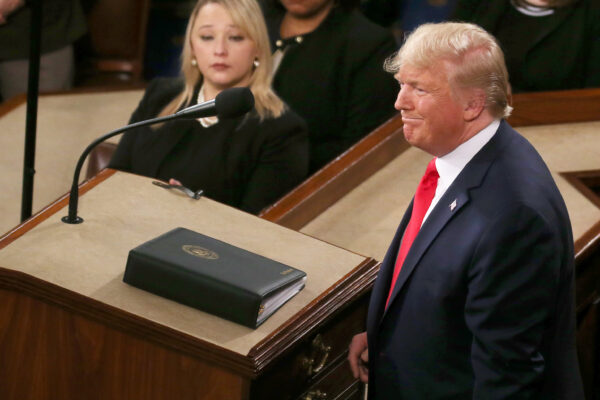 "Just 29 days ago, a criminal alien freed by the sanctuary city of New York was charged with the brutal rape and murder of a 92-year-old woman. The killer had been previously arrested for assault, but under New York's sanctuary policies, he was set free. If the city had honored ICE's detainer request, his victim would be alive today," the president added.
Earlier this week, Attorney General William Barr also expressed concerns over local and state "policies and laws designed to thwart the ability of federal officers to take custody of these criminals and thereby help them escape back into the community."
"These policies are not about people who came to our country illegally but have otherwise been peaceful and productive members of society," Barr said. "Their express purpose is to shelter aliens whom local law enforcement has already arrested for other crimes. This is neither lawful nor sensible."