Senator Roger Marshall (R-Kan.) is leading a group of Republicans in introducing new legislation that will temporarily halt federal research grants from going to universities and other organizations that are conducting "risky research on potential pandemic pathogens."
In a press release announcing the new legislation on Oct. 19, Marshall said the bill, known as the Viral Gain of Function Research Moratorium Act, was being brought forward in response to findings from congressional inquiries and media investigations into such research.
Marshall said such probes had revealed national security issues, including federal agencies authorizing "dangerous research" with certain countries that "may have contributed to the COVID-19 pandemic."
"It's outrageous that a comprehensive global investigation on the origins of COVID-19 has still not been carried out, and with mounting evidence pointing towards the labs in Wuhan, additional guardrails on gain-of-function research must be established to make sure nothing like this ever happens again," said Marshall.
"For the last decade, Dr. Fauci has funded gain-of-function research on SARS viruses, and until we get to the bottom of the origins of COVID-19, the federal government should not provide another dime in funding for viral gain-of-function research in the name of global health," he continued.
Marshall specifically pointed to the U.S. National Institutes of Health (NIH), which he said has historically practiced a "broad and inconsistent definition of gain-of-function (GoF) research," the controversial practice of modifying or genetically altering a virus or organism and causing it to gain a new function on its transmissibility or pathogenicity.
The practice was banned under President Barack Obama in 2014 but was that decision was overturned by the NIH, led by Dr. Anthony Fauci, three years later.
Marshall said that the majority of the funded research in question involves EcoHealth Alliance, whose projects involved researchers at the Wuhan Institute of Virology, Wuhan University, and China's Center for Disease Control and Prevention for Guangdong Province.
The senator also pointed to the Department of Defense (DoD), which he said was not only involved in this "type of risky research" but had provided over $40 million in funding to the EcoHealth Alliance to conduct such research at China's Wuhan Institute of Virology with "no transparency and no accountability."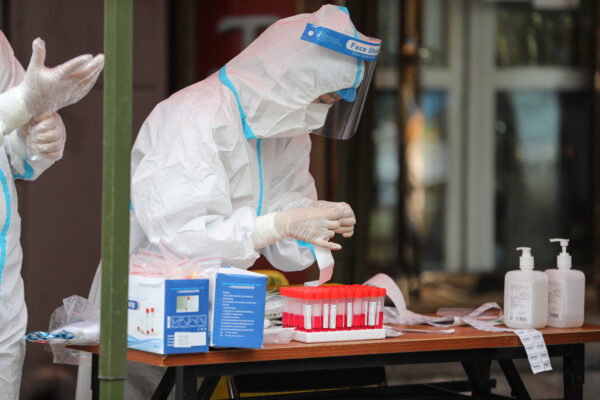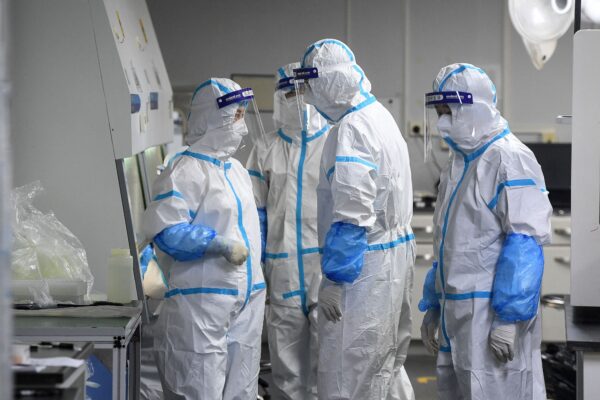 Documents released in September detailed U.S.-funded research on various types of coronaviruses at the Wuhan Institute of Virology (WIV) where the first outbreak of the CCP (Chinese Communist Party) virus occurred.
The more than 900 pages of materials detail the work of the EcoHealth Alliance. They include two previously unpublished grant proposals funded by NIH as well as project updates related to EcoHealth Alliance's research.
One of the grants awarded by the NIH to the EcoHealth Alliance, "Understanding the Risk of Bat Coronavirus Emergence," amounted to $666,422.
The grant proposal outlines an ambitious plan, led by EcoHealth Alliance President Peter Daszak, to "investigate the ecology, evolutionary biology, and transmission dynamics of bat coronaviruses at the human-wildlife interface."
"Specifically, we will conduct field studies in China to obtain high-quality samples from bats, and identify, characterize and isolate known and novel coronavirus," the grant proposal reads. "We will analyze the patterns of coronavirus transmission among bats and other wildlife, and the risk of spillover to humans."
Daszak's research also involved screening people who work with live animals.
The grant proposal also acknowledges the potential dangers of the study, including during fieldwork, stating that it "involves the highest risk of exposure to SARS or other CoVs, while working in caves with high bat density overhead and the potential for fecal dust to be inhaled."
"There is also some risk of exposure to pathogens or physical injury while handling bats, civets, rodents or other animals, their blood samples or their excreta," the document reads. "Virus isolation may be a challenge."
The bat coronavirus grant provided the EcoHealth Alliance with a total of $3.1 million, including $599,000 that the Wuhan Institute of Virology used in part to identify and alter bat coronaviruses likely to infect humans, according to The Intercept.
The grant was initially awarded for a five-year period from 2014 to 2019. Funding was renewed in 2019, but suspended by the Trump administration in April 2020.
Meanwhile, the World Health Organization (WHO) has urged China to share raw data from the earliest COVID-19 cases, saying that it's "vitally important to know how the COVID-19 pandemic began" and to set an example for establishing the origins of all future animal-human spillover events.
Marshall's bill is co-signed by Senators Rand Paul, M.D. (R-Ky.), Joni Ernst (R-Iowa), Tommy Tuberville (R-Ala.), Marsha Blackburn (R-Tenn.), Bill Hagerty (R-Tenn.), Mike Braun (R-Ind.), James Lankford (R-Okla.), Marco Rubio (R-Fla.), and Tom Cotton (R-Ark.).