The top Republicans in the Senate and House of Representatives said they won't support a fifth package aimed at CCP virus relief unless it includes liability protections for business owners.
"As the nation continues fighting this pandemic and parts of our economy begin to emerge from shutdown, Senate and House Republicans are united in our demand that health care workers, small businesses, and other Americans on the front lines of this fight must receive strong protections from frivolous lawsuits," Senate Majority Leader Mitch McConnell (R-Ky.) and House Minority Leader Kevin McCarthy (R-Calif.) said in a joint statement.
"Senate and House Republicans agree these protections will be absolutely essential to future discussions surrounding recovery legislation," they added.
Congress has passed four packages amid the COVID-19 pandemic. The legislation funded expanded testing, a huge program centered around loans for businesses, and the production of personal protective equipment.
If another so-called rescue package is passed, "it needs to include these liability protections so that all these brave workers and brave businesses that will be reopening are not subjected to the second epidemic," McConnell said during an appearance on Fox News' "America's Newsroom" on Thursday.
"We don't need an epidemic of lawsuits in the wake of the pandemic," he said, asserting hospitals and other businesses could be sued. In an earlier appearance on the network, he called such protections his "red line."
But Democratic leaders have dismissed the idea of liability protections.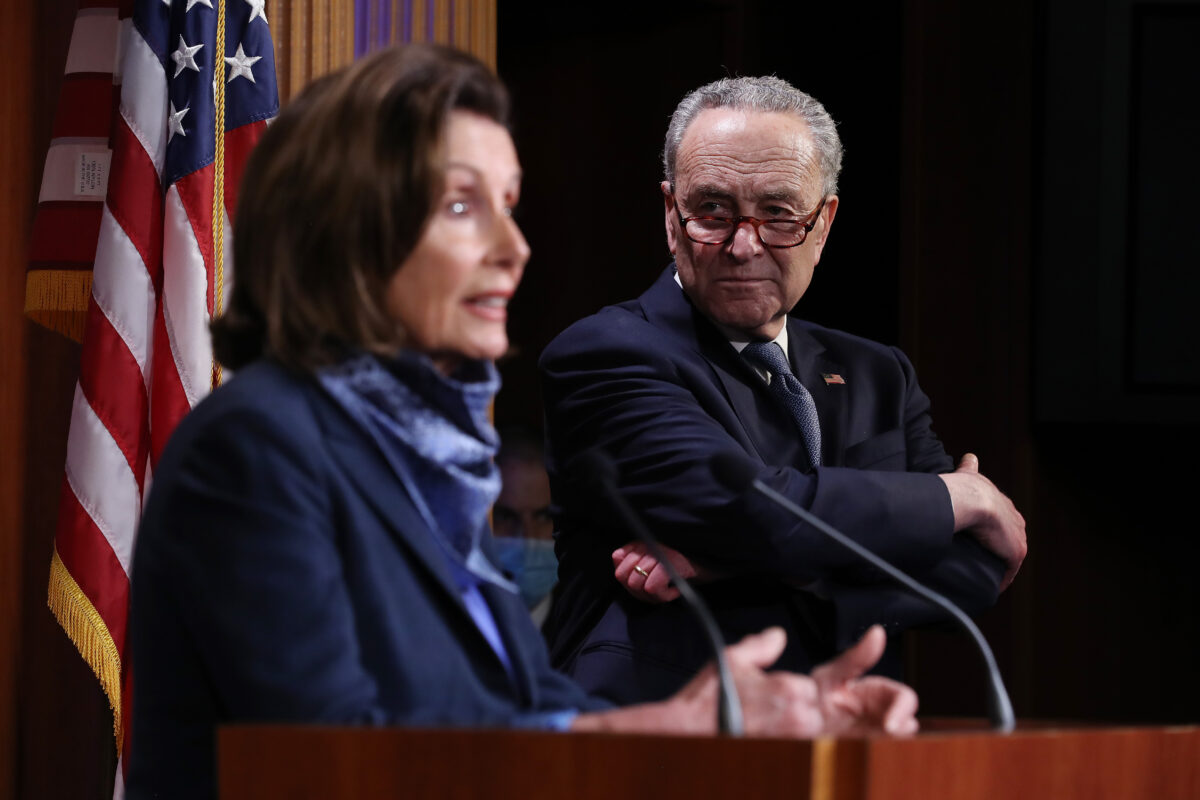 House Speaker Nancy Pelosi (D-Calif.) told reporters this week, "I don't think at this time of the coronavirus that there's any interest in having any less protection for our workers."
"We don't need any prescription from anybody about mythology or just excuses not to do the job. It's really sad—it's disgraceful, because there is such tremendous need," she added.
Senate Minority Leader Chuck Schumer (D-N.Y.) said during an appearance on "PBS Newshour" on Tuesday he hadn't seen McConnell's proposal.
"But I will tell you, if it's going to help big CEOs, and not help the workers or hurt the workers, that's not going to happen. Why does McConnell have to keep drawing these lines in the sand that he later retreats from?" he said.
Democrats want another $500 billion in the next bill for state governments and additional funds for local governments.
Republicans have repeatedly indicated opposition to approving more money for state and local governments, with McConnell proposing states struggling to balance their budges declare bankruptcy if the financial woes stem from issues that aren't related to the pandemic.
"The point is, we are not interested in borrowing money from future generations to send it to states to help them with bad decisions they've made in the past unrelated to the coronavirus epidemic," he said during another appearance on Fox.