House Minority Leader Kevin McCarthy (R-Calif.) suggested on Sunday that Reps. Jim Jordan (R-Ohio), Doug Collins (R-Ga.), and John Ratcliffe (R-Texas) could represent President Donald Trump ahead of his Senate impeachment trial.
"These are individuals I would actually pull in at the White House," McCarthy told Fox News' "Sunday Morning Futures." "You want people that have been through this, understand it, been in the hearings even when they were in the basement."
The "basement" refers to the Sensitive Compartmented Information Facility (SCIF) that was used by House Intelligence Chairman Adam Schiff (D-Calif.) during closed House impeachment inquiry testimonies.
Jordan, Collins, and Ratcliffe asked questions to witnesses during public hearings held by the House Intelligence and House Judiciary committees. Jordan was temporarily assigned to the Intelligence Community to provide a defense to Trump, and Collins is the ranking Republican member of the Judiciary Committee.
Ratcliffe also worked as a former federal prosecutor before Congress and was nominated to replace Dan Coats as Director of National Intelligence in July. Ratcliffe lawmaker was dropped in August by Trump after the lawmaker was "being treated very unfairly by the LameStream Media," according to Trump in a Twitter post.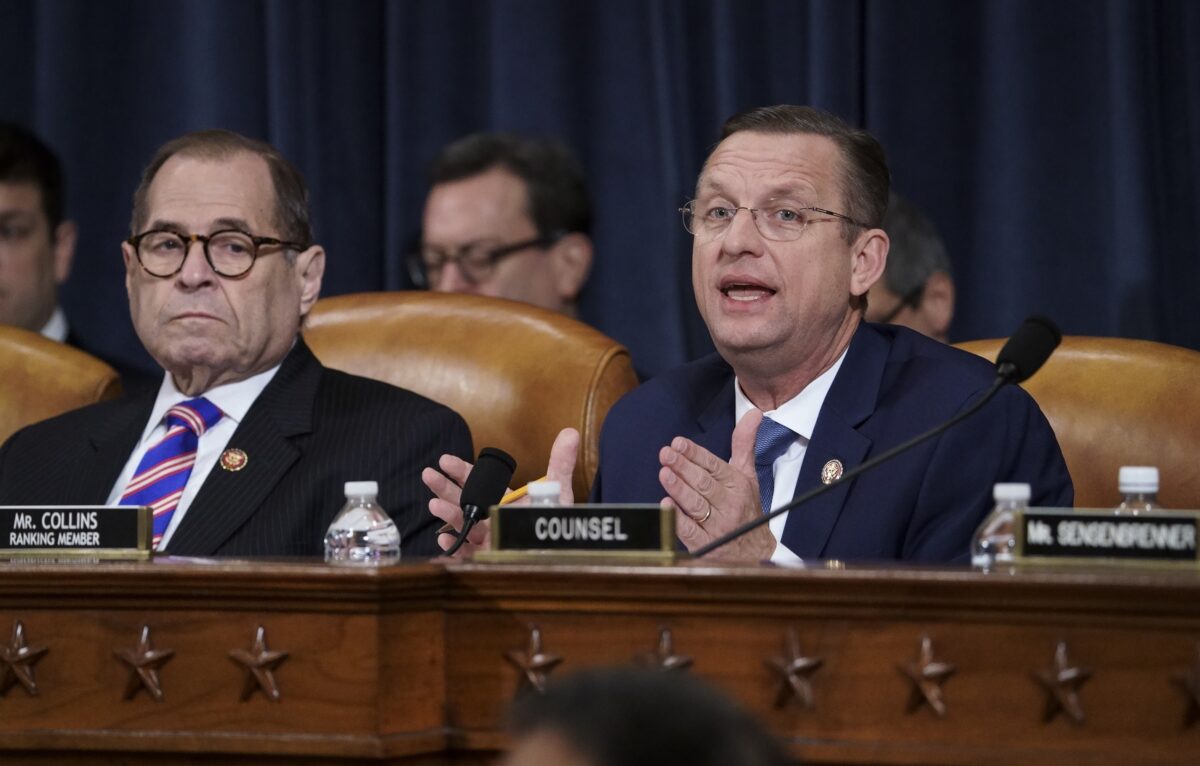 House Speaker Nancy Pelosi (D-Calif.) hasn't been clear on when she will transmit the two articles of impeachment—abuse of power and obstruction of Congress—to the Senate. There has been speculation that she may never transmit them, a possible tactic to delay what many believe to be a straightforward acquittal of the president by the Senate.
McCarthy responded, telling Fox Business that Pelosi "cannot hold onto [the articles] forever, that's abuse of power. But it's just an acknowledgment from the speaker that their impeachment is so weak that it's the—it's the weakest, thinnest, and fastest impeachment in U.S. history."
The minority leader then accused Pelosi of engaging in an underhanded tactic.
"I would think if Nancy Pelosi thought impeachment was so important that she had to put this before the American public … the press conference the day after impeachment—that she has weekly—I thought she would have welcomed questions about impeachment," McCarthy said. "Unfortunately, she told you they were Republican talking points and she would not take your questions. I never thought a speaker would act that way."
But at least one Democrat in the Senate said Pelosi is acting appropriately by holding the articles.
Sen. Chris Van Hollen (D-Md.) told CBS' "Face the Nation" on Sunday that Pelosi is doing "exactly the right thing" asserting that the speaker "is focusing a spotlight on the need to have a fair trial in the United States Senate."