This story was co-published with Source.
On October 13, we stepped off a boat in the middle of the Mississippi River Delta onto brand new land. The ground, about six months old, was a bit squishy but it held firm under our boots. It was put there by engineers working on a quixotic project to save Southeast Louisiana, which is sinking into the Gulf of Mexico at a rate of about a football-field every hour.
We had covered this area before, as part of our interactive story "Losing Ground." We came here on a brisk but warm morning to bear witness and, especially, to take photos.
For our previous project, we were able to use freely available imagery from NASA's Landsat 8 satellite to document the sinking of the delta. Those photos have a resolution of up to 15 meters to a pixel — ideal for big geographic areas like southeast Louisiana's iconic "boot."
But for our follow-up piece about the humongous patchwork of coastal restoration efforts including Louisiana's Coastal Master Plan, we wanted to zoom into much smaller areas, highlighting a few of the projects that state, local and federal agencies have put in place to reverse some of the damage. Many of those projects would appear as tiny specks in Landsat's sweeping view of the coastline. We needed a better aerial vantage point to show the progress of projects that in many cases were relatively small — some only a couple of thousand feet across.
Thankfully, the U.S. Geological Survey, through its EarthExplorer website, offers a vast cache of high-resolution digital images. These "orthoimages" are images taken from airplanes that have later been georeferenced — warped to fit onto a map — and stitched together into much larger images by the agency. In addition to true-color photographs, the orthoimages include an infrared band, which is required to work with the images, as it lets you easily and accurately isolate land and water — a key feature in delta regions where water can look like land because it is so heavy with sediment.

But the USGS does not fly orthophotography missions often. The most recent pass in the areas our stories covered was in 2012. With engineers building land as fast as they can, using backhoes and slurry pipelines, a lot can change in a year. What we needed were high-resolution aerial photographs of these areas right now. In remote sensing terms, what we needed was the holy grail: high temporal, spatial and spectral resolution. Like the old adage about fast, cheap and good, you don't often get all three.
So we turned to a group called Public Lab, a nonprofit organization whose mission is to empower citizens to collect data about their environment with inexpensive or handmade tools. Public Lab has designed kits to collect aerial imagery with inexpensive point-and-shoot digital cameras hoisted on balloons and kites using rigs made with 3-D printers off of freely available plans. Scott Eustis, a coastal wetland specialist with the Gulf Restoration Network and volunteer organizer for Public Lab's Gulf Coast chapter, offered to take us to two of the restoration sites we were focusing on for "Louisiana's Moon Shot" in order to collect imagery with their DIY rigs.
The first project we mapped was a marsh creation project near Lake Hermitage, a village in Plaquemines Parish about 30 miles south of New Orleans that has dwindled to a seasonal fishing camp. In 2006, $37.9 million was approved to build 447 acres of land over 20 years here, in the form of two big sections of marsh near the eponymous lake under a 1990 law called the Coastal Wetlands Planning, Protection and Restoration Act. It's a feat of engineering that sounds implausible. Huge pipelines from the nearby Mississippi would pump sediment into areas of water enclosed by man-made earthen berms. Then, like pizza dough, huge backhoes would push and smooth out the sediment until it filled the entire enclosed areas. Vegetation would be planted to anchor the land in place, preventing further erosion.
The creation of a third, 104-acre, $13 million section of marsh was approved under theNatural Resource Damage Assessment, a pool of Deepwater Horizon oil spill injury funds. That phase (barring some extra planting of vegetation) was completed in January.
As far as we knew, there were no aerial images of the completed project. We later found some, but more on that later.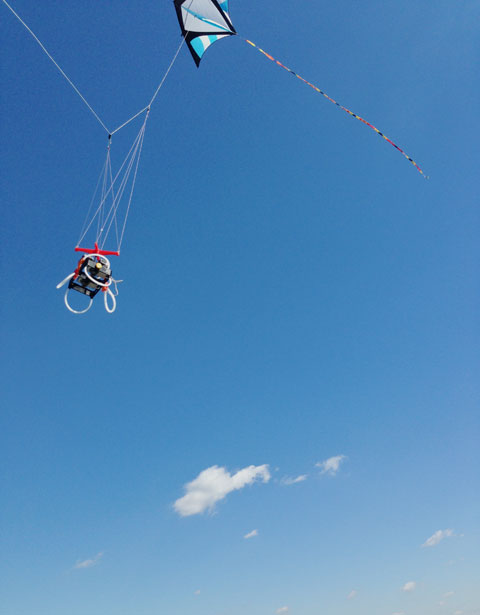 So on a blustery morning in early October, with winds reaching 20-30 miles per hour, we set out from the fishing village on a 19-foot catamaran captained by Bob Marshall, a reporter with The Lens, and docked against what may have been the youngest land in the world.
In addition to sharing two Pulitzer Prizes and being one of the reporters on our "Losing Ground" project, Bob is also a lifelong resident of Southeast Louisiana. His 35 years reporting on its wetlands issues is informed by his lifetime of hunting and fishing experiences in the area's marshes and swamps.