Report: Stuyvesant Principal Lacked Professional Judgement in Cheating Incident
September 2, 2013 1:27 pm Last Updated: September 2, 2013 1:31 pm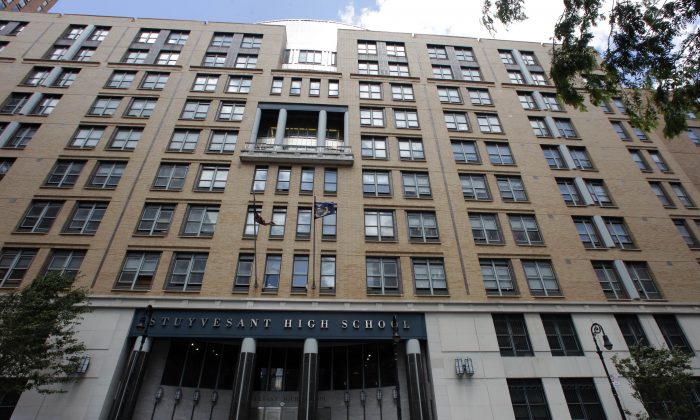 NEW YORK—The principal of Stuyvesant High School mishandled a cheating incident at the school in 2012, an investigative report released on Aug. 30 by the Department of Education concluded.
Stanley Teitel, the Stuyvesant principal who has since retired, received an email from a student informing him that another student was helping others cheat by using a cellphone. Teitel decided to set up a sting to catch the cheating student before informing the DOE and instead of enforcing the citywide ban on cellphones in schools. Randi Damesek, the assistant principal, assisted Teitel during the sting operation.
"It is the conclusion of this office that, due to a lack of foresight, candor, and professional judgment, Mr. Teitel and Ms. Damesek failed to efficiently and effectively carry out the administrative duties entrusted to them during their handling of the 'cheating incident' of June 2012," the report by the Office of Special Investigations states.
The student who was caught in Teitel's sting told investigators that his motivation was to gain good will from fellow students and to receive help in subjects he was not strong in. In one instance, the student took a photo of his scrap paper with answers to the physics Regents exam on it and sent it to 71-80 other students. When questioned by investigators, he said that only 5 or 6 of those on the list could receive photo messages. He later sent several text messages with answers to the entire list.
"Mr. Teitel showed an extreme lack of judgment when he orchestrated a plan designed, not to address or thwart this cheating, but to create circumstances under which it could continue […]" the report states.
The student was later transferred to another school.
Teitel retired on Sept. 1, 2012.
The report recommends that Teitel be assigned a problem code which would bar him from future positions within the DOE.