Wave technology that creates energy by simulating a blowhole will soon provide power for a remote island off the coast of Tasmania in Australia's south.
Wave Swell Energy (WSE) has deployed its wave energy power generator at King Island, Tasmania.
The boat-like structure will generate power from three renewable sources simultaneously—wave, wind, and solar. It will be integrated into the existing Tasmania Hydro renewable energy network and provide electricity for the local grid.
WSE co-founder Tom Denniss said the technology used for the project is actually rather simple. "It's very much like an artificial blowhole," he said.
"There's a big chamber [open underneath the waterline] and the waves cause the water in the chamber to rise and fall," he said. "That displaces the air, which drives the turbine and creates electricity."
Studies by the CSIRO found Australia's southern coastline to be a great wave energy resource as strong winds create consistently large swells. It estimates wave energy could contribute up to 11 percent of Australia's energy by 2050, enough power to power a city the size of Melbourne.
Denniss notes that wave energy is much more "predictable and reliable" than solar and wind energy, which produce more at certain times of the day. The wave energy facility can generate up to 200 kilowatts of power, has no moving parts in the water, and does not use oils or other contaminants.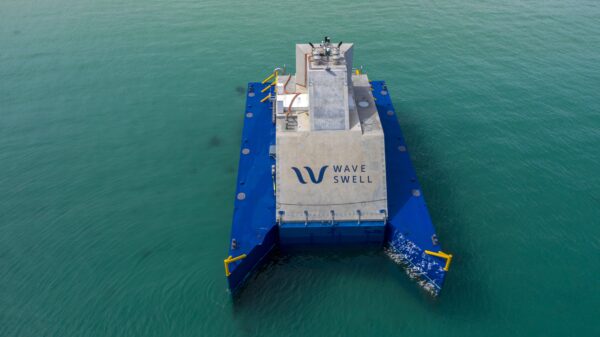 Having no moving parts in the water helps to minimise the technology's effect on marine life. "This is just a demonstration of the technology at this stage," Denniss said.
WSE aims to see follow on projects replace diesel generators in remote and island locations and envisions for the technology to become widespread across the globe in the future.
The $8 million project is supported by grants from the Commonwealth's Australian Renewable Energy Agency and private investors.