Commerce Secretary Gina Raimondo said on July 11 that removing Trump-era tariffs on Chinese goods would not cool down inflation "in a very significant way," highlighting the difficulties as the White House seeks to tame historic price rises in the country.
Still, the senior official administration suggested her support for the move, saying it could make a difference for consumers.
"Lifting tariffs isn't going to bring down top-line inflation in a very significant way," Raimondo said in an interview with NBC's "Meet the Press." "What it will do potentially is help consumers on certain household goods. And so for that reason, given where inflation is, I think it could make sense to do it.
On July 13, data from the Bureau of Labor Statistics showed that inflation hit a new 40-year-high, surging to 9.1 percent in June, compared to a year earlier.
Raimondo's comments came as the administration weighs relaxing tariffs on more than $300 billion of Chinese imports, initially imposed during the Trump administration in response to the Chinese regime's systemic trade abuses, including intellectual property theft, forced technology transfer, and excessive government subsidies.
Such a proposal has reportedly been met with division among administration officials, some of whom worry that it may make the president look soft on China while also alienating the Democratic Party's powerful trade union base. Republicans have also latched on to this as purported evidence of the Biden administration's weak stance in countering the communist regime's abuses.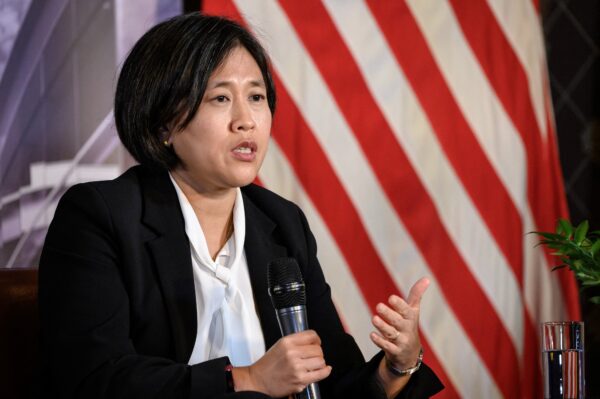 U.S. Trade Representative Katherine Tai earlier cautioned against the removal of U.S. tariffs on Chinese goods.
"The China tariffs are a significant piece of leverage," Tai told the Senate on June 22. "A trade negotiator never walks away from leverage."
Tai said that removing tariffs would likely have a limited effect on controlling inflation, and that "we need to be keeping our eye on the ball on this bigger picture," which is protecting American trade interests against China's plans to dominate important industries such as semiconductors.
Meanwhile, Treasury Secretary Janet Yellen told ABC News on June 19: "The tariffs we inherited, some serve no strategic purpose and raise costs to consumers."
President Joe Biden hasn't given a timeline on when a decision about the tariffs would be made, telling reporters on July 10 that "we're having further discussions on that [issue]."
Raimondo, in the interview with NBC, said, "We were briefing him [Biden], and I expect he'll make a decision shortly."