Remembering the Father of Indian Constitution (Photos)
Celebrating Dr. Ambedkar's 122nd Birth Anniversary
April 14, 2013 11:24 pm Last Updated: April 14, 2013 11:24 pm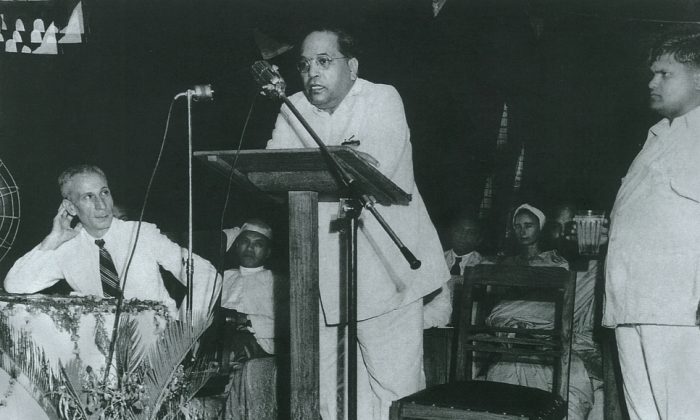 April 14 is celebrated as Ambedkar anniversary to honor the memory of Dr. Bhimrao Ramji Ambedkar—the man who fought against all odds to give India its constitution.
The day commemorates Dr. Ambedkar's valuable contributions to Indian culture and society.
"He was the one who was responsible to inculcate the spirit of liberty, equality, and social justice," said S. S. Mujumdar, director of Dr. Babasaheb Ambedkar Museum & Memorial located at Pune in India.
Dr. Ambedkar had a deep knowledge of Indian society, its people, religion, and diversity. He was a scholar of law and advocated necessary social reform for the advancement of political freedom.
"His impact on the government, its quality, its approach to people of different religions, races, and casts drastically transformed the Indian ethos," she said.
Born in a lower class society that was treated as "untouchables," he aspired to bring a change in Indian society from a young age.
As the leader of backward community in India, Dr. Ambedkar came forward as the key person in the national freedom movement. He fearlessly criticized the British rulers and the Indian National Congress for their failure to eradicate social discrimination in the country.
In his famous speech, The Annihilation of Caste, Dr. Ambedkar wrote: You cannot build anything on the foundation of caste. You cannot build up a nation. You cannot build up a morality. Anything that you will build on the foundation of caste will crack and will never be a whole.
Popularly known as Babasaheb, Dr. Ambedkar was indeed a man of great principles, to honor his altruistic way of living he embraced Buddhism; for the millions of Indians who followed, he became an idol, an emancipator of downtrodden.
Dr. B.R. Ambedkar struggled to establish a society as per the democratic idea of liberty, equality, and fraternity. He echoed the philosophy of Lord Buddha and endeavored to eradicate sorrow of injustice and exploitation through the re-establishment of socio-economic order.
After independence (1947) Dr. Ambedkar was appointed as the first law minister of India and later served as the chairman of the Constitution Drafting Committee, and eventually became the architect of Indian constitution.
He was honored with India's prestigious Bharat Ratna award in 1990.
Mujumdar remembers that after the death of Babasaheb, his wife Dr. Maisaheb Ambedkar visited Symbiosis institution in Pune, and appreciated the good work being done by the memorial. Babasaheb's wife donated the personal belongings, his sacred ashes, and even the Bharat Ratna award to the memorial.
"For us in Symbiosis, the memorial is not only a place of worship of this great man but through various memorabilia, it serves the purpose of pleading teachings and contributions of Dr. Babasaheb to thousands of people who visit it," she said.
As a crusader of downtrodden Dr. Ambedkar left an indelible impression on the Indian history, guiding the country toward justice, liberty, and equality.
Find Babasaheb's rare historical photos here.