With the Biden administration's vaccine mandates still in effect for U.S. military personnel, although evidence that the shots do not stop transmission and reports of adverse effects are mounting, many service members are making the decision to resign, giving up their livelihoods and retirement funds.
Speaking during a Nov. 21 interview with NTD's Capitol Report, former Lieutenant Colonel Bradley Miller said he chose to give up his material benefits to preserve his integrity.
"I gave up my command; I gave up my career; I gave up my retirement pension. But I still think I came out a winner because, after 19 years of service, I left the army with my integrity intact, and my oath to the Constitution unbroken," Miller said.
Miller retired a few months before completing 20 years of service in the U.S. Army. He was relieved of command in October 2021 because he refused to take the COVID shot, after which he formally resigned.
"I was a hard refusal, not because I do not have extreme religious objections to these injections. I do," said Miller. "But in my mind, having a religious objection … would almost be to concede that the shots are safe or to concede that the shots are effective, neither of which I'm willing to concede.  So for me, it was not just a matter of the research or the development that went into the production of the shots. But I also just won't concede that they're safe or effective."
The Biden administration continues to urge Americans to get the COVID-19 vaccine, working with the nation's health care organizations, employing media campaigns, and investing millions of dollars into the effort.  The CDC recommends two initial doses of the vaccine, periodically followed up by a booster.
But according to a U.S. Centers for Disease Control and Prevention (CDC) study published on Nov. 22, existing COVID-19 vaccine boosters provide limited protection against symptomatic infection.
Absolute vaccine effectiveness was 50 percent or lower among people who received one of the new bivalents after receipt of two or more original vaccine doses, researchers with the CDC estimated. Among people 65 and older—the age group most at-risk of severe COVID-19—a bivalent provided just 32 percent protection at most, according to the study.
Miller said he would not be satisfied by an exemption only for himself: he aims for a complete lifting of the rule that forces vaccination for military personnel.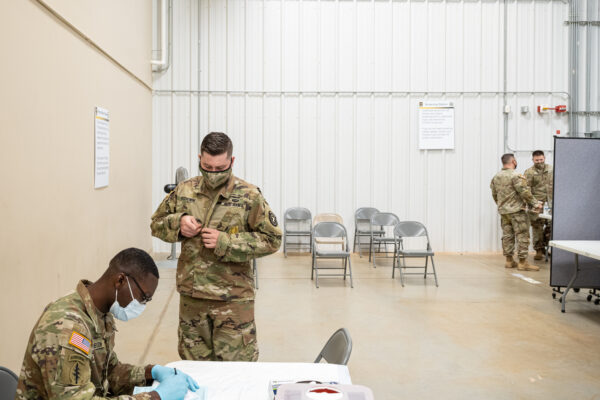 "I still want to rescind it, wholesale," said Miller.
Republican lawmakers have shown strong support for military members who resigned over vaccine mandates. To end the mandates, Rep. Thomas Massie (R-Ky.) introduced H.R.3860 in June 2021. Nearly 100 of his colleagues co-sponsored the bill, seeking to prohibit any requirement for service members to receive a vaccination against COVID-19. The measure would put an end to Secretary of Defense Lloyd Austin's August 2021 military vaccine mandate (pdf).
The Epoch Times reached out to the U.S. Department of Defense for comment.
During the speech launching his reelection bid, former President Donald Trump said if reelected, he will reinstate all military personnel who were forced out because of vaccine mandates. Miller said he wholeheartedly supports that action.
"We will abolish every Biden COVID mandate and rehire every patriot who was fired from our military with an apology and full back pay," Trump said.
The former army commander agrees with Trump about backpay but said, additionally, "there needs to be accountability for those who perpetrated this malpractice, this misconduct against, not just DOD, but also the nation at large."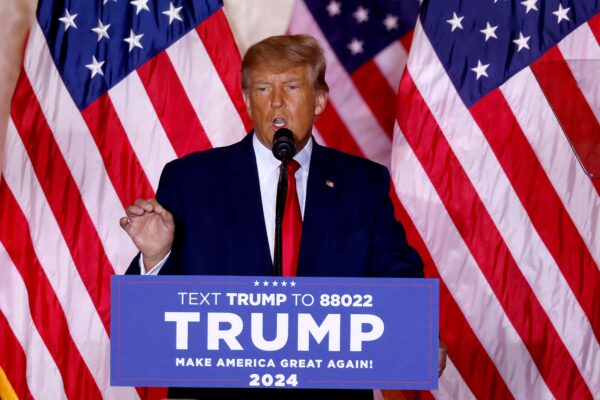 Miller believes the problems in the U.S. military are part of a larger assault by progressives on all American institutions.
"What I think that we're seeing in the military, is just a reflection of what we're seeing right now, in [all] our American institutions," said Miller.
Miller is not certain he would return to the military even if Trump wins in 2024 because he believes that "the people that have thoroughly captured these institutions have completely corrupted them."
While a portion of Biden's mandates has been struck down by the courts, the requirement for federal employees and military members is still in place, affecting roughly 3.5 million people. In September, an appeals court heard arguments in a case challenging the rule, although it has not yet delivered a ruling.
As of October 2022, 1,760 soldiers have been separated from the Army because of their refusal to take the COVID-19 vaccine. The Navy reported 1,893 separations.
Meanwhile, Republican lawmakers are decrying other Biden administration policies that they say are weakening America's military.
"Unfortunately, President Joe Biden and his administration are weakening America's warfighters through a sustained assault fueled by woke virtue signaling," said Sen. Marco Rubio (R-Fla.) and Rep. Chip Roy (R-Texas) in a report titled "Woke Warfighters," according to Fox News.
Ivan Pentchoukov and Zachary Stieber contributed to this report.